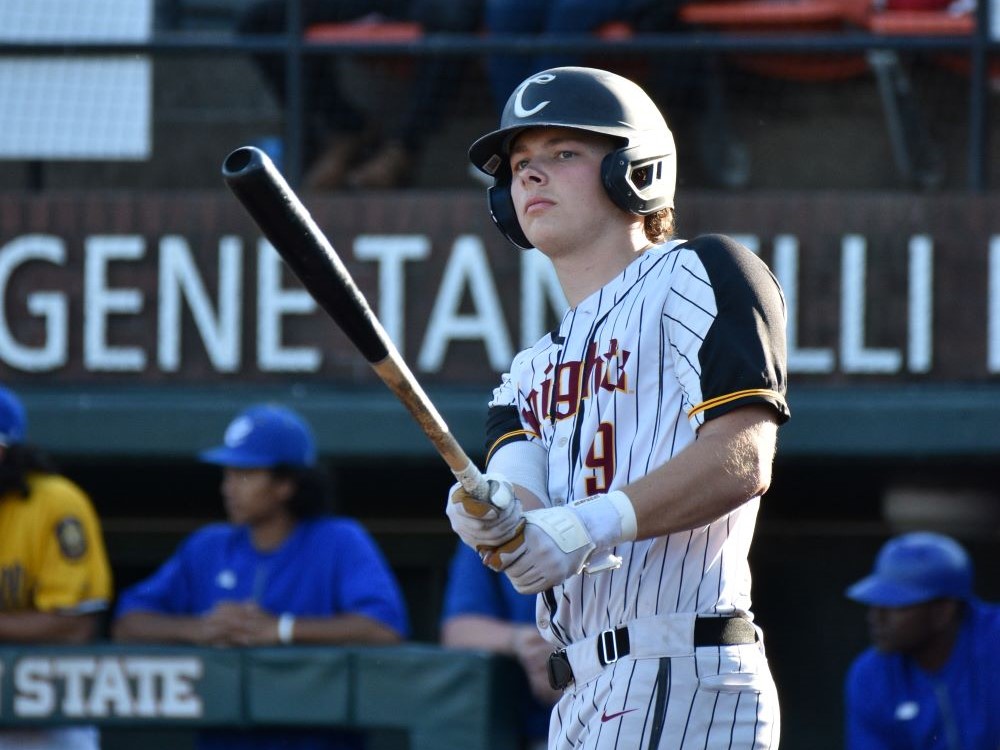 Knights tip Gerding Builders Marketmen Legion team in community matchup
Thursday, June 22, Corvallis, Ore.  – Corvallis defeated the Gerding Builders Marketmen 18-0 in its annual game against the local American Legion team.
Right fielder Kellen Segel (LBCC, pictured above) had three RBIs, two hits and two runs for the Knights (11-6, 9-6) before a Goss Stadium crowd of 1,676, and earned Washington Park Advisors Player of the Game honors. Second baseman Tyler Quinn (Pacific) doubled twice, scored four times and drove in a run.
Third baseman Levi Jones (Oregon State) tripled and drove in three runs and shortstop Ty Yukumoto (Pacific) had two hits and two runs. Center fielder JC Ng (Pomona-Pitzer) scored three times and drove in two.
Starting pitcher Sam Stuhr (OSU) struck out eight in four scoreless innings. Relievers Jonathan Stone (George Fox), Grant Cleavinger (Nebraska), Joey Mundt (OSU), Evan Clark (USC) and Tyler Bremner (UCSB) each went an inning to finish the shutout. They teamed up on a 3-hitter and struck out 20.
The Knights face the Cascade College League Showcase Team at 6:35 p.m. Friday in another non-league contest. Based at Olympic Stadium in Hoquiam, Wash., the CCL was established in 2018 to give NWAC, NAIA and NCAA players competition in June and July.
Comprised of the best players from all six CCL clubs, the Showcase Team plays a 25-game schedule against independent collegiate and WCL teams.
The Knights then resume WCL action on Saturday with their initial home series with the Kamloops NorthPaws. The homestand concludes against Springfield on Tuesday.
Corvallis has won the last six WCL championships.
Thursday's crowd of 1,676 raised the season attendance to 13,423 in eight dates.