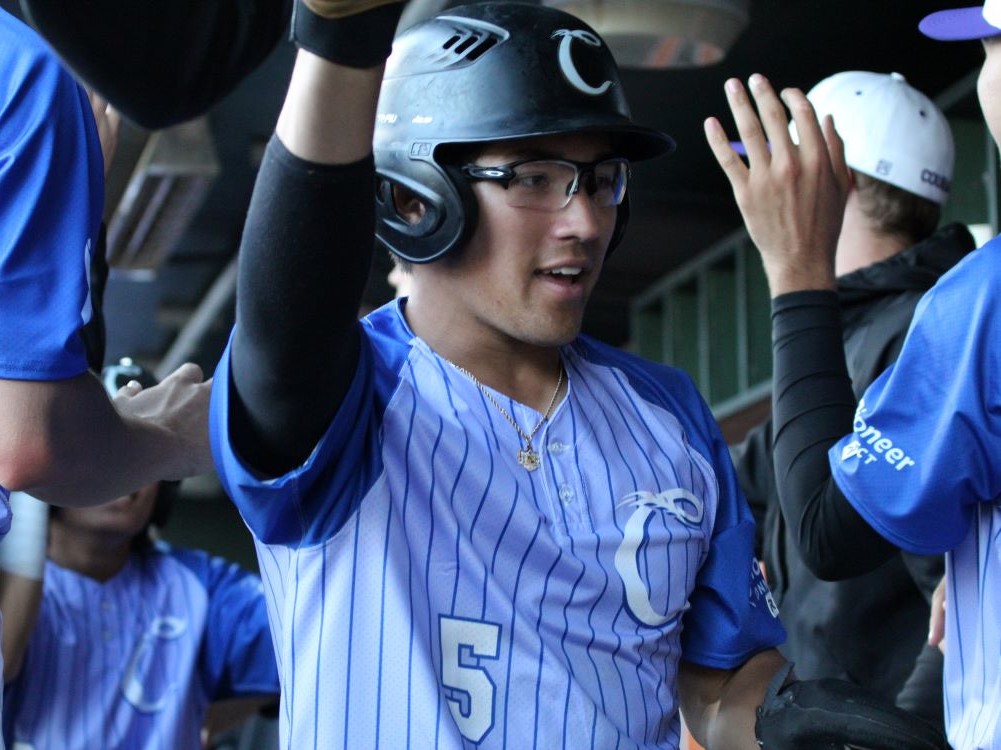 Home runs by Quinn, Avila spark Knights to big nonleague victory
Friday, June 23, Corvallis, Ore.  – Second baseman Tyler Quinn (pictured, above) homered and drove in five runs on Friday to lead Corvallis to a 17-5 victory over the Cascade Collegiate League Showcase team before a Strike Out Cancer night crowd of 1,446 at Goss Stadium.
First baseman Blake Avila (Grand Canyon) also homered, singled four times, drove in three runs and scored three times to earn Washington Park Advisors Player of the Game honors. The Knights (12-6, 9-6 WCL) exploded for 18 hits while remaining unbeaten in three nonleague games this season.
Quinn (Utah in 2023) also singled, stole a base and scored four times. It was the third homer of the summer for Avila and the first for Quinn, the Knights' 2022 Team MVP while playing at Pacific University; both were two-run shots.
Ethan Hott (Stanford) had three hits and three runs. Anson Aroz (Oregon), Kellen Segel (LBCC) and JC Ng (Pomona-Pitzer) had two hits each. Aroz and Levi Jones (Oregon State) each drove in two runs.
Corvallis starter Zach Johnson (Portland) allowed a solo homer and three singles in four solid innings. He struck out four of the final six batters he faced, and six overall, but wasn't eligible for the win because he did not go five innings.
Ethan Collins (Pomona-Pitzer) hurled a scoreless fifth and sixth innings and earned the decision. Frank Camarillo (UCSB) struck out two in a scoreless seventh in his season debut.
The Cascade College League, based at Olympic Stadium in Hoquiam, Wash., was established in 2018 to give NWAC, NAIA and NCAA players competition in June and July.
Comprised of the best players from each CCL club, the Showcase Team plays a 25-game schedule against independent collegiate and WCL teams.
The Knights resume West Clast League action on Saturday with their initial home series with Kamloops. The NorthPaws, who joined the league in 2022, won 2 of 3 against the Knights at Kamloops on June 9-11.
The pitching matchup for the 7:05 p.m. series opener is righty Nathan Marshall of Lane CC for the Knights vs. Baker University righty Christian Spitz (0-1, 3.85) for Kamloops.
Sunday's 5:05 p.m. Game 2 pits Corvallis righty Merit Jones of Utah (0-1, 2.70) vs. Pima CC lefty Maclain Roberts (0-3, 7.46). Monday's 6:35 p.m. finale matches UC Santa Barbara righty Tyler Bremner (0-0, 0.00) for Corvallis vs. Pima CC lefty Matthew Romero (1-1, 6.75).
Corvallis has won the last six WCL championships.
Friday's crowd of 1,466 raised the season attendance to 14,889 in nine dates.