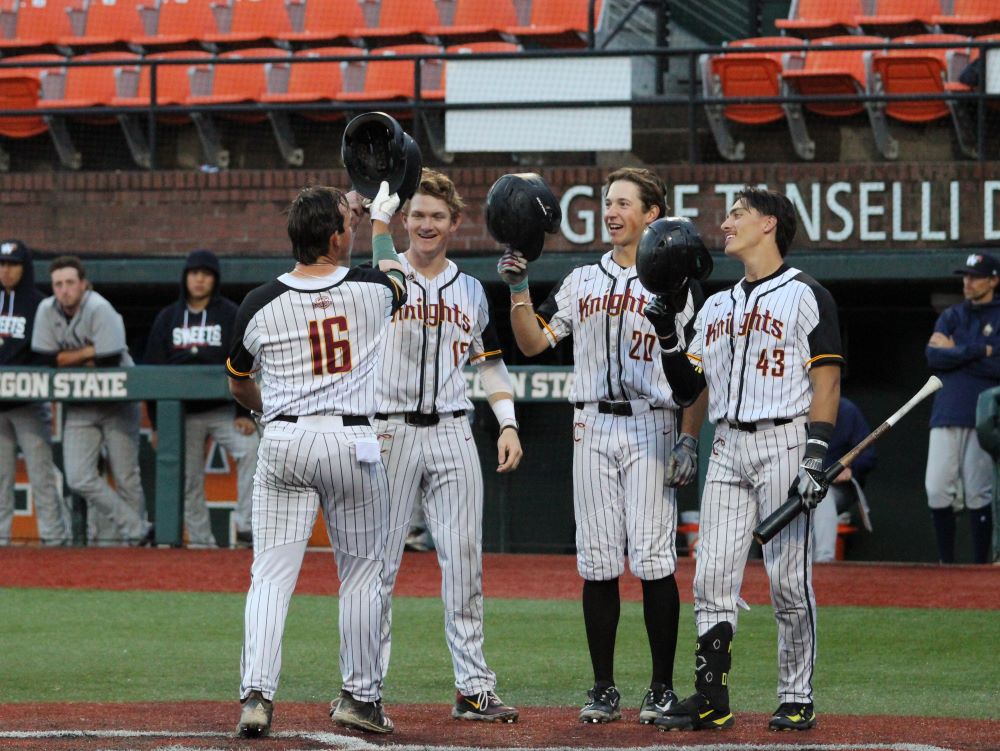 Avila's monster homers caps big rally, Knights claim finale 11-2
Monday, June 19, Corvallis, Ore.  – Corvallis ended a two-game tailspin in convincing style with an 11-2 victory over Walla Walla on a cool, damp night at Goss Stadium.
The Knights (10-6, 9-6 WCL) scored 10 times in the sixth inning to break a 1-1 tie, preventing the Sweets from sweeping the West Coast League series. Walla Walla had used big innings both nights to take the first two games of the series, 8-4 and 10-5.
A monster three-run home run to right field by Blake Avila (Grand Canyon, # 16 pictured above) capped the 10-run outburst. He has both of the Knights' homers this summer; he also went deep at Ridgefield in the opening series of the season.
J.C. Ng (Pomona-Pitzer) and Ty Yukumoto (Pacific) added two-run doubles in the rally. Newcomer Aaron Aroz (Oregon), who joined the team on Monday, and Sam Stem (Gonzaga) also drove in runs in the frame.
Aroz singled twice, walked, scored and drove in two in his Knights debut. Ethan Hedges (USC) doubled, singled, walked twice and scored three times. Ng and Yukomoto also singled and doubled.
Starter Morgan Codron (Portland) struggled with control, walking four and hitting another over his four-inning stint. But he allowed only one hit and one run, had four strikeouts and a pickoff and left with the game tied 1-1.
Veteran Sean Wiese added two scoreless innings, spacing three hits, and has still not allowed a run over six innings in three relief appearances. He earned the win as the most effective reliever, as Codron did not pitch the required five innings for a starter to be credited with a decision.
The Knights are idle on Tuesday and Wednesday and resume action on Thursday with a 6:35 p.m. nonleague game against the Corvallis Gerding Construction American Legion team.
They face the Cascade College League Showcase Team at 6:35 p.m. Friday in another non-league contest. Based at Olympic Stadium in Hoquiam, Wash., the CCL was established in 2018 to give NWAC, NAIA and NCAA players competition in June and July.
Comprised of the best players from all six CCL clubs, the Showcase Team plays a 25-game schedule against independent collegiate and WCL teams.
The Knights then resume WCL action on Saturday with their initial home series with the Kamloops NorthPaws. The homestand concludes against Springfield on June 26.
Corvallis has won the last six WCL championships.
Monday's crowd of 1,078 raised the season attendance to 11,747 in seven dates.