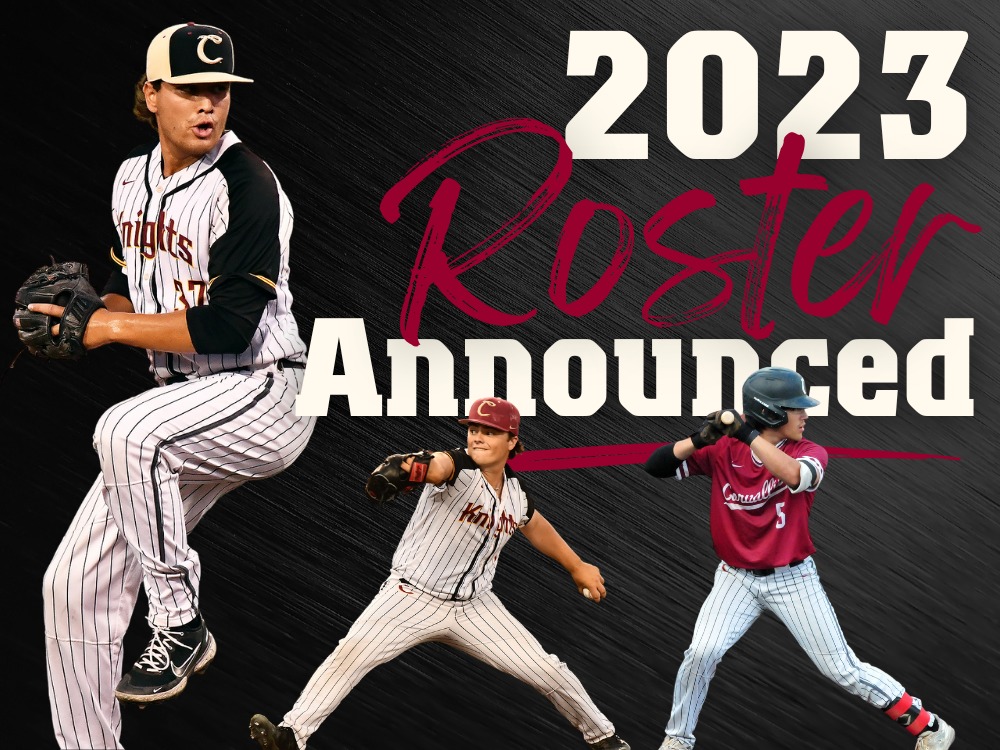 Defending WCL Champs Unveil 2023 Roster
Monday, May 1, Corvallis, Ore. – The six-time defending West Coast League champion Corvallis Knights announced their 2023 roster, which features three returnees and players from the Pac-12, WCC and Big West conferences.
Returning for a third summer is junior lefty Sean Wiese of Hawaii. Last season, Sean earned first-team all-WCL honors as the Knights closer, leading the team in saves with 6 while posting a team-low 2.00 ERA.
Also returning are utility man Tyler Quinn of Pacific and reliever Neil Feist of Cal State Northridge. Quinn played catcher and third base for Corvallis in 2022 and led the Knights in doubles with 11. The talented junior was named the Corvallis Knights MVP by the vote of the coaches and front office.
This year's roster also includes two Oregon State players itching to get back on the field, right-handed pitcher Sam Stuhr and outfielder Tyree Reed. Stuhr pitched for the Knights in 2021 following his freshman spring at Lower Columbia College. Reed was a Perfect Game All-American coming out of high school. Both Beavers have not played the past two springs but should be key contributors this summer.
"We look forward to getting Sam back on the bump and Tyree back in the mix," said Knights skipper Brooke Knight. "Both have lots of upside and can help the Beavers next spring. We're counting on Stuhr and Reed to have big summers."
Pitching has been the Knights hallmark over the years. Last year's edition posted an incredible league-low team ERA of 2.55 under the tutelage of assistant coaches Beau Kerns and Youngjin Yoon.
Stuhr is slated to be a starter this summer. Also, coach Knight mentioned newcomers Connor Wilford of Washington State, Tyler Bremner of UC Santa Barbara and Merit Jones of Utah as possible starters. All three freshmen are shining this spring. Wilford is 2-2 with 2 saves and has posted a 5.08 ERA over 39 innings pitched while walking 11 and striking out 39. Bremner is 4-3 with 3 saves and a 5.31 ERA over 40.2 innings while whiffing 60 and walking only 9. Jones has made 10 starts for the Utes and is 2-2 with a 6.89 ERA over 47 innings pitched in the PAC-12.
Junior college arms Mike Freund of Umpqua College and southpaw Luke Kovach (Cal Poly commit) should vie for starts along with University of Portland right-handers Morgan Codron and Zach Johnson.
Other pitchers to keep an eye on per pitching coach Beau Kerns are frosh southpaw Grant Cleavinger of Tulane, freshmen right-handers Frank Camarillo of UC Santa Barbara and Brady Jones of Georgia State, and redshirt sophomore Kaleb Woltz of San Francisco.
Returnee Sean Wiese is expected to continue in his closer's role; Feist adds bullpen depth.
"There is a ton of arm talent in this group," said Knights pitching coach Beau Kerns. "We look forward to working with them as they hone their craft in Corvallis and watching them compete and grow."
Catching for this season's staff are sophomore Jacob Morrow of Washington State, freshman Tyler Howard of Portland and incoming frosh Luke Scherrer of Cal Poly. Morrow played for the 2022 NWAC champion Linn-Benton Roadrunners and is hitting .250 over 68 at bats and 19 starts for the Cougars.
The Knights infield is loaded with talent.
Freshmen Jacob Krieg of Oregon State and Ethan Hedges of USC are right-handed batters and both can play first and third base. They also can pitch. Krieg is a power bat and Hedges has started for the resurgent USC Trojans, hitting .262 with 2 homers and 18 RBIs this spring.
Sophomore first baseman Blake Avila of Central Arizona College is a left-handed bat who is committed to Grand Canyon University. Avila is batting .304 with 13 doubles, 3 home runs and 24 RBIs.
His Vaqueros teammate Luke Thiele is slated to play shortstop. The slick-fielding redshirt frosh is committed to Purdue.
Incoming frosh Phoenix Call of UCLA, a prospect from Calabasas High School in California, will also play up the middle.
"Phoenix is a typical Bruins recruit that is an athletic, versatile player with tremendous bat speed and a high-end runner," said Corvallis associate head coach Ed Knaggs. "Knights fans could see Phoenix at any one of the three infield positions this summer."
First-team all-Northwest Conference selection Ty Yukomoto of Pacific University will compete for starts at second base. The sophomore has hit .373 and stolen 23 bases for the Boxers this regular season.
The infield is rounded out by frosh third baseman Tate Shimao of Cal Poly and versatile incoming frosh Levi Jones of Oregon State. Jones stars for the #1-ranked 6A team in Oregon, Jesuit High School.
The Corvallis outfield features four left-handed bats and frosh Ethan Hott of Stanford.
OSU's Reed is a left-handed hitter as is freshmen Brandon Leon of Cal State Northridge and Easton Talt of Oregon State, and sophomore JC Ng of Pomona-Pitzer.
The Matadors are high on Leon and the Beavers and Cardinal are counting on Talt and Hott to be impact players, respectively.
Ng is hitting .304 with 6 homers and 29 RBIs for the NCAA DIII Sagehens.
"We're excited about this year's club and look forward to the opportunity to come together as a collective unit sooner than later," said Brooke Knight. "As with previous clubs, we can run a bit, and we hope to foster and advance this tool for our young position players. On the mound, we have a nice RHP/LHP presence, which is nice to see, and should help us match up a little better than we have."
The Corvallis Knights championship coaching staff returns under WCL Coach of the Year Brooke Knight with associate head coach Ed Knaggs, pitching coach Beau Kerns and assistant Youngjin Yoon.
Grant High School graduate Connor Heath of the Oregon State Dam Analytics Squad is set to return as the club's Director of Data Analytics. He will lead an analytics team of three in support of the coaching staff and the Knights player development goals.
"We're thrilled to have Connor back and in a full-time role this summer," said Knights Baseball Club CEO Dan Segel. "He has a bright future in the field of baseball data analytics and is a key part of our team."
To check out the Corvallis Knights complete 2023 roster, click here.
Corvallis opens the 2023 season on May 25 with its annual Science, Engineering & Art Day at Goss Stadium, presented by Paventy & Brown Orthodontics.
The Knights begin their quest for a seventh-straight WCL championship at the Ridgefield Raptors on June 2. Their home opener is set for June 15 versus the Bend Elks.