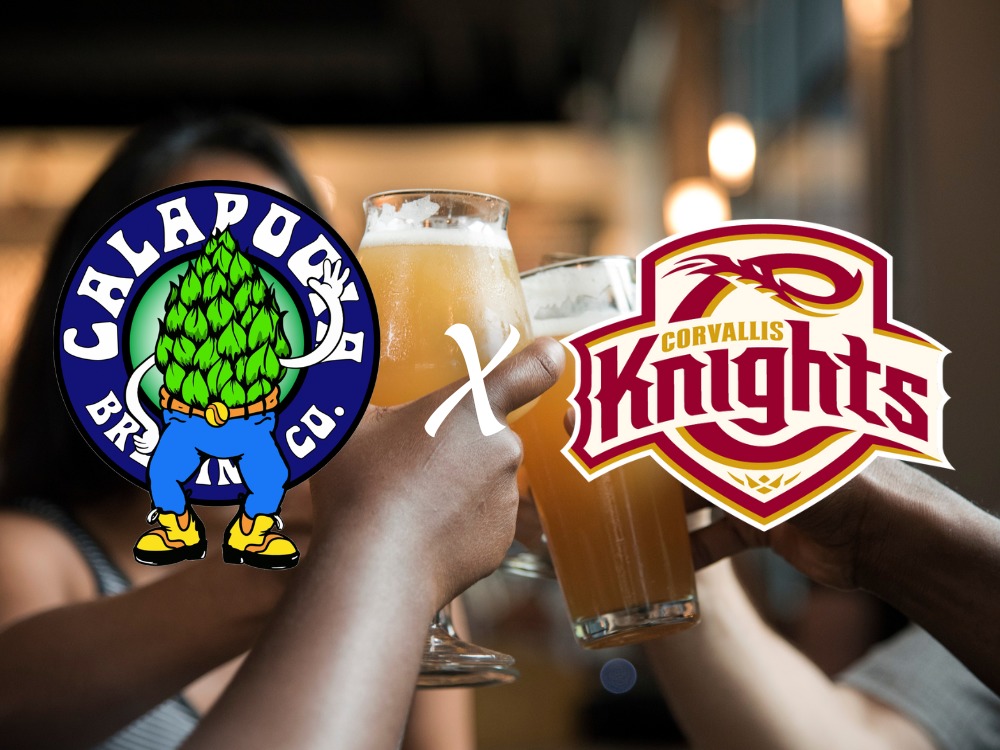 Wednesday, May 24, Corvallis, Ore. – The Corvallis Knights and Calapooia Brewing, organizations with a longtime commitment to women in management, have expanded their partnership for the upcoming West Coast League season.
The Knights will now feature beer created at Calapooia's Albany brewery on tap this summer for the first time, serving their popular Kayakers Kolsch on draft. The brewery and restaurant are located at 140 NE Hill Street, close to Albany's historic downtown riverfront.
"Calapooia is women-owned, with a woman brewer (Danielle Raiche). That's really awesome," Knights hospitality manager Colleen Woods said.
"It's nice for our organization, which has a long history of empowering women, to partner with another business with similar values."
Calapooia co-owner Caitlin Prueitt said the brewery is pleased to expand its presence at Goss Stadium.
"We are very excited to grow our relationship from last year, when we had a pretty small part," she said. "We are honored to work with the Knights and proud because they are such a great community organization."
Kayakers Kolsch is a pale, highly attenuated, hoppy, bright (filtered and not cloudy) top-fermenting beer that originated in Cologne, Germany. It is bright and clear with a straw-yellow hue.
"It's a classic German beer, which is why we picked it," Preuitt said. "It's light and crisp, and is the perfect beer for a warm summer night at the ballpark."
The Knights became the first West Coast League team with a female general manager when current president Bre Miller assumed that post in 2013. Miller was promoted to president in 2017 and eventually succeeded by current GM Jennifer Beaumont in 2021.
"We are so excited to increase our community partnership with Calapooia Brewing," Beaumont said. "As an Albany native myself, it feels great to work with a local favorite."
Calapooia Brewing was founded as Oregon Trader Brewing in 1993 and rechristened as Calapooia Brewing in 2006. Pruett and co-owner Chris Newman purchased the business in 2019.
Calapooia's brewmaster (Raiche), general manager (Heather McLain) and sales manager (Andrea Kelsey) are also female.
"It's a lot of fun to work with a company like Calapooia Brewing, which empowers women as much as the Corvallis Knights do," Beaumont said. "Girl Power in the Valley!"