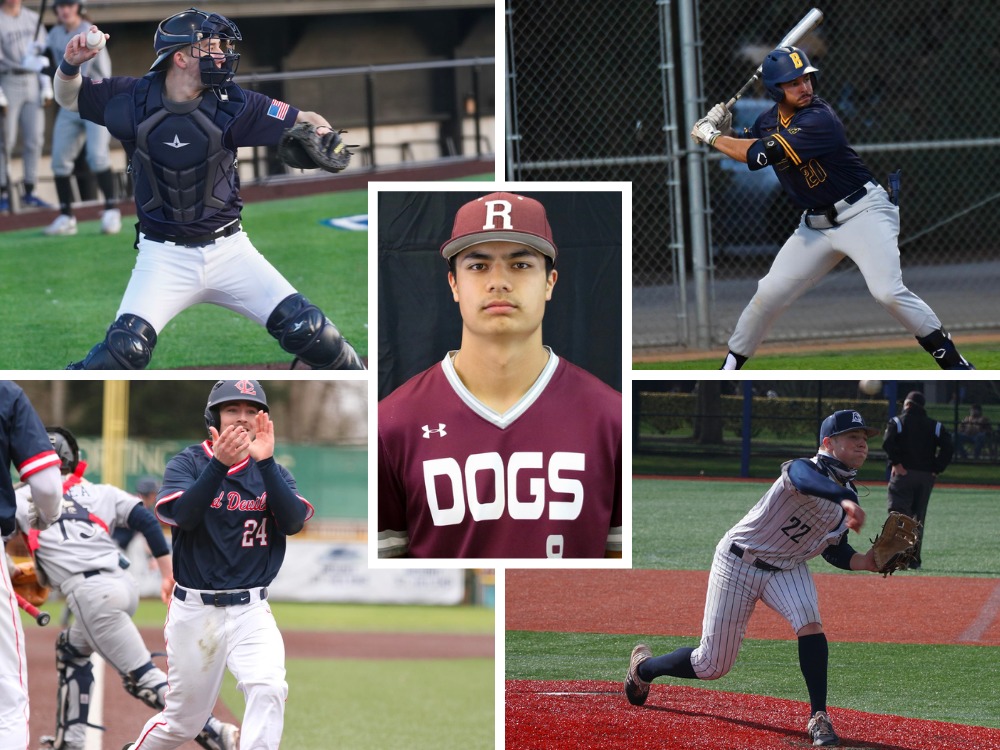 Knights add depth with 10-day signees
Thursday, March 24, Corvallis, Ore. – The Corvallis Knights have signed five players to 10-day contracts for the 2022 season, head coach Brooke Knight announced Thursday.
They are Corban junior pitcher Zach Simon (bottom right); Lower Columbia College freshman outfielder Kyle Parkman (bottom left); Bushnell junior catcher Kyle Casperson (top left); Redlands junior outfielder Jonah Advincula (middle), and Montana State-Billings outfielder/first baseman James Anderson (top right).
Ten-day signees add depth to the Knights early in the season prior to the arrival of the entire full-time roster. Some 10-day signees end up spending the entire summer with the Knights.
Casperson, who played two years at Lower Columbia College before transferring to Bushnell, is a 6-foot-5, 225-pound junior education major from Capital High School in Olympia, Wash. He's hitting .289 in 12 games, with two doubles and an RBI.
A Minnesota Twins fan, he enjoys playing X-box and spending time with his family. His favorites are The Longest Yard (movie); Dexter (TV show) and the Hunger Games series (book).
Parkman is a 5-10, 180-pound lefty from Central Valley High School in Spokane Valley, Wash. He is hitting .250 in 15 games for Lower Columbia, with two doubles, a triple, a homer and seven RBIs.
He is a Seattle Mariners fan who plans to major in business. He enjoys fishing, weightlifting, and spending time with his family; his other favorites are The Martian (movie); Naruto (TV show) and Can't Hurt Me (book).
Simon is a 6-1, 215-pound righthander from Centennial High School in Las Vegas. The ace of Corban's staff, he is 3-3, with a 1.07 ERA in seven games this spring, with 52 strikeouts and only four walks in 42 innings.
He helped lead Corban to the 2021 NAIA playoffs and garnered Cascade Collegiate Conference Pitcher of the Year and honorable-mention All-American honors after going 6-3 with a 2.63 ERA, 63 strikeouts and just 12 walks in 11 games. He had two homers, 10 RBIs and a .296 average in 26 games as a position player.
He was 0-0, 0.00 in four games in the Covid-shortened 2020 season, with 15 strikeouts in 15.1 innings. In 2019 he was 2-3, 3.17 in 11 games, with 48 strikeouts in 59.2 innings, and hit .262 with two homers and eight RBIs.
A sports and recreation management major and San Francisco Giants fan, he enjoys golf, spikeball and other outdoor activities. His favorites are The Interview (movie), Survivor (TV show) and the Mental ABCs of Pitching (book).
Simon was an all-state and all-region pitcher and an all-region outfielder at Centennial High School.
Simon pitched for Bellingham in the West Coast League in 2021 and was 2-3 with a 4.64 ERA in 11 total games. He won his lone playoff appearance and had 36 strikeouts in 33 innings.
Advincula is a 6-1, 190-pound left-handed hitter from Santa Clara, Calif., who played at Archbishop Mitty High School. He is a computer science major.
He is hitting .465 in 18 games, with a double, three triples, four homers and 19 RBIs. He hit .355 in 17 games as a freshman in 2020, with a homer and 15 RBIs, and .300 in 16 games in 2021, with a homer and seven RBIs. He doubled five times in 2020 and 2021.
Advincula is a Seattle Mariners fan who enjoys playing PlayStation 4 in his spare time. He also favors Over the Hedge (movie); Squid Games (TB show), and the Hunger Games series (book).
Anderson is a 6-foot-1, 200-pound Corvallis native who starred at Crescent Valley High School. A sophomore majoring in health and human performance, he transferred to MSU-Billings after two seasons at Skagit Valley (Wash.) College.
He is batting .268 at Billings, with five homers and 17 RBIs in 23 games. He hit .200 in 24 games at Skagit Valley in 2021, with four homers and 12 RBIs, and .382 in the Covid-shortened 2020 season, with two homers and 10 RBIs in only 11 games.
He also played in three games at Western Oregon in 2018.
This will be Anderson's third stint as a 10-day signee with the Knights. He hit .250 in seven games in 2018, with a homer and two RBIs, and .500 in 2019, with one RBI in four games.
Anderson was a three-year starter at Crescent Valley and was the team captain as a junior and senior. He was a first-team Mid-Willamette Conference all-star and first-team 5A all-state selection after hitting .455 as a senior.
The Knights begin the 2022 season on May 26 with their annual Science, Engineering & Art Day, presented by Paventy & Brown Orthodontics, at Goss Stadium against the NW Star Nighthawks. Their WCL opener is June 3 at Yakima Valley; their WCL home opener is June 17 vs. Yakima Valley.