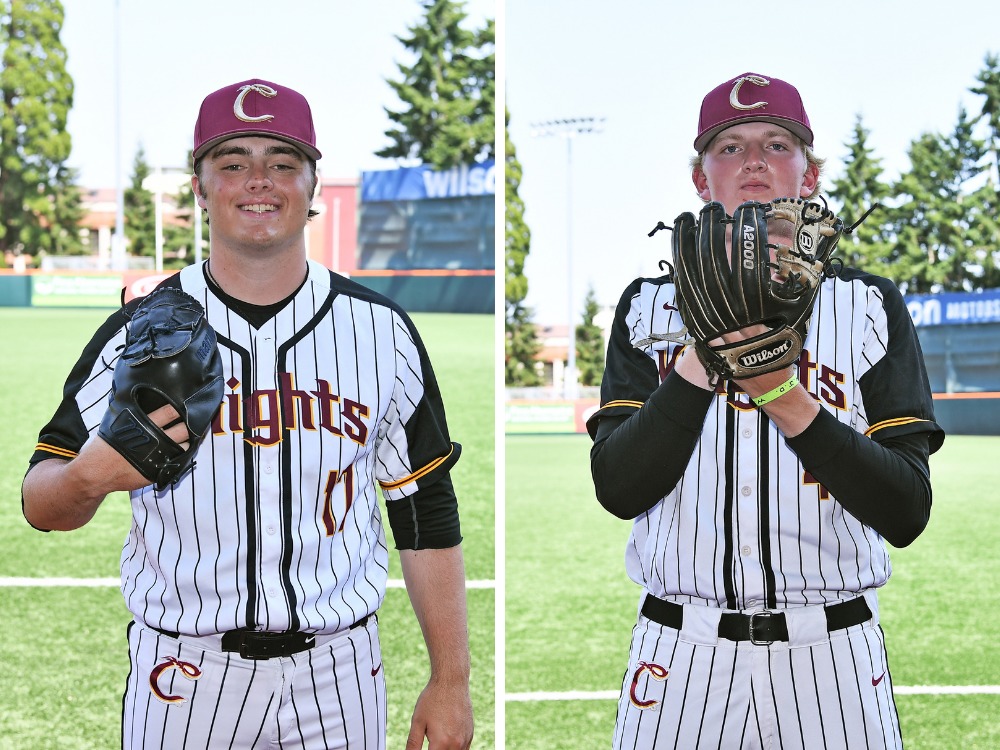 Pitchers Wiese, Kantola returning to Knights
Friday, February 18, Corvallis, Ore. – Two key members of the Corvallis Knights 2021 pitching staff will return for the 2022 season, Knights skipper Brooke Knight announced Friday.
They are George Fox University lefty Sean Wiese and Lipscomb University right-hander Kaleb Kantola, who helped the Knights capture their fifth consecutive West Coast League championship last summer.
Wiese is a 5-foot-8, 175-pounder from Wilsonville, Ore., who played at Canby High School. A business administration major, he is a redshirt sophomore at GFU this spring.
He is off to a great start this season, with 17 strikeouts and a 1.42 ERA in 12.2 innings in two appearances. He was named the Northwest Conference Pitcher of the Week for Feb. 7-13 after shutting out Occidental through seven innings on Feb. 12. He struck out 11 of the 27 batters he faced but was not involved in the decision.
Wiese was 1-0, 3.64 in 18 games for the 2021 Knights, with three saves and a 45-8 strikeout/walk ratio in 42 innings. He was crucial in the playoffs, with 2.2 scoreless innings in two relief appearances.
He was 0-0, 1.42 in two games at George Fox in 2021, with 17 strikeouts in 12.2 innings. Wiese was 2-1, 4.63 for the Bruins in 2020, with two saves and 13 strikeouts in 11.2 innings.
Wiese enjoys family time, traveling and listening to music. A Boston Red Sox fan, his favorites are Happy Gilmore (movie), Money Heist (TV show), and The Outsiders (book).
Kantola is a 6-6, 210-pounder from Monmouth, Ore., who starred at Central High School. He was the state 5A Pitcher of the Year while leading Central to the 2019 5A state championship.
He played at Chemeketa CC in 2021 and transferred to Lipscomb for the 2022 season. Kantola was 1-1, 4.50 in seven games for the 2021 Knights, with 29 strikeouts in 26 innings, primarily in non-league games. He went 0-0, 2.57 in two WCL outings, with 10 strikeouts in seven innings.
Kantola is an exercise science major at Lipscomb, a private Atlantic Sun Conference school located in Nashville. His favorite team is also the Boston Red Sox; he also enjoys fishing and favors Rookie of the Year (movie), The Office (TV) and Dr. Seuss books.
The Knights begin the 2022 season on May 26 with their annual Science, Engineering & Art Day presented by Paventy & Brown Orthodontics at Goss Stadium against the NW Star Nighthawks. Their WCL opener is June 3 at Yakima Valley; their WCL home opener is June 17 vs. Yakima Valley.