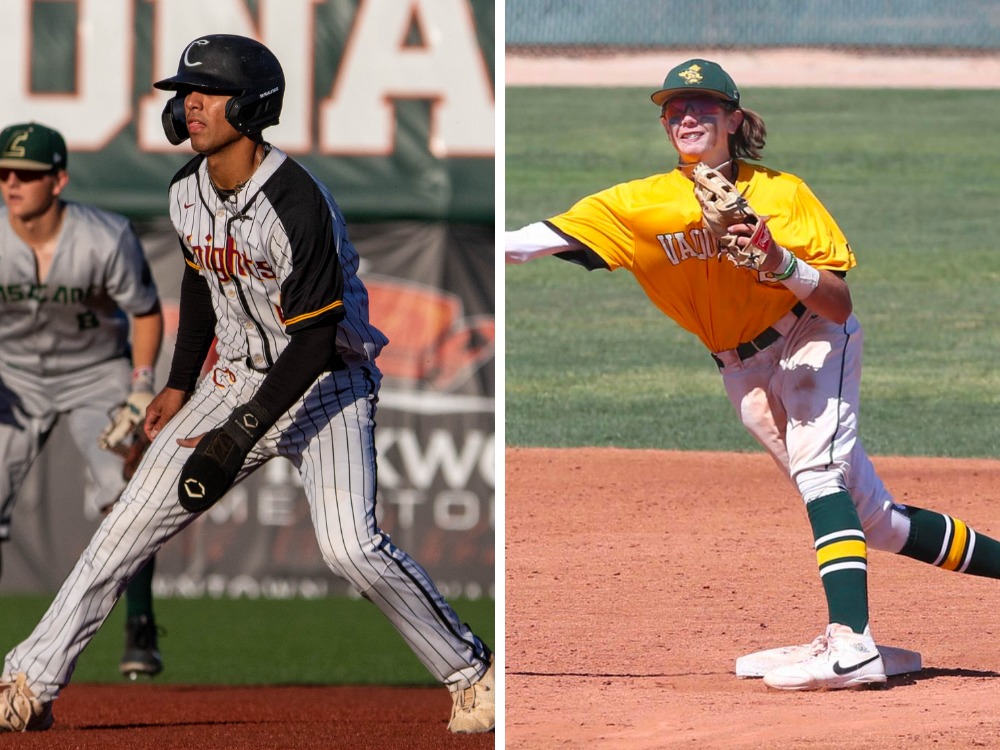 Romero, Dixon joining Knights in 2022
Tuesday, February 22, Corvallis, Ore. – A pair of standouts from Central Arizona College will join the Corvallis Knights for the 2022 season, Knights CEO Dan Segel announced Sunday.
The newest Knights are first baseman Kiko Romero, a starter on the 2021 West Coast League championship team, and middle infielder Devon Dixon, and are current Central Arizona teammates.
The 6-foot-185-pound Romero earned WCL honorable mention honors in 2021, when he hit .258 in 56 games, with 11 doubles, five triples, six homers and 39 RBIs. He garnered the WCL's final Player of the Week award by hitting .455 in the playoffs, with a double, three triples, two homers and 10 RBIs in series wins over Ridgefield and Yakima Valley.
Romero is batting .275 in 15 games this season, with three doubles, a homer and 10 RBIs in 15 games.
Romero was an Arizona Community College Athletic Conference and Division I all-region all-star in 2021, when he hit .322 in 59 games, with 10 homers and 60 RBIs. He was also nominated for Gold Glove honors.
A Tucson native who plans to major in communications at the University of Arizona when he enrolls there for the 2022-23 academic year, Romero graduated from Canyon Del Oro High School and played at CAC in 2019-21. A San Francisco Giants fan who enjoys golf in his spare time, his favorites are Avengers: End Game (movie) and Criminal Minds (TV show).
Dixon has played in 12 games this season and is hitting .188, with one homer and five RBIs.
Dixon also earned all-ACCAC honors in 2021 as a freshman by hitting .333 in 55 games, with five homers and 42 RBIs. He is a Phoenix native and graduate of Mountain Pointe High School.
A Seattle Mariners fan who also plays basketball in his spare time, his favorites are James Bond (movies), MLB Tonight (TV show) and Michael Jordan: The Life (books).
The Knights begin the 2022 season on May 26 with their annual Science, Engineering & Art Day presented by Paventy & Brown Orthodontics at Goss Stadium against the NW Star Nighthawks. Their WCL opener is June 3 at Yakima Valley; their WCL home opener is June 17 vs. Yakima Valley.