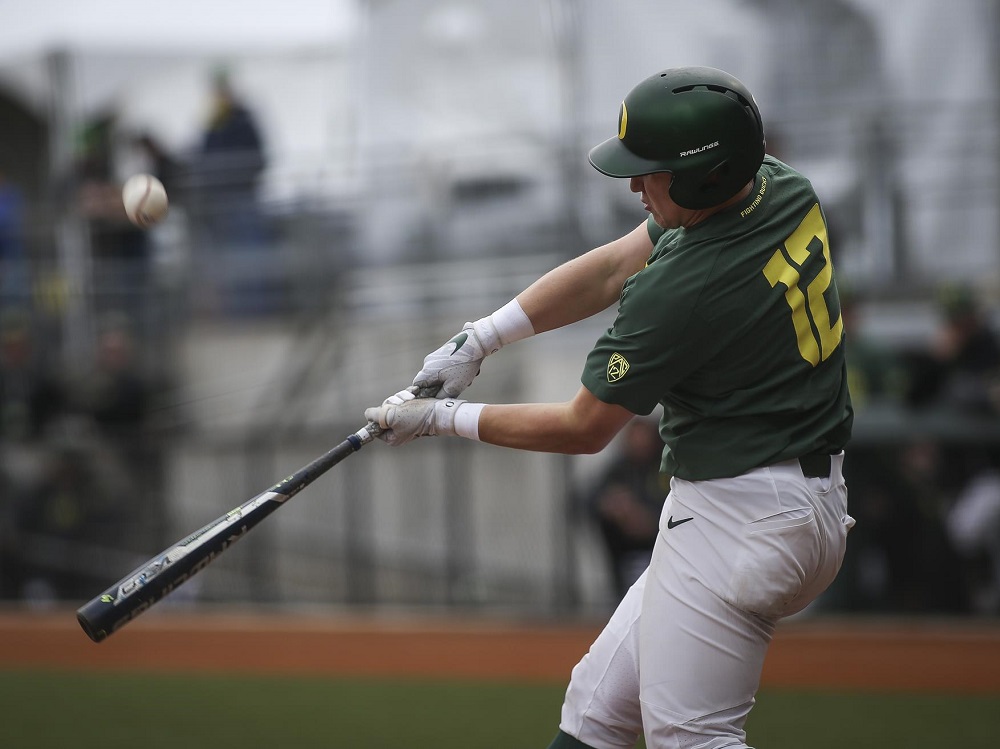 Ducks Gabe Matthews Set to Call Goss Stadium Home in Summer
In his younger days, future Corvallis Knights infielder Gabe Matthews grew up dreaming about playing at Goss Stadium at Coleman Field.
However, the former South Salem High School star always figured his chance to play at the Corvallis stadium would come as a member of the Oregon State baseball team, not with Oregon's.
Life often throws one a curveball, though. So, Matthews made his Goss Stadium collegiate debut on Tuesday, May 2nd as a Duck, not a Beaver, and went 1-for-3 in a 4-1 nonconference loss to OSU.
Matthews' base hit came in his first at-bat, when he laced a solid double to right field. The Ducks had only one other hit.
Matthews and Oregon teammate Taylor Travess – a three-year Knights veteran who played for Corvallis following his freshman and sophomore years at Mt. Hood CC – will be the first Ducks to play for the Knights since pitcher Stephen Nogosek in 2013.
"[Goss Stadium] seems like a good atmosphere, a fun place to play, and the Knights are all about winning, which is a good piece of it," Matthews said. "It's going to be weird at first," playing on your archrival's home field.
"Hopefully I'll get some love" from a Knights fan base that is also passionate about the Beavers. "I'll get used to it. I grew up an Oregon State fan, but now I'm playing for the Ducks. It will be a good experience.
"Taylor said it's a lot of fun, it's a good group of guys, it's about winning and the coaches are good. He said he loved it, and I'm excited."
A 6-foot-2, 180-pounder who bats left and throws right, Matthews was a four-year letterman at South Salem and earned 6A all-state honors after hitting .502 as a senior. He was the Greater Valley Conference Player of the Year in 2016, and was also all-league in football and basketball.
He also played with future Knights teammate Elliot Willy of Oregon State for the South team in the 2016 Oregon All-Star Series.
His all-around athleticism has translated well to college baseball. A season-long starter, Matthews is hitting .284 (38-134) in 40 games, with two homers and 20 RBIs and an outstanding 23-23 walk/strikeout ratio heading into this weekend's Civil War series vs. Oregon State at PK Park.
"Obviously the pitching is a lot more competitive, that's been the biggest adjustment," he said. "Throughout the year I've gotten more adjusted to it.
"I'm pleased where I'm at but there is always room to get better, for improvement."
Matthews played for the Portland Pickles in the Great Northwest League last summer. He hit .224 (19-85) in 24 games, with a homer, 12 RBIs and six multi-hit games.
He said his biggest takeaway from his first go-round in summer baseball was learning to rest whenever possible.
"You're constantly going, there aren't many breaks," he said. "In college there are two or three days every week where you get a break, maybe a Monday off here and there. You don't get that in the summer," when the 60-game regular-season schedule is condensed into an eight-week span.
Matthews stole one base in two attempts for the Pickles and is 1-for-1 with the Ducks. Nevertheless, he enjoys playing for teams that put the game in motion and pressure the opposition into making mistakes, a Knights hallmark under 10-year head coach Brooke Knight.
"I'm not going to be a guy who steals a ton of bases, but it is fun" to play with teammates who do, he said. "Go, go, go, be aggressive. That's fun baseball."
You can catch Gabe in action tonight through Saturday as all three of the Civil War games at PK Park will be broadcast on Pac-12 Networks.