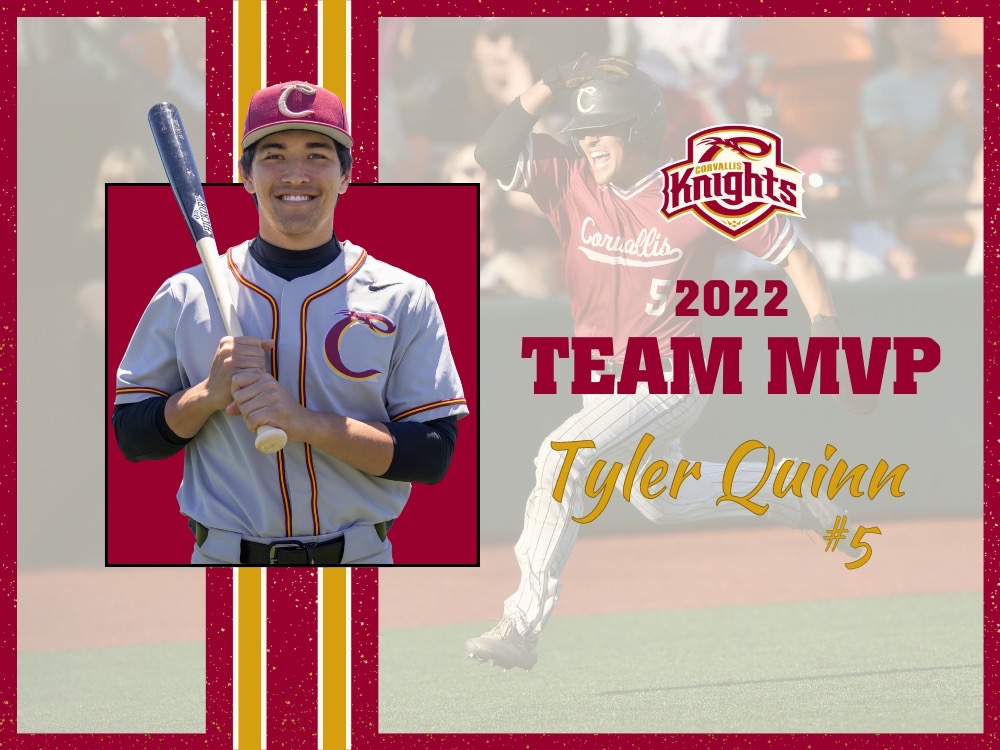 Corvallis Knights Announce Team Honors
Tuesday, August 30, Corvallis, Ore. – The back-to-back-to-back-to-back-to-back-to-back West Coast League champion Corvallis Knights announced their team awards this morning as voted on by the club's coaches and front office.
Tyler Quinn of Pacific University in Forest Grove, Ore., who played catcher and third base this summer, was named the Corvallis Knights Most Valuable Player. The junior hit .315 in the regular season and led the team in overall doubles with 11. In the post-season, the Hawaii native hit two doubles and collected 6 RBIs.
"TQ played solid defense both at catcher and third all summer long," said Corvallis skipper Brooke Knight. "He was also one of our most consistent hitters. He's a grinder and was a big part of this season's championship team. We can't be more pleased to announce Tyler as our MVP."
Sean Wiese of University of Hawaii by way of George Fox University earned team Pitcher of the Year honors. He led the WCL in relief pitcher points with 25 and his 2.00 overall ERA was a team low. For the summer, the junior southpaw went 5-0 with 6 saves and was one of only two Knights to earn first-team all-WCL honors.
"Sean came up clutch for us time and time again," said Knight. "He had a huge summer and showed that he is one of the better pitchers in the Pacific Northwest. Without Sean's string of masterful performances, not sure we make a run like we did."
Freshman Stanford hurler Matt Scott, a 20th round draft pick of the Texas Rangers out of Joel Barlow High School in Connecticut, was named the team's Top Prospect. Scott turned in two strong post-season performances and finished the summer with a 2.42 ERA over 9 appearances, 4 starts and 26 innings pitched. He went 2-0 and struck out 27 while walking 12.
"Scott's stuff is electric," said Knight. "He has a very bright future in the game and is an extraordinary young man. He'll be fun to watch next spring at Stanford."
This season's Joe Segel Hustle Award went to junior second baseman Mason Le of Cal State Northridge. Mason led Corvallis in at bats with 187 and played a stellar infield for the Knights. He emerged as a team leader and played hard from start to finish. For the season, Mason hit .255 with 8 doubles, 17 stolen bases and 24 RBIs. This honor is named after former Aloha High School scrappy infielder and Knights Baseball Club co-founder Joe Segel.
"This team was full of leaders, but Mason stood out," said Knight. "He brought great energy to the yard every day and was a heady player for us. We really appreciated his leadership. The guy can really turn the double play too and should have a great spring with the Matadors."
Corvallis beat Bellingham 5-0 on August 15th in the West Coast League championship game at Goss Stadium to secure a six-peat. The Knights got to the title game by edging Yakima Valley two games to one in the WCL South first-round playoff series and by topping Ridgefield in the WCL South championship game, 5-2.
The Knights finished the regular season with a 39-15 record, the best mark in the WCL.
Corvallis was the recipient of the prestigious Jim Dietz Team Sportsmanship Award. Brooke Knight was named the WCL Coach of the Year for an eighth time and Dan Segel earned WCL Executive of the Year honors.
Closer Sean Wiese and starting pitcher Kaden Segel of Linn-Benton CC, a sophomore at University of Portland, earned first-team All-WCL honors.
First baseman Kiko Romero of Central Arizona College, a redshirt sophomore at University of Arizona, and junior starting pitcher Jesse Barron of University of San Francisco both were named second-team all-WCL.
Earning team MVP votes were junior outfielder Jonah Advincula of Washington State and sophomore catcher/outfielder Ryan Stafford of Cal Poly; Pitcher of the Year consideration Kaden Segel and Joe Segel Hustle Award tallies Jonah Advincula and Tyler Quinn. Scott was a unanimous Top Prospect pick.