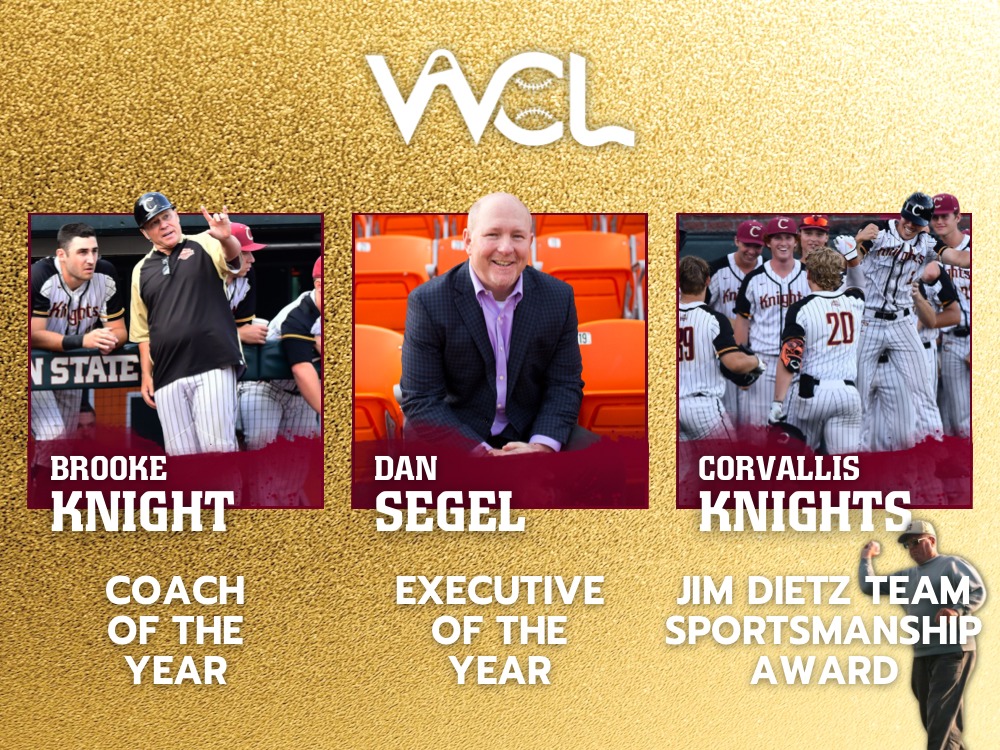 Knights Take Home Coach of the Year, Exec of the Year and Team Sportsmanship WCL Honors
Friday, August 19, Portland, Ore. – The West Coast League announced four more honors this morning, its Coach of the Year, Executive of the Year, Top Prospect and Jim Dietz Team Sportsmanship Award.
The 2022 WCL champion Corvallis Knights took home three of the honors.
Corvallis skipper Brooke Knight was named WCL Coach of the Year for a record eighth time. Over 14 years managing the Knights, Brooke has compiled a 619-260 record and won nine West Coast League crowns. He led Corvallis to a sixth consecutive title in 2022 and a league-best mark of 39-15.
Knights Baseball Club CEO Dan Segel was named the 16-team circuit's Executive of the Year. Segel co-founded the Knights with his brother Joe and was also selected as the West Coast League Executive of the Year in 2007, 2008 and 2009. Corvallis set a team attendance record in 2022, drawing 61,390 fans to OSU's Goss Stadium this summer, a per game average of 1,805.
Future Oklahoma State catcher Beau Sylvester of the Bend Elks was rated the WCL's Top Prospect by the league's coaches. Last season, Oregon State second baseman Travis Bazzana of Corvallis earned Top Prospect honors. The season prior, Cal Poly shortstop Brooks Lee of the Knights was named the league's Top Prospect.
For the third time, and first since 2016, the Knights were the recipient of the Jim Dietz Team Sportsmanship Award. Corvallis also earned this honor in 2008.
"Earning the Jim Dietz Team Sportsmanship Award is the pinnacle of this season," said Knights Baseball Club CEO Dan Segel. "It carries extra significance considering our long-term relationship with coach Dietz and his passing this year. We are grateful to earn this award and to have learned from Jim. He was a good man and great baseball guy."
Knights head coach Brooke Knight added, "this honor exemplifies the character of this group. They played hard, enjoyed competing, loved each other and respected the game. We're overjoyed to be selected for this award."
Yesterday, the WCL unveiled its all-league honors. To check out the complete listing of the teams, please click here.
Check out the recent Democrat-Herald article by Jesse Sowa titled "Knights baseball: Talent, chemistry, friendship carry Corvallis to another league title" by clicking here.