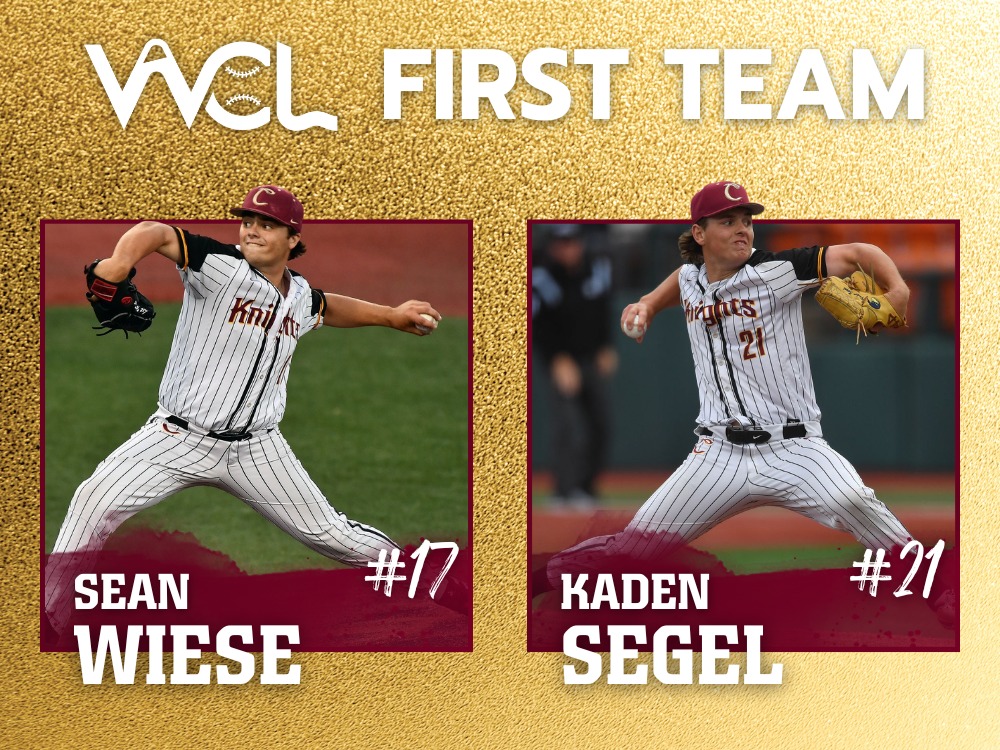 Pitchers Kaden Segel and Sean Wiese Earn First-Team All-WCL Honors
Thursday, August 18, Portland, Ore. – The West Coast League unveiled its all-WCL teams this morning, as announced by league commissioner Rob Neyer.
Two Knights earned first-team all-WCL honors, two were named to the second team and seven earned honorable mention recognition.
Future Portland Pilots sophomore right-handed pitcher Kaden Segel and future University of Hawaii junior southpaw Sean Wiese were both named first-team all-West Coast League. Segel was selected as a starting pitcher and Wiese as a reliever. The two anchored a stellar pitching staff that led the entire West Coast League with a team-low 2.55 ERA.
Segel went 4-1 with a 1.83 ERA over 39.1 innings pitched during the regular season and made two appearances in the post-season including a relief win in the Knights WCL championship game victory versus Bellingham. Wiese led the WCL in relief pitcher points with 25 as the lefty went 5-0 with 5 saves while posting a 1.50 ERA in the regular season. The Corvallis closer also earned a clutch 4-inning save in the Knights South Division championship game triumph over the Ridgefield Raptors.
For the summer, Segel went 5-1 with a 2.05 ERA and led Corvallis in strikeouts with 42 and innings pitched with 48.1. Wiese posted a team-low overall ERA of 2.00 and went 5-1 with 6 saves while striking out 39 batters and walking only 6 over 45 innings pitched.
This past spring, Segel pitched for the NWAC champion Linn-Benton CC Roadrunners. Over 37 innings pitched, the freshman went 4-2 with two saves and a 2.43 ERA. Wiese wrapped up his third spring with George Fox of the Northwest Conference (NCAA DIII), leading the Bruins in innings pitched (71.2) and strikeouts (70) while recording a 3.89 ERA. Both Segel and Wiese were returnees from the Corvallis Knights 2021 championship team.
Another returner, future Arizona Wildcats first baseman Kiko Romero, was named second-team all-WCL. He led all WCL first basemen in total chances with 360, put outs with 334 and assists with 19. For the regular season, the sweet-swinging left-handed hitting slugger led Corvallis in RBIs with 34 and triples with 5 while hitting .254, blasting 5 roundtrippers and stealing 14 bases.
This past spring, Romero led Central Arizona College (JC) to a National Championship. He was the NJCAA World Series Tournament MVP. Romero hit .366 for the Vags with 25 home runs and 84 RBIs. Kiko played three springs at Central Arizona compiling a .346 career batting average with 36 homers and 167 RBIs. He will be a sophomore at University of Arizona as his first two seasons did not count due to COVID-19 eligibility waivers.
Newcomer, starting pitcher Jesse Barron of University of San Francisco also earned second-team all-WCL honors. Barron went 3-1 with a 1.39 ERA over 7 appearances, 5 starts and 32.1 innings pitched. He struck out 28 and only walked 3. Last spring as a sophomore, he went 4-4 over 17 appearances and 10 starts for the Dons. He struck out 64 over 60.1 innings pitched while posting a 6.12 ERA.
Barron was named a Freshman All-American by Collegiate Newspaper in 2020, a COVID-19 shortened season. He registered two saves and posted a 0.96 ERA over 9.1 innings pitched while striking out 14 and only walking two that season. In his first full spring, he went 5-2 with a 2.74 ERA for USF in 2021.
Seven Corvallis Knights earned honorable mention all-WCL honors including future senior Washington State outfielder Jonah Advincula, junior second baseman Mason Le of Cal State Northridge, sophomore shortstop Zander Darby of UC Santa Barbara, sophomore infielder Temo Becerra of Stanford, sophomore starting pitcher Joey Gartrell of Portland, sophomore reliever Neil Feist of El Camino College (JC) and redshirt frosh reliever Nathan DeSchryver of Gonzaga.
To check out the complete 2022 all-West Coast League teams, please click here.
Corvallis captured its sixth straight WCL title in 2022 by winning four consecutive playoff elimination games including beating Bellingham, 5-0, in the WCL final. The Knights finished the season 39-15 and have now won nine league championships.