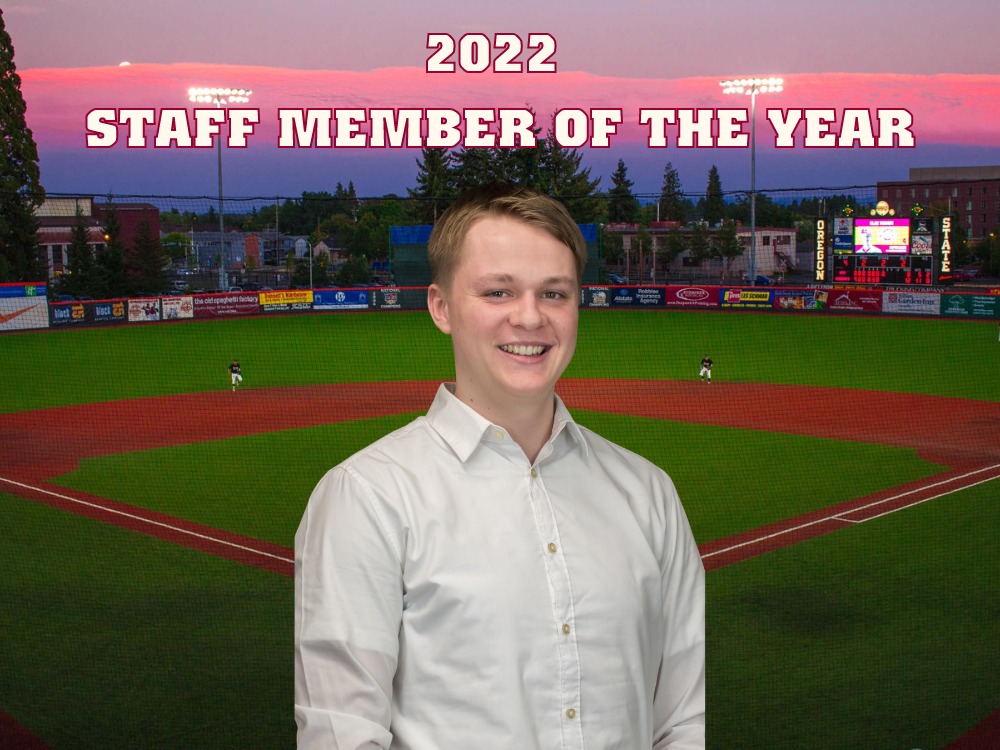 Derek Buchheit Named Corvallis Knights Staff Member of the Year
Tuesday, September 6, Corvallis, Ore. – University of Oregon graduate Derek Buchheit, the Corvallis Knights Director of Operations, was named the club's 2022 Staff Member of the Year.
Voting was conducted by his co-workers and was unanimous. It is the second such honor for Buchheit, a Stayton native who originally joined the Knights as an intern for the 2018 season. He was also honored in 2020.
Buchheit recently completed his first season as Director of Operations, handling ticketing, game management and stadium upkeep/prep. He also oversaw the club's intern program.
This past summer, the Knights captured their sixth consecutive West Coast League championship and established franchise records in total (61,390) and average per-game (1,805) attendance.
"Derek really stepped up this year in taking on a new ticketing platform amongst a list of other critical duties," Knights president Bre Miller said. "He has really blossomed in his few years with the Knights and is a top-notch employee.
"While Derek has his own responsibilities, from ticketing to facilities, he is always the first to ask how he can help one of his teammates and looks for ways to improve the team's effectiveness and efficiencies.
"We are lucky to have him representing the hometown team."
Buchheit joined the Knights as an intern in 2018, following his graduation from Oregon with a degree in business administration, with a concentration in sports business.
He transitioned to a full-time role in 2019 as the Box Office and Facilities Manager. After the season, he was promoted to Ticketing and Facilities Manager, and earned his first Staff Member of the Year Award for his work during 2020.
Buchheit played baseball, basketball, soccer and football growing up and graduated from Stayton High School in 2014. He enjoys spending time with friends, skiing, officiating high school basketball and watching sports in his spare time.
The Staff Member of the Year Award is one of the highest honors in the Knights organization. Previous winners were Jennifer Beaumont (2021), Buchheit (2020), Sarah Hoechlin (2019), Nicole Schroeder (2018), Jared Carr (2017), Melissa Sullivan (2016), Anna Seydel (2015), Brooks Hatch (2014), Lil' K and Mack the Knight (2013), Jeremy Ainsworth (2012), Bre (Kerkvliet) Miller (2011), Doug Blair (2010), Brian Brooks (2009), Stro Strohmeyer (2008) and Holly Jones (2007).