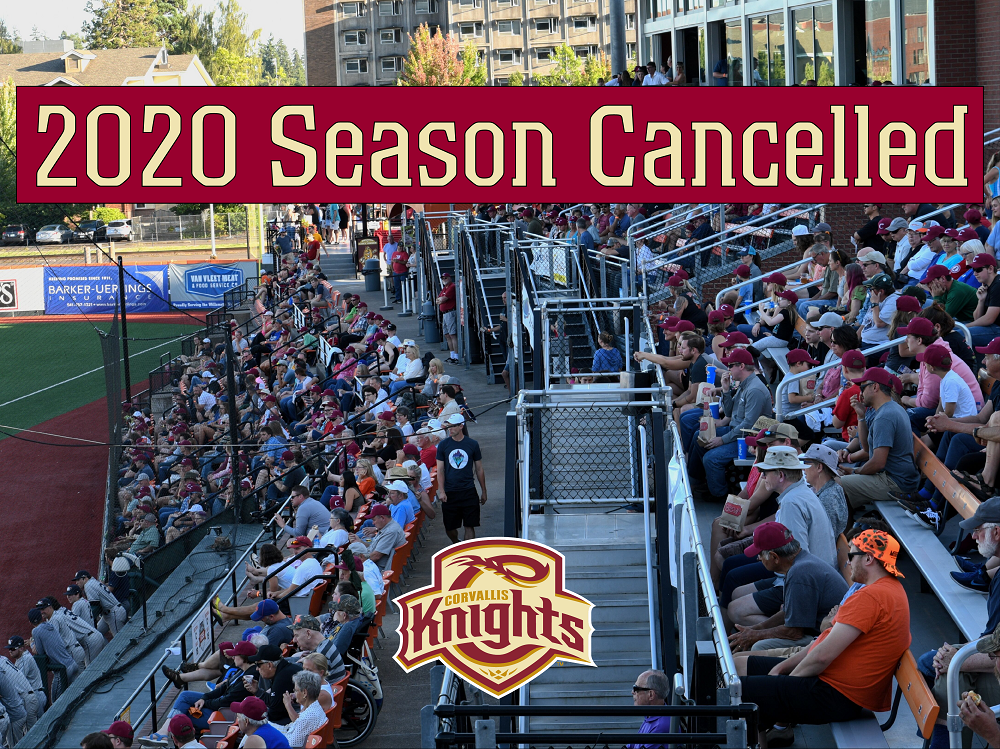 Summer Knights Pushed Out to 2021
Corvallis, Ore., May 8, 2020 – With a heavy heart, the Corvallis Knights announced this morning they are cancelling their 2020 season due to COVID-19 measures. While the Knights won't be playing ball this summer at OSU's Goss Stadium, they are committed to re-opening at Goss in 2021, and returning to West Coast League action stronger than ever. The back-to-back-to-back-to-back WCL champions will continue operations this year in preparation for 2021, and remain actively engaged in their communities.
The organization is devoted to its fans, partners, players, coaches and staff: from Mack the Knight being on-call for celebration parades, to online promotion of its sponsors, to future Coach Yoon virtual engagements, to keeping its entire full-time staff employed.
Currently, the team is working remotely, but will re-open its downtown Corvallis office once it's allowed to do so. Don't hesitate to email or call the office with any questions or for assistance in the community.
"These are clearly unprecedented times, and rough on us all. We want to be playing, to be entertaining, but it's not meant to be this year," said Bre Miller, president/GM, Corvallis Knights. "During this pause, it sure makes us appreciate how good we've had it. We feel like no one has it better. We set record after record last season, from wins to averaging 1,679 fans per game, and we did so thanks to our amazing fans, partners, players, coaches and staff. Summer Knights at Goss were magical, and they will be magical again."
"We definitely have lots to be grateful for, including the club's long-term partnership with Oregon State University, OSU Athletics and OSU Baseball," commented Miller. "We can't thank the school and its leadership enough for making so many memories possible at Goss Stadium. Shoutouts to Ed Ray, Steve Clark, Skip Rochefort, Colleen Bee, Erin Sneller, Scott Barnes, Pat Casey and Mitch Canham and all their staffs for always being so supportive of the hometown team."
Scott Barnes, Vice President and Director of Athletics at Oregon State said, "While we share the disappointment that our community will not be able to be at Goss Stadium to support these outstanding young athletes with tremendous aspirations, we look forward to our continued partnership and the return of Knights baseball in 2021."
Corvallis is the second West Coast League member to share cancellation news, as the Bellingham Bells also announced they will not be able to hold events at their ballpark in 2020.
"We're very sad to share this news, but we control what we can control," said Dan Segel, CEO, Knights Baseball Club. "We choose to look back at all the great times and look forward to Goss lighting up again next spring with the Beavers, and then with the Knights next summer. We can't wait to work with our players and interns again, and to see our awesome fans. Stay safe and healthy everyone, and remember to be kind to all."
The Knights' immediate focus is being present for their fans, partners and the community as well as focusing on what it can do: supporting OSU Athletics in any manner possible, including purchasing season tickets for OSU football this fall; honoring the state's senior high school baseball players with custom Oregon All-Star Series Senior Strong hats; and prepping for our next big gathering, a cooperative effort with the Southwest Washington Baseball Group that brings coaches together at the Northwest Baseball Coaches Association convention in Portland each January.