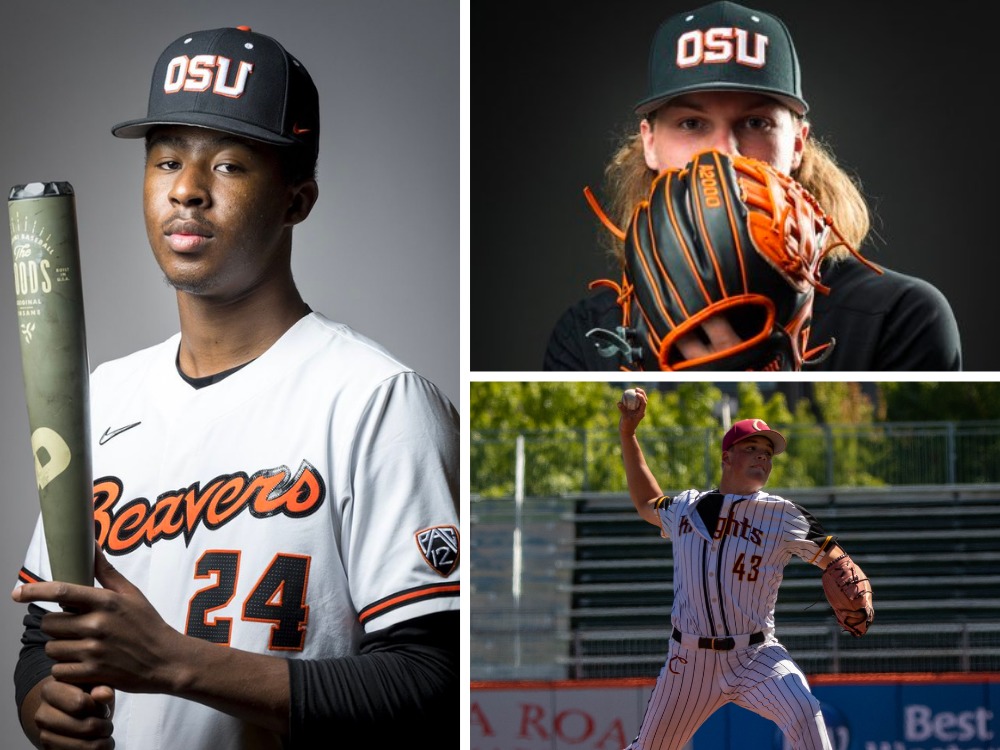 Beavers Stuhr, Brown, King-Reed joining Knights
Friday, March 4, Corvallis, Ore. – Three members of the Oregon State baseball program won't have far to go when they join their summer league baseball team for the 2022 season.
Corvallis Knights head coach Brooke Knight announced Friday that Beaver pitchers Sam Stuhr and Ryan Brown and outfielder Tyree King-Reed will join the club in its quest for a sixth consecutive West Coast League championship.
Stuhr is a 6-foot-1, 200-pound righty from Madison High School in Portland. Brown is a 6-2, 214-pound righty from South Salem High in Salem, and King-Reed is a 6-3, 205-pound lefty from American Canyon High School in Vallejo, Calif.
Stuhr is a sophomore, Brown a redshirt freshman and King-Reed a true freshman.
Stuhr joined the Knights at midseason in 2021 and went 1-0 with a 2.53 ERA in seven total games, with a save and 18 strikeouts in 21.1 total innings. He went 4.1 scoreless innings vs. Yakima Valley in Game 1 of the West Coast League Championship Series but was not involved in the decision.
He played at Lower Columbia College in Longview, Wash., in 2021 and went 2-0, 2.36 in seven games, with 32 strikeouts in 26.2 innings. He pitched and played shortstop at Madison and also played for the Oregon team at the 2015 Little league World Series.
A kinesiology major at OSU, he is a fan of the Los Angeles Dodgers and also likes the Dark Knight (movie), The Office (TV show) and The Mental Game of Baseball (book).
Brown was selected by the New York Yankees in the 26th round of the 2019 MLB draft after a standout career at South Salem High School. He was a 6A second-team all-state selection as a senior, when he went 7-0, 2.22, with 69 strikeouts in 50.1 innings. He was also ranked as Oregon's No. 3 prospect by Baseball Northwest.
Brown notched his first college victory on Feb. 24 with two innings of two-hit relief in a 13-3 win over Xavier at Surprise, Ariz. He is 1-0, 3.86 in three appearances, with four strikeouts in 4.2 innings.
He was 0-0, 0.00 in three games, with two strikeouts in 3.1 innings with the Beavers in the Covid-shortened 2020 season. He redshirted in the 2021 college season but did play for the Medford Rogues in the Golden State League and was 1-0, 2.81 in eight games, with 16 strikeouts in 16 innings. Medford is coached by former Knight and Beaver Bill Rowe.
A sociology major, his favorite MLB team is the Yankees. He enjoys playing Fortnite, Spiderman-No Way Home (movie) and The Bachelor (TV show).
King-Reed was a Perfect Game and Under Armour All-American at American Canyon HS, and a three-time member of various USA Baseball teams. He is redshirting for the Beavers in 2022.
"[King-Reed has] one of the best toolsets in the [2021 recruiting] class from top to bottom," wrote Jake Tillinghast of the Prospects Worldwide website. "The energy and passion he brings to the field are contagious."
"Added to the great makeup and leadership qualities, Tyree King-Reed is one of the most intriguing prospects in the 2021 class. In so many ways he resembles a future Curtis Granderson for all those reasons mentioned above plus the production on the field."
King-Reed is also majoring in kinesiology and plans to pursue a career in the sports medicine field.
The Knights begin the 2022 season on May 26 with their annual Science, Engineering & Art Day, presented by Paventy & Brown Orthodontics, at Goss Stadium against the NW Star Nighthawks. Their WCL opener is June 3 at Yakima Valley; their WCL home opener is June 17 vs. Yakima Valley.