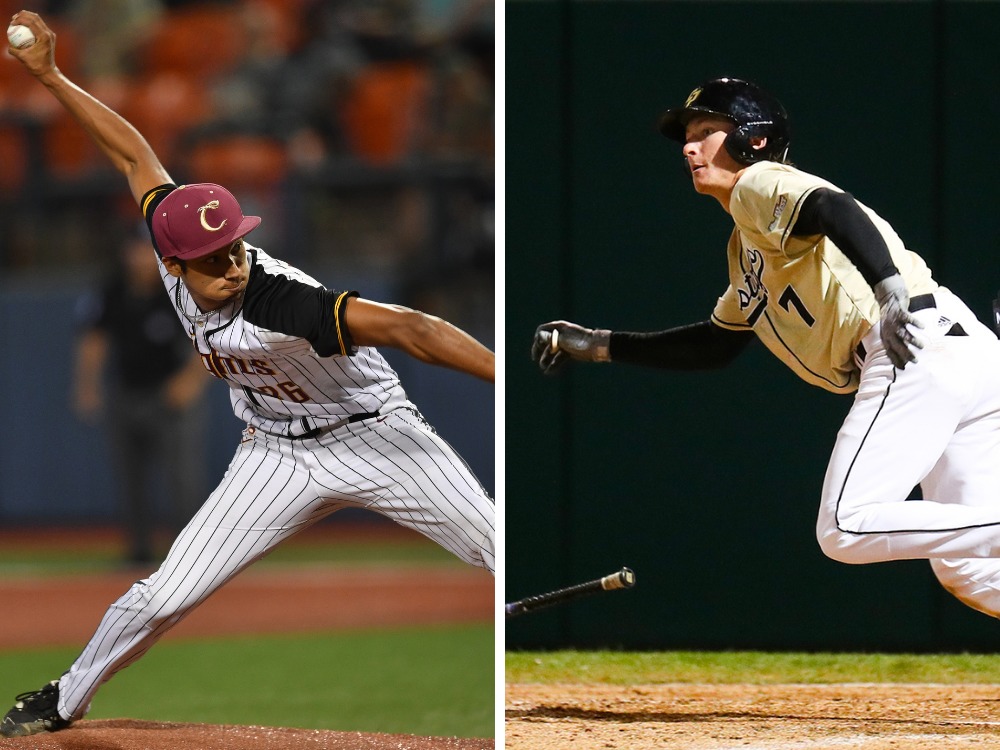 Veteran Walter, Stafford 2022's Cal Poly Knights
Wednesday, March 2, Corvallis, Ore. – Longtime partner school Cal Poly will send returning pitcher Chase Walter and catcher Ryan Stafford to Corvallis for the 2022 West Coast League season, Knights head coach Brooke Knight announced Wednesday.
A 6-foot-1, 170-pound submarining righthander from Dana Hills High School in Laguna Niguel, Calif., Walter pitched in 15 games for the 2021 Knights, going 3-1 with a 5.47 ERA and 31 strikeouts in 24.2 innings. He was 0-0, 4.24 in 13 relief appearances for Cal Poly as a freshman in 2021, with 12 strikeouts in 17 innings, but has no appearances yet in 2022.
Walter is a business administration major who wants to be a real estate salesman. He played his sophomore season of baseball at Dana Hills, then played two years with the Baseball Performance Academy, a year-round travel program. He twice earned Perfect Game all-tournament honors and he also played in the 2019 Perfect Game World Wood Bat Association World Championship.
He graduated from Dana Hills with a 4.5 grade-point average. Walter has great speed and ran the 100 (11.27), 200 (22.53) and 400 (48.98) for the DHHS track team as a senior.
Walter is a New York Yankees fan. His favorite movie is Superbad; his favorite TV show is Lucifer and his favorite book is The Perks of Being a Wallflower. He enjoys playing the video game NBA 2K in his free time.
A 5-foot-9, 170-pound freshman from Folsom High in Folsom, Calif., Stafford has started seven games in 2022 and is hitting .333, with five doubles and two RBIs. He had three hits vs. Washington on Feb. 19 in his second career college game.
Stafford hit .458 with nine doubles, two triples, two homers and 19 RBIs and earned first-team all-Sierra Foothill League honors at Folsom as a senior. His junior season was limited to three games by Covid-19; he hit .333 and made all-conference and was second-team all-Sacramento Metro as a sophomore in 2019.
He played for the Badland Big Sticks in Dickinson, N.D., in the Expedition League in 2021, with 15 doubles, two triples, three homers, 35 runs and 28 RBIs.
Stafford is a projected business administration major. A San Francisco Giants fan, he enjoys hunting, hiking and other outdoor activities; his other favorites are Semi-Pro (movie); Breaking Bad (TV show) and the Hunger Games series (book).
The Knights begin the 2022 season on May 26 with their annual Science, Engineering & Art Day, presented by Paventy & Brown Orthodontics, at Goss Stadium against the NW Star Nighthawks. Their WCL opener is June 3 at Yakima Valley; their WCL home opener is June 17 vs. Yakima Valley.