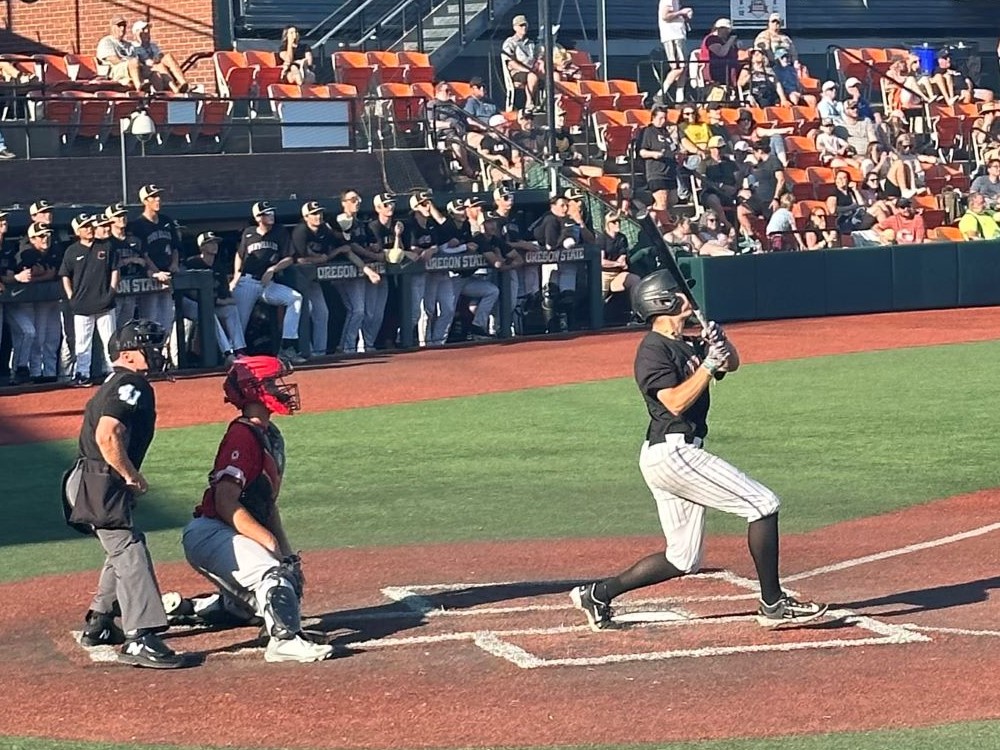 Stem's HR caps Knights offense in 6-2 triumph over Kamloops
Sunday, June 25, Corvallis, Ore.  – Sam Stem blasted his first homer of the summer to lead Corvallis to a 6-2 West Coast League victory over Kamloops before a sun-kissed crowd of 1,106 at Goss Stadium.
Stem's (Gonzaga, pictured above) solo shot into the top row of the right-field bleachers concluded the scoring for the Knights (13-7, 10-7 WCL). He also had an RBI single and a stolen base as the Knights evened the three-game series, which concludes at 6:35 p.m. Monday. The NorthPaws won the June 24 opener, 6-3.
Catcher Tyler Howard (Portland) doubled, singled, scored twice, walked twice and reached base safely in all four plate appearances. Center fielder JC Ng (Pomona-Pitzer) drove in three runs, stole two bases and scored once.
Third baseman Levi Jones (Oregon State) doubled, singled and stole a base. Ty Yukumoto (Pacific) had two hits, two runs and a steal and second baseman Tyler Quinn singled twice and drove in a run.
Corvallis starter Merit Jones (Utah) spaced five hits over five innings and left with a 3-1 lead. He struck out three and benefited from a diving, over-the-shoulder catch by Quinn that resulted in a P4, 4-3 double play ending the fifth inning.
Jones was named the Washington Park Advisor Player of the Game. He evened his record at 1-1 and lowered his ERA from 2.70 to 2.45.
Grant Cleavinger (Nebraska) followed with four strikeouts in two perfect, dominant innings. Sean Wiese and Bransen Kuehl (Utah) finished up with an inning each.
Monday's 6:35 p.m. finale matches Portland Morgan Codron (0-0, 5.14) for Corvallis vs. Pima CC lefty Matthew Romero (1-1, 6.75).
Corvallis has won the last six WCL championships.
Sunday's crowd of 1,106 raised the season attendance to 17,869 in 11 dates.