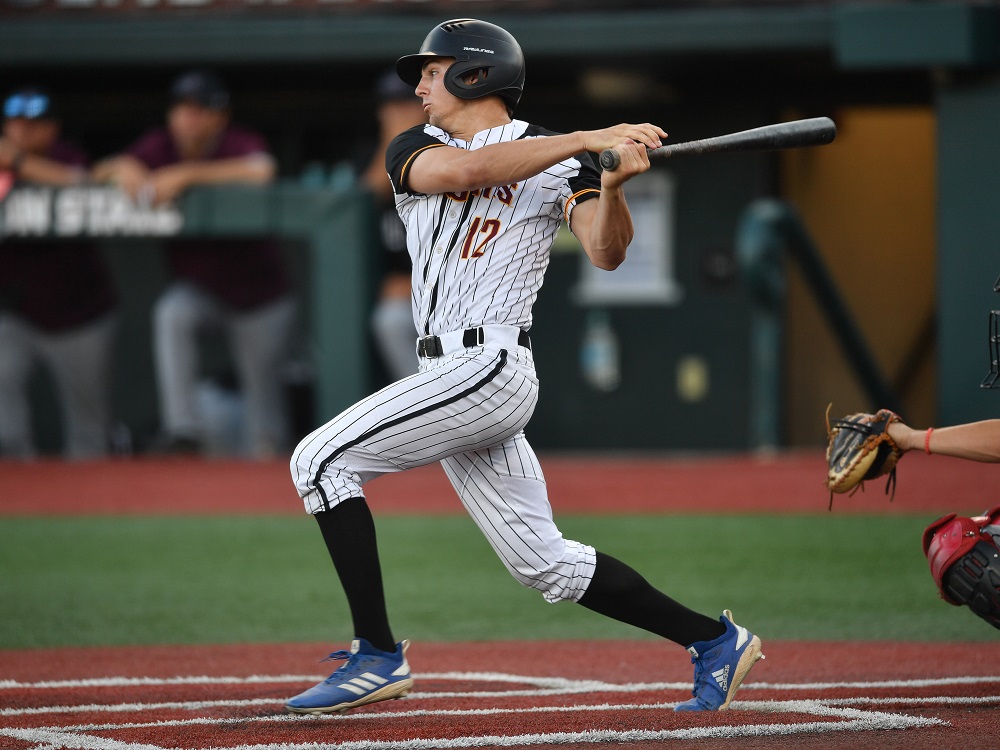 Stancato's 11th-Inning Single leads Knights to Series Sweep
Saturday, July 24, Corvallis, Ore. – Kyler Stancato's 11th-inning RBI single gave the Knights a 5-4 victory over Medford in a nonleague game, thrilling a Goss Stadium crowd of 1,596
Nick Vogt (UC Santa Barbara) started the winning rally with a one-out single. He stole second and cruised home when Stancato (Washington State) flared a single into short right-center field.
Vogt (pictured, above) had a two-run homer, scored the tying run in the ninth and the winning run in the 11th. He scored three times and also stole a base.
"That was really fun," Vogt said of scoring such important runs. "There aren't very moments when the game is on the line" as it was on Saturday. "You have to think quick on your feet. Those are the most fun moments, especially when you're able to get a win for your team."
Stancato also had three hits, a double and two singles. Taison Corio (Cal Poly) doubled, singled and scored as the Knights (25-8 WCL, 7-2 second half, 32-10 overall) rapped out 11 hits.
The Knights started quickly and scored three times in the first. Riley Way (Lewis-Clark State) led off with a triple and scored on Travis Bazzana's (Oregon State) sacrifice fly to deep center. Corio doubled and Vogt crushed a two-run blast to left-center for his second homer of the summer.
"I was just trying to beat the (pitcher)" on his home run, Vogt said. "He was coming at us and I knew I would get something to hit."
The bats then went to sleep, however, and Corvallis had just four hits until tying the game with two outs in the ninth. A pinch-hit infield single by Braden Boisvert (Oregon State) scored Vogt, who led off with a double and went to third on Stancato's sacrifice bunt.
Ben Kibbe (Utah) went the final three innings for the win. He did not allow a hit, struck out three and retired nine of the 10 batters he faced.
Starter Drew Dowd (Stanford) allowed three runs on four hits in five innings. He struck out six and retired the final eight Rogues he faced in order.
Corvallis concludes the weekend on Sunday with a nonleague game against the Willamette Wild Bills of the four-team Wild West League at North Marion High School in Aurora. Its next West Coast League action is Tuesday-Thursday against Walla Walla at Goss Stadium.