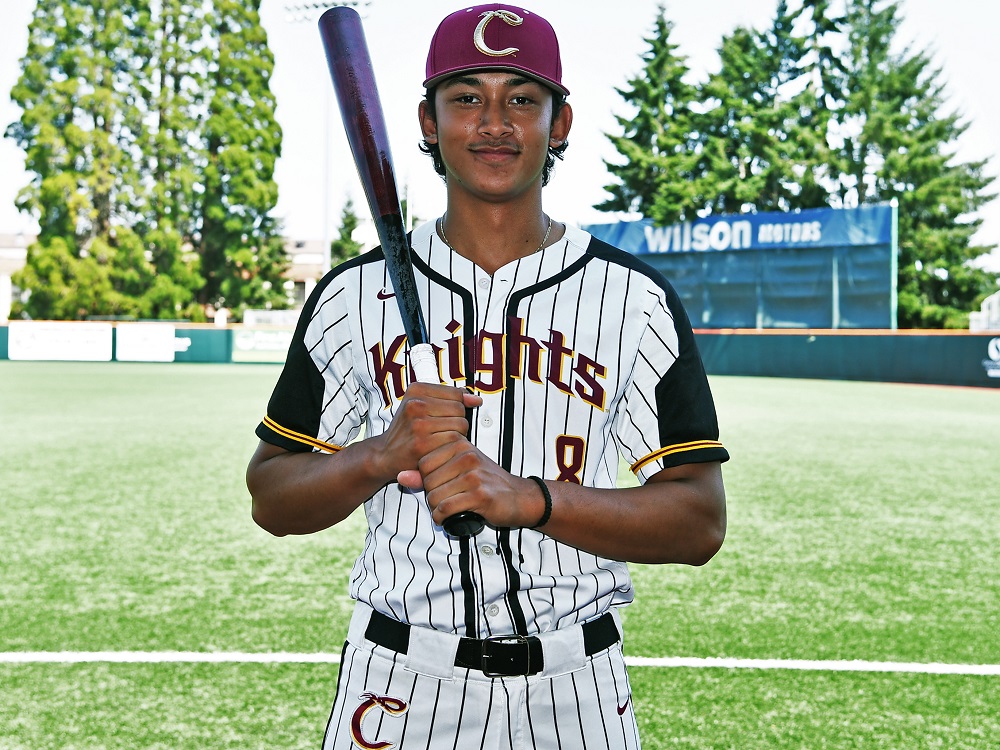 Nankil Has Three-Hit Ballgame as Knights Blank Medford 4-0
Friday, July 23, Corvallis, Ore. – Right fielder Nate Nankil had three hits and two RBIs to lead the Knights to a 4-0 win over the Medford Rogues in a nonleague game at Goss Stadium.
The rising sophomore at Cal State Fullerton (pictured above) slammed a two-run double in the first inning, singled and stole a base in the third and singled again in the eighth. He was the lone player with more than one hit for the Knights (25-8 WCL, 7-2 second half, 31-10 overall).
"I noticed they were throwing outside to the batters before me," Nankil said in describing his mental process during his first at-bat. "My approach was to hit the ball the other way in the gap," and his shot to the wall in right-center easily scored Travis Bazzana (Oregon State) and Kiko Romero (Central Arizona JC), aboard on walks.
Corvallis scored twice in the first inning and twice more in the second inning. Otherwise pitching dominated in a quick 2:21 contest before a crowd of 1,663.
Nankil's two-run, two-out double got Corvallis started in the first inning. Jake Harvey (Cal State Fullerton) doubled and scored and Bazzana and fellow future Beaver Tanner Smith had run-producing outs in a two-run second inning.
Starter Grant Taylor (Washington State) and relievers Bradley Mullan (Gonzaga), Chase Walter (Cal Poly) and Nathan DeSchryver (Gonzaga) combined to blank the Rogues on five hits. Only one Rogue advanced as far as third base.
Taylor got the victory after allowing two hits over five innings, with eight strikeouts. Mullan spaced three hits in two innings, with two strikeouts; Walter and DeSchryver finished up with one perfect inning apiece.
The Medford series concludes at 6:35 p.m. Saturday. The Rogues are coached by former Knights/Oregon State standout Bill Rowe, assisted by ex-Beavers Parker Berberet and Braden Wells, who also played for the Knights in 2007, their first season in Corvallis.
The Knights conclude the weekend on Sunday with a nonleague game against the Willamette Wild Bills of the Wild West League at North Marion High School in Aurora. Their next West Coast League action is Tuesday-Thursday against Walla Walla at Goss Stadium.