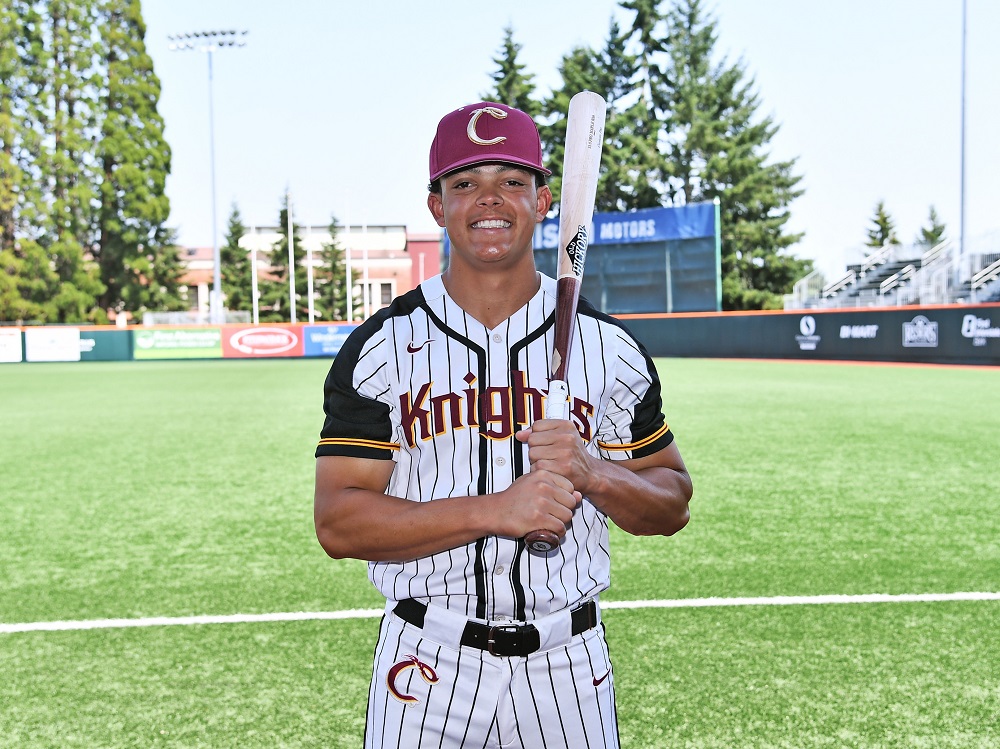 Knights Beat Wild Bills 11-7 in Goodwill Game; Corio Hits Monster Solo Home Run
Sunday, July 25, Aurora, Ore. – The Corvallis Knights hammered three home runs in their 11-7 victory over the Willamette Wild Bills of the Wild Wild West League in a goodwill game at North Marion High School.
Program friend Randy Brack hosted the non-league contest between the Knights and Wild Bills at beautiful Bob Brack Stadium.
The Knights erased a two-run deficit by scoring 6 runs in the bottom of the fifth inning. Newcomer Sebastian Garcia, a Cal State Northridge commit, plated the Knights first run with a RBI single in his Corvallis debut. The big hit of the inning was a grand slam home run by Nick Vogt of UC Santa Barbara.
In the bottom of the sixth, Corvallis would add three more runs highlighted by a two-run homer by Riley Way of L-C State giving the Knights the 9-3 lead at that point.
Left fielder Taison Corio of Cal Poly put an exclamation on things with a monster blast to right in the bottom of the eighth to put Corvallis up 11-7.
Lefty Colton Meyer of Linfield got the win in relief.
Corio went 2-for-5 with two RBIs and Vogt went 3-for-4 with 4 RBIs.
With the win, Corvallis improved to 33-10 overall. The Knights return to West Coast League play on Tuesday, July 27 at Goss Stadium as they welcome the Walla Walla Sweets for a three-game series.