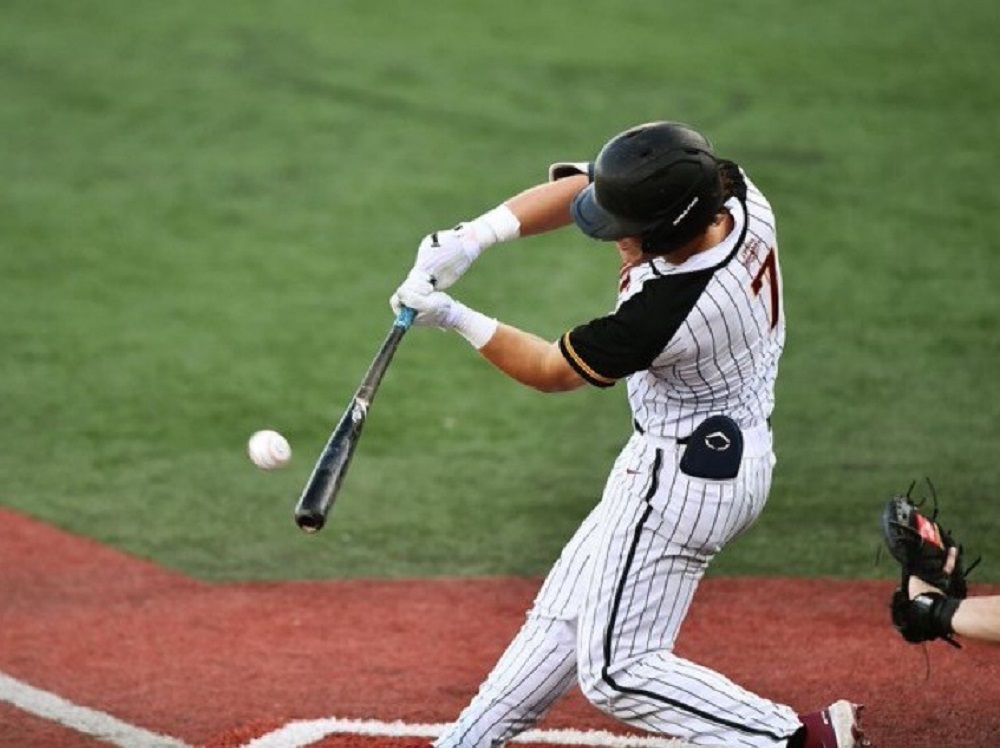 Bazzana, Stancato Spark Knights in Series-Opening win vs. Sweets
Tuesday, July 27, Corvallis, Ore. – Future Oregon Stater Travis Bazzana was 3-for-4  to lead the Knights to a 6-3 win over Walla Walla in the opener of their West Coast League series before a Goss Stadium crowd of 1,258.
The WCL's leading hitter at .425, Bazzana (pictured, above) doubled, singled twice, scored three times and drove in two. A middle infielder from Sydney, Australia, he also leads the WCL with 33 runs and 57 base hits, and has a 69-point advantage over Portland's Leo Mosby in the batting race.
The Knights (26-8 WCL, 8-2 second half, 34-10 overall) scored once in the first and add three more in the second, when Bazzana knocked in two with a double. A two-run single by catcher Tanner Smith (OSU) gave the Knights an insurmountable 6-2 lead in the seventh. Smith had three RBIs.
Center fielder Kyler Stancato (Washington State) singled twice, doubled, stole two bases and drove in a run.
"I was seeing the ball well and getting good counts," Stancato said. "Our whole offense did awesome tonight. We found the barrel a lot, which was really nice. Production, awesome pitching, awesome defense and a good overall win."
Knights starter Ethan Ross (San Jose State) pitched into the sixth and left with a 4-0 lead after walking two Sweets with one out. They eventually scored, but relievers Jake Vargas (Cal State Fullerton), Chase Walter (Cal Poly) and Nathan DeSchryver (Gonzaga) combined to allow just three hits over the final 3.2 innings.
Ross allowed one hit, struck out three, had a pickoff and got the win to improve to 3-1 in WCL action. Two walks and a single brought the tying run to the plate with one out in the ninth, but DeSchryver ended the threat with two easy fly outs.
The series continues at 6:35 p.m. Wednesday; Stanford right-hander Ty Uber (3-0, 2.53) in the projected starter for the Knights. OSU righty Brock Townsend (3-0, 4.12) gets the ball in Thursday's 6:35 p.m. series finale.
The Knights head to Bellingham this weekend; the Knights win 2 of 3 against the Bells at Goss Stadium on July 6-8 . They open a five-game homestand at 6:35 p.m. Monday with a nonleague matchup with the Northwest Star Academy All-Stars.