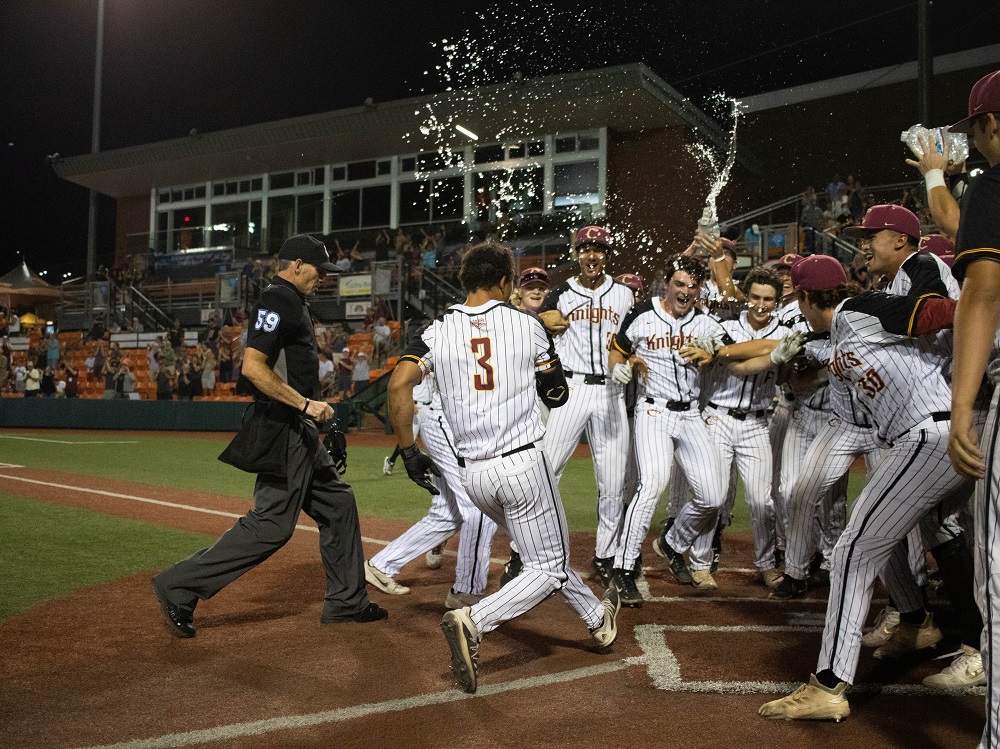 Corio's Homer Gives Knights Dramatic 6-5 Win Over Sweets
Wednesday, July 28, Corvallis, Ore. – Taison Corio's homer with two outs in the bottom of the ninth gave Corvallis a dramatic 6-5 win over Walla Walla, thrilling a Goss Stadium crowd of 1,149 and touching off a wild home-plate celebration by the Knights..
A right fielder from Cal Poly, Corio (No. 3, pictured above) lined a 2-1 pitch into the first row of the right-fielder bleachers, just over the glove of a leaping Seth Ryberg. It was his third hit of the night and his third homer of the summer in league action.
"It feels really good to help the guys get a W," Corio said, deflecting credit to his teammates. "It was definitely a team effort. We have a really talented lineup 1 through 9, which puts a lot of stress on the other team's pitchers."
The Knights (27-8 WCL, 9-2 second half, 35-10 overall) thus won the series over their North Division rivals. They took Tuesday night's opener 6-3.
Second baseman Travis Bazzana (Oregon State) was 4-for-4 with a walk and reached safely in all five plate appearances. He doubled twice, scored twice and raised his WCL-leading average to .442; he is 7-for-8 (.875) in the series, with three doubles and five runs scored.
Bazzana also started an inning-ending double play in the top of the ninth with a diving catch of a bases-loaded line drive, preventing a potential go-ahead base hit. He flipped to shortstop Riley Way (Lewis-Clark State) for the third out.
Center fielder Kyler Stancato (Washington State) was 2-for-4 with an RBI and DH Nick Vogt (UC Santa Barbara) doubled, singled and drove in two runs. Stancato has five hits in the series.
Corvallis starter Ty Uber (Stanford) went six innings and allowed three runs on five hits, with three strikeouts. He left with a 5-3 lead the bullpen could not protect and thus was not involved in the decision.
The series concludes at 6:35 p.m. Thursday. OSU righty Brock Townsend (3-0, 4.12) is the Knights' projected starter.
Corvallis heads to Bellingham this weekend. It opens a five-game homestand at 6:35 p.m. Monday with a nonleague matchup with the Northwest Star Academy All-Stars.