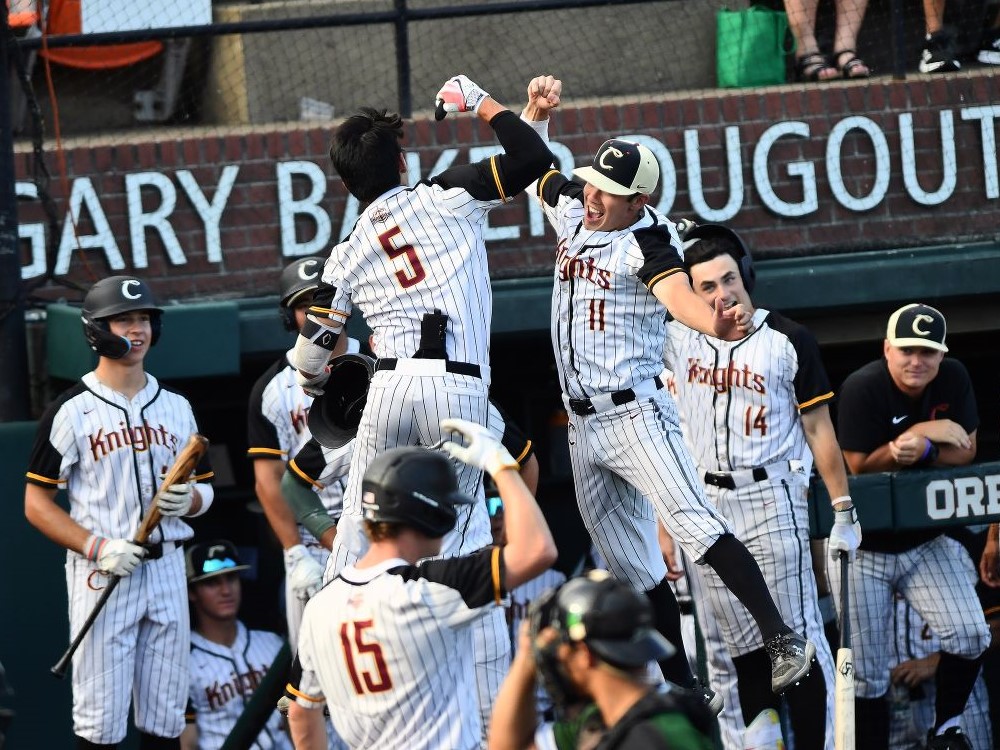 Solid pitching, Quinn's home run lead Knights over Pickles 7-2
Saturday, July 15, Corvallis, Ore.  – Corvallis scored four times in the eighth inning to break open a close game and the Knights topped Portland 7-2 on a balmy night at Goss Stadium.
It was the fifth consecutive victory for the Knights (26-12, 23-12 WCL, 6-2 second half), and it clinched the weekend series. They lead the South Division's second-half pennant race by percentage points over second-place Ridgefield.
A two-run, bases-loaded double by Anson Aroz (Oregon) capped the rally, which extended Corvallis' lead from a tenuous 3-2 to a comfortable 7-2.
Third baseman Tyler Quinn (Utah, pictured above # 5) homered in the first and tripled and scored in the third inning. Left fielder Levi Jones (Oregon State) doubled and singled.
Starter Zach Johnson (Utah Valley State) went a season-long 5.2 innings, allowed only two unearned runs and got the win. He had seven strikeouts and threw 63 strikes in 96 pitches.
His previous long outings were five-inning stints at Yakima Valley on June 7 and against Cowlitz on June 30. He lowered his ERA from 2.50 to 1.95 and earned Washington Park Advisors Player of the Game honors.
Jonathan Stone (George Fox) followed with 2.1 innings of stellar relief, allowing just one hit and getting four of his seven outs via ground balls. Bransen Kuehl (Utah) closed it with a scoreless ninth.
Ethan Ross of San Jose State (0-2, 6.54) is the Knights' probable for Sunday's 1:05 p.m. finale, opposed by Jesse Alfaro of Cal State Fullerton (1-0, 0.00).
The Redmond Dudes of the Pacific International League visit on Monday for a 6:35 p.m. nonleague game. Kelowna closes the homestand on Tuesday-Thursday; the Knights dropped 2 of 3 to the Falcons in British Columbia on July 3-5.
Saturday's Alyrica Cap Night crowd of 1,744 raised the season's attendance to 34,849 in 20 dates.