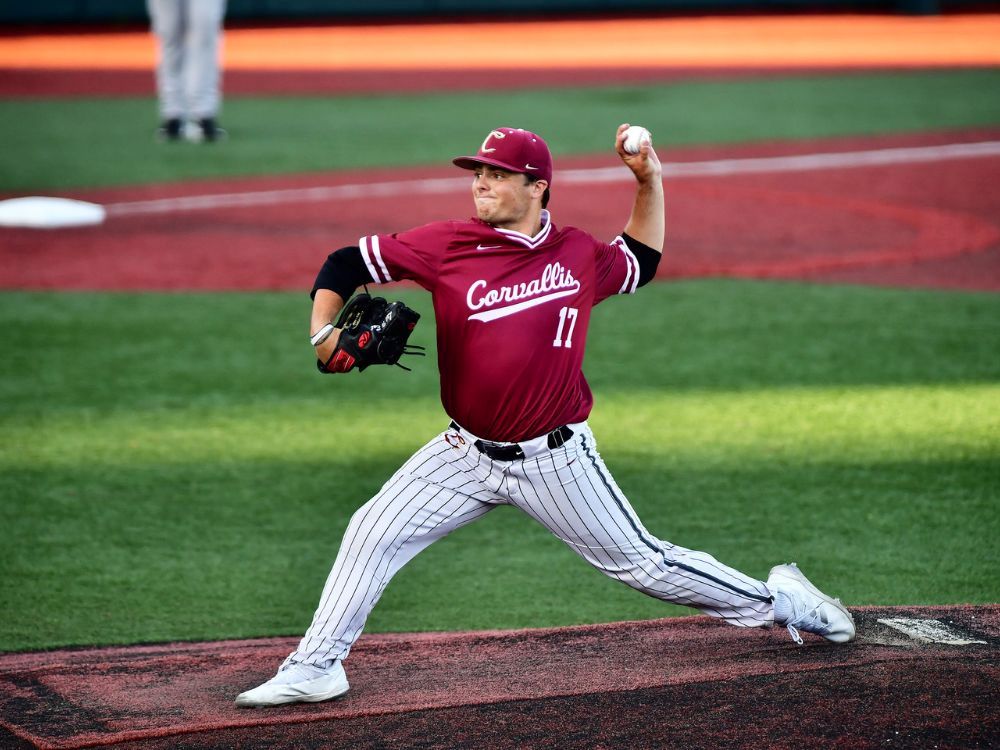 Bullpen, two solo homers spark Corvallis to 7-4 win over Pickles
Friday, July 14, Corvallis, Ore.  – Corvallis topped Portland 7-4 to extend its West Coast League winning streak to four consecutive games.
Veteran Sean Wiese (pictured, above) continued his return to form with three stellar innings of relief. The fourth-year Knight allowed just one run on two hits, with four strikeouts, and was credited with the victory.
Wiese is 2-0, 0.89 over his last two appearances, allowing just one earned run in eight innings. He has nine strikeouts in that span and has lowered his ERA from 6.00 to 3.60.
The Knights (25-12, 22-12 WCL, 5-2 second half) also got solo home runs into the right-field bleachers from lefties Sam Stem (Gonzaga) and Levi Jones (Oregon State). It was Stem's third, and his team-best 27th RBI; it was the first for Jones, who earned Washington Park Advisors Player of the Game honors.
Corvallis scored twice in the second to erase a 2-0 deficit, tying the game on a two-out RBI single by Blake Avila (Grand Canyon). Avila later doubled to start a three-run rally in the fifth and was the only Knight with more than one hit.
Portland retook the lead 3-2 in the fourth, but the Knights drew even again on Stem's homer. They surged ahead in the fifth, parlaying Avila's double, three walks and an error into three runs and a 6-3 advantage.
Wiese protected the lead until surrendering a solo homer and a single starting the eighth. Merit Jones (Utah) got three quick outs to quash the threat and a solo blast by Levi Jones in the bottom half restored the three-run cushion (7-4).
Kaleb Woltz (San Francisco) continued his stellar July with a 1-2-3 ninth for his first save. He has not allowed a run over six innings in three appearances this month, with five strikeouts in six innings, and he's lowered his ERA from 6.75 to 3.55.
Starter Nathan Marshall (Lane CC) allowed two earned runs in three innings, with two walks and no strikeouts. He was not involved in the decision.
The series resumes at 6:35 p.m. Saturday; Utah Valley's Zach Johnson (2-0, 2.50) will start for the Knights, opposed by Oregon's Ian Umblandt (0-0, 0.00).
Ethan Ross of San Jose State (0-2, 6.54) is the Knights' probable for Sunday's 1:05 p.m. finale, opposed by Jesse Alfaro of Cal State Fullerton (1-0, 0.00).
The Redmond Dudes of the Pacific International League visit on Monday for a 6:35 p.m. nonleague game. Kelowna closes the homestand on Tuesday-Thursday.
Friday's crowd of 1,679 raised the season attendance to 33,105 in 19 dates.