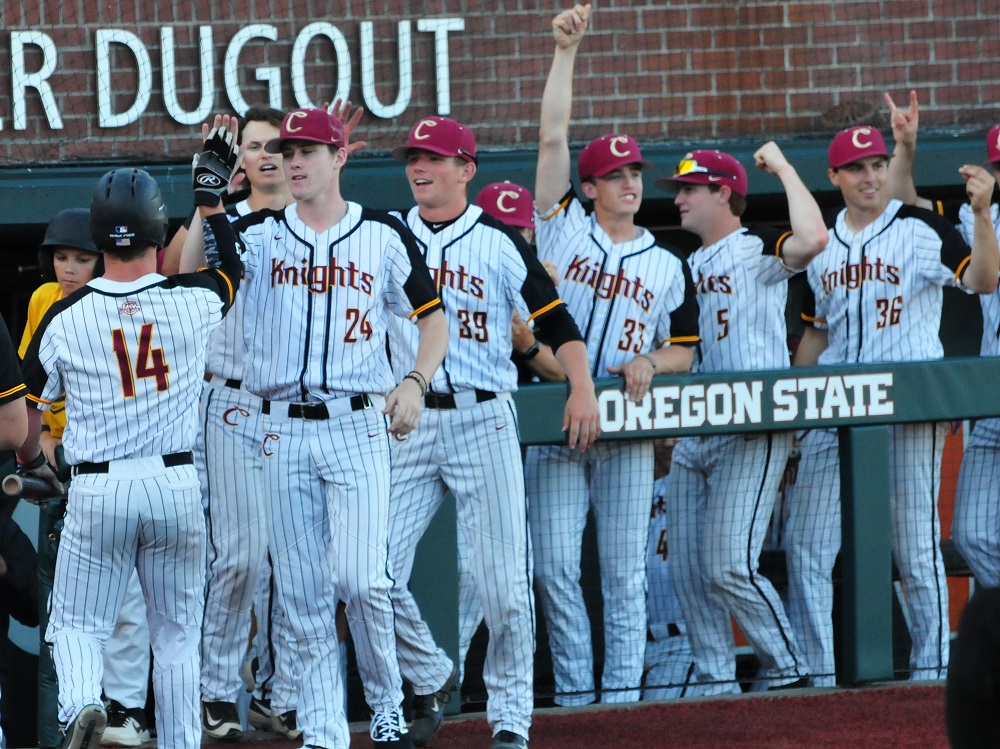 Corvallis Knights hope to make triumphant return in 2021
Thursday, June 3, Corvallis, Ore. – It has been nearly two years since the final pitch of the 2019 dream season for the Corvallis Knights, when the hometown team took down Victoria to capture its fourth consecutive West Coast League title. The Knights shattered records and were named Perfect Game's Summer Collegiate Team of the Year.
Finally, the defending champs get to play ball again starting Friday, June 4 in Yakima vs. the always tough Pippins.
This season will be different in that the WCL's Canadian members will be missing. Unfortunately, they had to opt out because of COVID challenges. Minus teams from Canada, the WCL regular-season schedule was reduced from 54 to 48 games and this season will feature only 10 U.S. clubs, with the North featuring Bellingham, Port Angeles, Walla Walla, Wenatchee and Yakima Valley and the South Bend, Corvallis, Cowlitz, Portland and Ridgefield.
The Knights 2021 squad features a deep pitching staff and a promising set of position players that should defend well, run and be offensive.
Six-time WCL Coach of the Year Brooke Knight returns to guide the Knights. He will be assisted by popular coach Youngin Yoon (who has been with the team since 2016) and new additions pitching coach Beau Kerns of Umpqua CC and assistant David Tillotson of UC Santa Barbara.
The pitching staff is intriguing, with young arms like Jacob Dobmeier of University of Portland, Grant Taylor of Washington State, Stuart Flesland of Washington, Bradley Mullan of Gonzaga and Drew Dowd of Stanford poised to shine following their freshmen seasons.
Flesland, Mullan and Dowd are all southpaws. Flesland made 26 appearances for the Huskies and held opponents to a .226 batting average. Over 14 appearances and 4 starts, Mullan went 2-1 for the NCAA Regional bound Zags and struck out 28 over 26.2 innings pitched. Dowd made 17 appearances and 5 starts for the NCAA Regional hosting Cardinal and struck out 35 over 35.1 innings pitched.
Taylor finished strong for the Cougars and led WSU with a team-low ERA of 3.04. He made 11 appearances and 3 starts and went 3-0.
Returnee Jacob Dobmeier made 13 appearances and 6 starts for the Pilots. The right-hander from Newport, Oregon posted a 4.10 ERA over 37.1 innings pitched.
Also returning are 2019 second-team all-WCL pitcher Jackson Arnsdorf of Corban and Connor Redmond of Montana State-Billings. Redmond returns for his fourth season with the Knights. He has earned the nickname of Big Game Redmond for his stellar performances over the last three WCL post-seasons.
Other pitchers who will vie for starts are frosh Jake Vargas of Cal State Fullerton (14 appearances, 1 start), sophomore Tyler Frazier of UC Riverside (9 starts for the Highlanders), freshman Ben Kibbe of Utah (8 appearances, 2 starts, 5.40 ERA), frosh Chase Walter of Cal Poly (13 appearance, 4.24 ERA) and red-shirt frosh Jonah Giblin of Oregon State, as well as highly touted Washington incoming frosh right-hander Max Debiec (a possible early draft pick) and Gonzaga incoming frosh Nathan DeSchryver.
"Pitching and defense have been the hallmarks of our past championship clubs," said skipper Brooke Knight. "There is lots of upside here, with our staff. And I really think we will defend. We're excited to get on the field again."
Catching the staff will be freshman Jake Leitgeb of Washington and Oregon State incoming frosh Tanner Smith. Leitgeb redshirted this spring while Smith starred at Basha High School in Arizona. University of the Pacific frosh Jacob Weiss is the Knights third catcher.
The infield features Oregon State incoming frosh shortstop Travis Bazzana of Sydney, Australia. He will be teamed up the middle with sophomore second baseman Taison Corio of Cal Poly. Corio hit .268 with 5 doubles, 3 triples, a homer and 25 RBIs for the Mustangs this spring. Returnee sophomore Jake Harvey of Cal State Fullerton is slated to play second, short and third this summer. Battling a nagging injury all spring, he hit .271 over 155 at bats for the Titans. Harvey earned first-team all-WCL honors at second base in 2019 for the Knights. Tanner Smith can also play third base and 10-day infielders Jake Hoskins and Trey Hageman of Linn-Benton CC and Brandon King of George Fox will compete for a spot on the roster.
Corvallis will lean on a couple JC players to man first base and deliver pop. Future Beaver Braden Boisvert of Seward County CC (Liberal, Kansas) will start at first on Opening Night. The freshman right-handed bopper from Sonoita, Arizona hit .362 with 15 home runs and 62 RBIs this spring. He will pitch at Oregon State. Boisvert closed for the Saints and went 3-1 with two saves over 11 appearances while striking out 23 over 14.2 innings pitched. Central Arizona College star Kiko Romero will also see time at first base. The outfielder/first baseman/catcher led the Vaqueros to the JUCO World Series where they are currently one of four remaining teams and play another elimination game later today. The left-handed hitting slugger is batting .323 with 13 doubles, 6 triples, 9 home runs and 59 RBIs.
The Knights outfield will feature outstanding defense and athleticism. Washington State frosh Kyle Stancato will open in center field. Stancato is a plus runner and hits left-handed. He will be joined by freshman Nate Nankil of Cal State Fullerton and frosh Thomas Dukart of Oregon State. Junior Kanta Kobayashi of Gonzaga will report to the club following the post-season as the Bulldogs secured a spot in the Eugene NCAA Regional. Kanta has played in 35 games, primarily as a defensive replacement. Nankil hit .261 over 115 at bats. Dukart, a left-handed hitter out of Lake Oswego High School, redshirted this spring.
"We're looking forward to competing and working with these young players," said coach Knight. "We very much appreciate coaches entrusting their guys with us. I think we have the potential to be pretty good, and work together to get better throughout the summer."
Corvallis opens at Yakima County Stadium tomorrow night. First pitch is set for 7:05 pm. Returnee Jacob Dobmeier is the probable starter. The Knights are at Yakima Valley June 4-6 and then complete their first WCL road trip at Port Angeles, June 7-9.
The Knights home opener at OSU's Goss Stadium is Friday, June 18. Corvallis welcomes division rival Cowlitz.
You can listen to Corvallis Knights games on KEJO 1240 AM. Home games will feature the Voice of the Knights, Mike Parker.