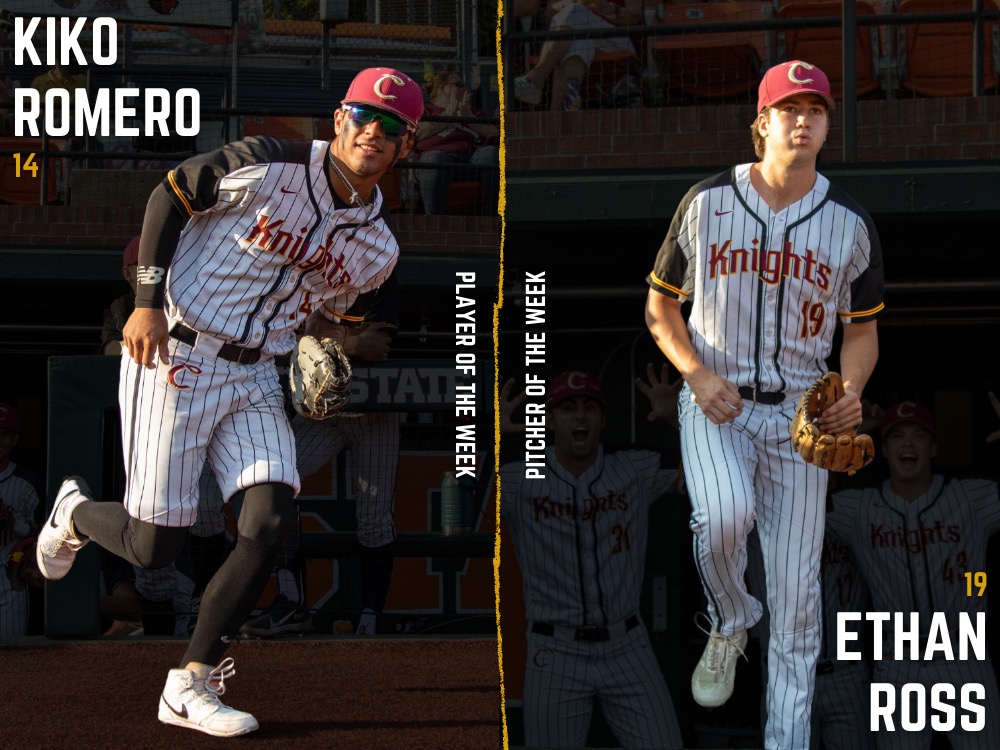 Romero and Ross Named WCL Player of the Week and Pitcher of the Week
Tuesday, August 24, Corvallis, Ore. – Yesterday, West Coast League commissioner Rob Neyer announced that Corvallis first baseman Kiko Romero of Central Arizona College and Knights ace Ethan Ross of San Jose State had been selected as the league's Player of the Week and Pitcher of the Week, respectively, for August 16-20.
Romero went 5-for-12 with a double, 2 triples, a homer and 4 RBIs in the WCLCS vs. Yakima Valley. Overall for the summer, Kiko led the Knights in homers with 6 and RBIs with 39, and he hit .258 over 198 at bats. This past spring, Romero hit .322 with 10 homers and 60 RBIs for the Vaqueros.
Ross started and won the decisive WCLCS finale vs. the Pippins. The lefty pitched six innings, allowed one run and struck out 7. For the entire summer, the rising sophomore went 5-1 with a 2.80 ERA while striking out 60 over 45 innings pitched. This past spring with Washington State, Ross made 8 appearances and went 1-0 with a save while posting a 5.19 ERA and striking out 11 over 8.2 innings pitched.
This is both Romero's and Ross's second WCL honor.
Romero and Ross are the seventh Corvallis Knights players to earn weekly WCL honors this season, with Kiko and Ethan being named twice and future Oregon State infielder Travis Bazzana (Player of the Week), future Stanford pitcher Ty Uber (Pitcher of the Week) and George Fox southpaw Sean Wiese (Pitcher of the Week) also being named.
Corvallis won the first and second half South titles, finished the regular season 37-11 in WCL play and 50-14 overall and won their fifth West Coast League championship in a row, their 8th since the league was established in 2005.