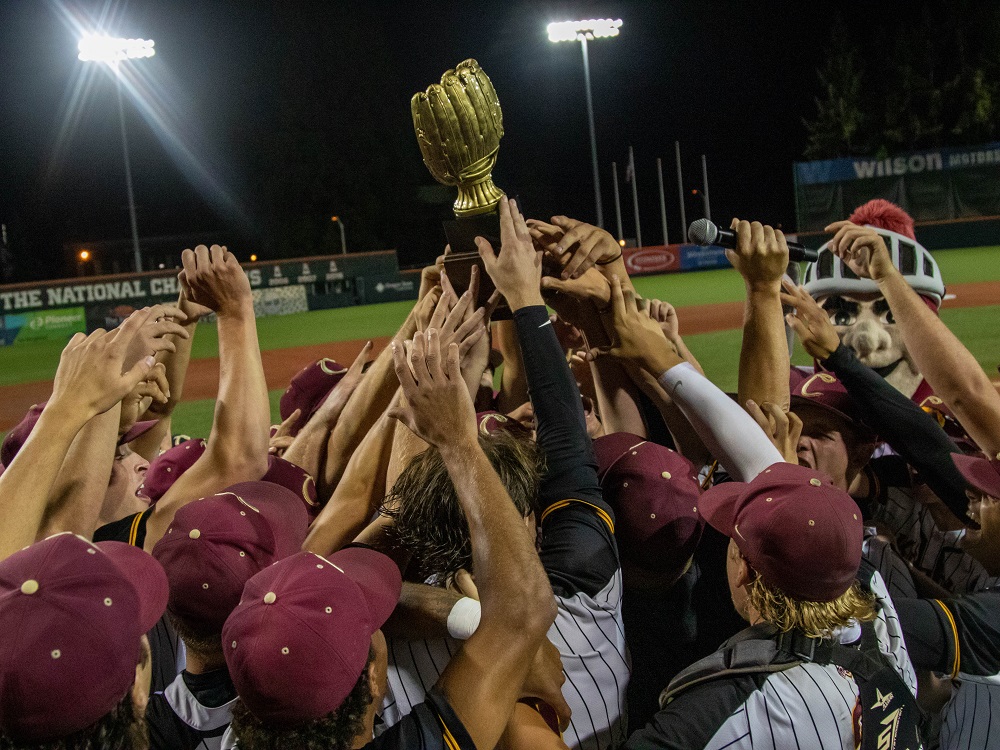 Drive for 5 Complete; Title Run Intact
Monday, August 23, Corvallis, Ore. – The reigning Perfect Game Summer Collegiate Team of the Year delivered an encore performance in 2021. In a comeback season after a year's hiatus due to COVID-19, a summer that was full of comeback wins, the Knights came back from a 1-0 deficit in the West Coast League Championship Series to win back-to-back elimination games at Goss Stadium versus Yakima Valley to complete its drive for five consecutive league titles.
The comeback kids, as six-time WCL Coach of the Year Brooke Knight often referred to them, would not be denied as they edged the Pippins in game two, 2-1, and then routed a very tough Yakima club in a decisive finale, 13-2.
A young Corvallis squad always battled back, and did not let injuries or setbacks keep them from performing at a high level. This summer's Knights won 50 overall games, posted the league's top regular-season mark (37-11) and finished with an impressive .781 overall winning percentage.
Corvallis won 13 of 16 WCL series, only losing series to Yakima Valley and Bend, dropping 2 of 3 to the Pippins in the first series of the season and 2 of 3 to Bend both away and at home.
The Knights swept 8 series and won both halves of the South Division, going 18-6 in the first half and 19-5 in the second half. In the playoffs, Corvallis swept Ridgefield, outscoring the Raptors 22-6.
Post-season attendance at Goss Stadium was fantastic as the Knights drew 3,565 for three games, an average of 1,188 per contest. During the regular-season, Corvallis posted the league's second-best attendance, with a total attendance of 34,200 for an average of 1,425 per game. The Portland Pickles led the league in attendance, averaging 1,833 per opening.
Overall, Corvallis total attendance was 48,872 for an average of 1,357.
Incoming freshman infielder Travis Bazzana of Oregon State captured the West Coast League batting crown, hitting .429. Bazzana's average set a new WCL single-season record. He also led the league in runs (46), hits (81), total bases (112), triples (5) and slugging percentage (.593). Overall, he led Corvallis in at bats with 225 and doubles with 20, and the left-handed hitting slugger from Sydney, Australia collected 33 RBIs from his lead-off spot in the order.
Rising sophomore Ethan Ross of San Jose State emerged as the Knights ace. The lefty won the WCLCS finale and started game two of the WCLDS vs. Ridgefield at Goss, where he threw the fastest pitch of the playoffs at 96.5 MPH. He finished the summer 5-1 with a 2.80 ERA while striking out 60 over 45 innings pitched, 16 appearances and 9 starts.
The Knights pitching staff led the league in strikeouts with 530, opponents batting average at .214 and in saves with 20 while the offense led the WCL in stolen bases with 104 and triples with 18. The defense was stellar, finishing second-best in fielding percentage at .967 behind the Portland Pickles, with slick-fielding shortstop Riley Way of Lewis-Clark State and first baseman Kiko Romero of Central Arizona College shining brightly as well catcher Tanner Smith of Oregon State who started every playoff game.
Closer Nathaniel Mendoza of Cal State Bernardino (3-0, 5 saves, 1.37 ERA, 16 appearances) led the WCL in Relief Point Standings with 21.
Corvallis overcame a slew of injuries as key players like catcher Jake Leitgeb of Washington, utility man Jake Harvey of Cal State Fullerton, outfielder Thomas Dukart of Oregon State and pitchers Jacob Dobmeier of Portland, Braden Boisvert of Oregon State, Brock Townsend of Oregon State and Ben Kibbe of Utah all had their summers cut short.
While running short on players by season's end, the team's belief and chemistry carried the 2021 Corvallis Knights to yet another WCL championship, their eighth title since the WCL was established in 2005 and fifth in a row.
As in past years, pitching and defense were the winning combo for Corvallis. The pitching staff led by first-year pitching coach Beau Kerns was deep and talented. Incoming frosh Ty Uber of Stanford (5-0, 2.60), rising sophomore lefty Drew Dowd of Stanford (4-0, 2.88) and rising sophomore Grant Taylor of Washington State (5-2, 3.99) had outstanding summers and anchored the rotation. But they weren't the only arms to step up in 2021. Sam Stuhr (sophomore, OSU), Jake Vargas (sophomore, Cal State Fullerton), Chase Walter (sophomore, Cal Poly), Colton Meyer (junior, Linfield) and Nathan DeSchryver (freshman, Gonzaga) showed great promise and pitched very well late in the season. Rising sophomore southpaw Sean Wiese of George Fox was a stalwart from beginning to end. And the addition of rising junior Brett Gillis of Portland in July was a big shot in the arm as was the return of four-year Knights pitcher Connor Redmond of Montana State-Billings in August after being out of action for six weeks due to injury.
Offensively, Bazzana, rising sophomore outfielder Nick Vogt of UC Santa Barbara, three-year Knight Briley Knight of Portland, Romero, incoming frosh infielder Spencer Scott of Portland and rising sophomore outfielder Kyler Stancato of Washington State led the way.
Overall, Vogt led the club in stolen bases with 29 and hit .376 with 8 doubles, 3 triples, 4 homers and 38 RBIs. Knight hit .313 with 4 homers and 26 RBIs over 64 at bats. Romero hit .258 with 11 doubles, 5 triples and a team-leading 6 home runs and 39 RBIs. Scott batted. 343 over 99 at bats with 8 doubles and 14 RBIs. Stancato hit .262 with a homer, 27 RBIs and 22 stolen bases.
Magical Moments & Milestones

Arguably the biggest play of the season was a walk-off solo home run by utility man Taison Corio of Cal Poly that gave the Knights the 6-5 win over the Walla Walla Sweets on July 28. There was no more electric moment at Goss Stadium than Corio's big blast.
Corvallis went back-to-back walk-off wins vs. Walla Walla, winning the series finale 6-5 on July 29 to sweep the Sweets. University of Portland outfielder Ethan Loveless led the way going 3-for-3 with a homer and 2 RBIs.
Kaden Segel, who like Briley Knight grew up around the Knights, made his West Coast League debut on July 29 as he got the start against the Sweets. The 2021 PIL Pitcher of the Year (Grant High School) and Oregon All-Star Series MVP tossed 4.1 innings, gave up 4 hits, 5 runs, struck out 4 and sat 90-92 MPH. The Linn-Benton CC incoming frosh would make a second start vs. the Bend Elks at Goss Stadium on the final day of the regular season and twirl 4 scoreless innings while striking out 6.
Southpaw Bradley Mullan of Gonzaga capped an outstanding summer on August 4 by tossing 4 innings of scoreless relief vs. Yakima Valley at Goss Stadium to earn the win in his final appearance. The rising sophomore did not allow a hit and struck out 5. For the summer, Mullan went 3-1 with a 2.83 ERA and struck out 37 over 28.2 innings pitched.
Lower Columbia College right-hander Sam Stuhr made a great first impression and a lasting final impression as the future Oregon State Beavers hurler earned a save in his WCL debut on July 18 at Goss vs. Portland. The rising sophomore hit 95 MPH and pitched 1.1 scoreless innings vs. the Pickles. Stuhr finished the summer with a start in the game one of the WCLCS at Yakima Valley where he held the Pippins to no runs over 4.1 innings pitched.
The Knights biggest comeback win came at Wenatchee on July 11. Down 6-1, Corvallis fought back to beat the AppleSox at Paul Thomas Sr. Stadium, 7-6. It was the pitching debut of Brett Gillis, who pitched two innings of scoreless and hitless relief while striking out 3. Drew Dowd registered a clutch save, striking out both batters he faced with the bases loaded. Nick Vogt blasted a three-run homer and Kyler Stancato delivered the game-winning hit in the ninth inning. Corvallis took all six regular-season games vs. their longtime rival Wenatchee.
Incoming freshman Spencer Scott of University of Portland earned a starting spot with the Knights and recorded 12 multiple hit games. The 2021 PIL Player of the Year (Grant High School) played stellar defense at third. After playing most of the summer for Portland Baseball Club, he was with the team full-time from July 27 on and hit .438 in the playoffs.
Rising sophomore outfielder Nate Nankil of Cal State Fullerton wrapped a solid summer with a 4-for-4 night at Goss on the last day of the regular season vs. Bend. The right-handed hitter doubled and homered. For the summer, Nate batted .270 with 10 doubles, 3 triples, 2 homers and 27 RBIs.
Popular role players rising sophomore infielder Jake Hoskins of Linn-Benton CC, pitcher Colton Meyer and two-way player Kaden Segel all got to be on the field for the Knights final inning of game three of the WCLCS; Hoskins at third, Meyer on the mound and Segel at first base. Meyer recorded the final out of the summer for a second time, as he finished the WCLCS finale in 2019. Jake was a key part of this season's championship culture, playing shortstop, second, third and some outfield.
Senior-to-be Connor Redmond lived up to his nickname once again – Big Game Redmond – as the right-hander from Danville, California recorded a clutch save in the Knights 2-1 game two WCLCS win over Yakima Valley. Redmond pitched 1.2 innings of scoreless baseball and struck out the last two Pippins. Connor made starts in the 2017, 2018 and 2019 post-seasons, all quality appearances and Corvallis victories.
In a comeback year, Corvallis sold out twice, on July 3 and August 6. 3,150 attended Oregon State Credit Union Fireworks Night on July 3 and 3,038 packed Goss on Pioneer Fireworks Night presented by Samaritan Health Services.
It was home sweet home all summer for the Knights as Corvallis posted at 30-6 mark at OSU's Goss Stadium.
The Knights led the league in one-run wins, going 12-3 in one-run games. The success in tight games highlighted the team's bullpen depth as nine pitchers registered saves: Boisvert with 5, Mendoza with 5, Wiese with 3, Vargas with 2 and Dowd, Redmond, Ross, Stuhr and Uber with one apiece.
Corvallis recorded 50 overall wins for only the third time in club history. The Knights finished 50-14 and went 54-14 both in 2001 and 2019.