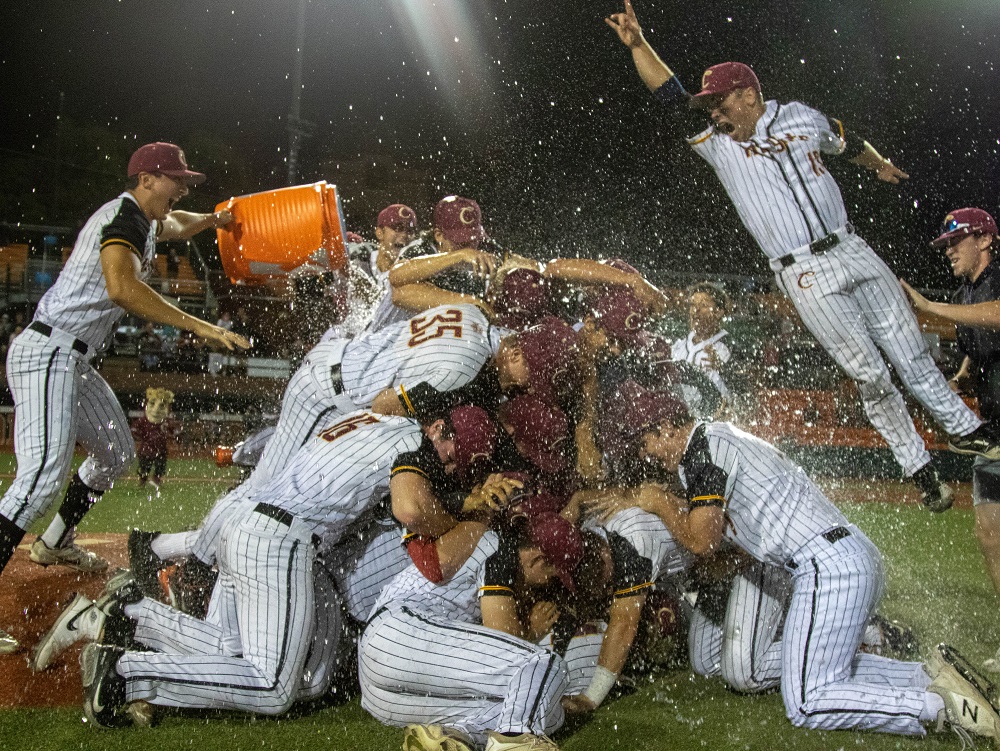 Knights Rout Pippins 13-2 to Capture 5th Consecutive West Coast League Title
Friday, August 20, Corvallis, Ore. – Before an enthusiastic Goss Stadium crowd of 1,213, the Corvallis Knights beat a tough Yakima Valley club 13-2 to capture the team's eighth West Coast League crown, its fifth straight title.
Corvallis ace Ethan Ross (San Jose State) was masterful in his last summer performance. The southpaw tossed six innings to earn the win and allowed only 4 hits and a run while walking two and striking out 7.
The Knights offense ignited early and scored once in the first and five more times in the second. Corvallis collected 16 hits for the game. The Knights one through four hitters – second baseman Travis Bazzana (Oregon State), center fielder Briley Knight (Portland), designated hitter Nick Vogt (UC Santa Barbara) and first baseman Kiko Romero (Central Arizona) went a combined 11-for-17 and collected all 13 Corvallis RBIs.
Romero delivered a RBI triple, RBI single and two-run homer; Knight doubled and drove in 4 runs; Vogt went 3-for-4 with a double, triple and 4 RBIs; and Bazzana tallied 3 hits.
Right fielder Kyler Stancato, a rising sophomore at Washington State, went 3-for-5 and rising senior shortstop Riley Way of Lewis-Clark State scored 3 times and went 1-for-2 with 2 walks.
Knights relievers Drew Dowd of Stanford, Grant Taylor of Washington State and Colton Meyer of Linfield were all effective. Dowd and Taylor tossed scoreless innings and Meyer recorded the post-season's last out as he also did in 2019.
With the WCLCS game three victory, Corvallis finished the season with 50 wins, posting an overall record of 50-14. The Knights went 54-14 in 2019 and were named the Summer Collegiate Team of the Year by Perfect Game.
Yakima Valley took game one at Yakima County Stadium, 4-1. The Knights bounced back in game two, edging the Pippins 2-1 at Goss Stadium in a hard fought battle and took the series' decisive game three at Goss handily, 13-2.
The Knights streak of WCL championships started in 2016 when Corvallis edged the Bellingham Bells 2 games to 1 in an epic WCLCS. In 2017, the Knights beat Victoria 2 games to 1 in another thrilling WCLCS. Corvallis swept Kelowna in the 2018 finals and beat Victoria again, 2 games to 1, in the 2019 championship series.
Four-year Knight pitcher Connor Redmond of Montana State-Billings, affectionately nicknamed Big Game Redmond for his post-season brilliance, is now a four-time WCL champion. 2019 WCL MVP Briley Knight earned his third ring.