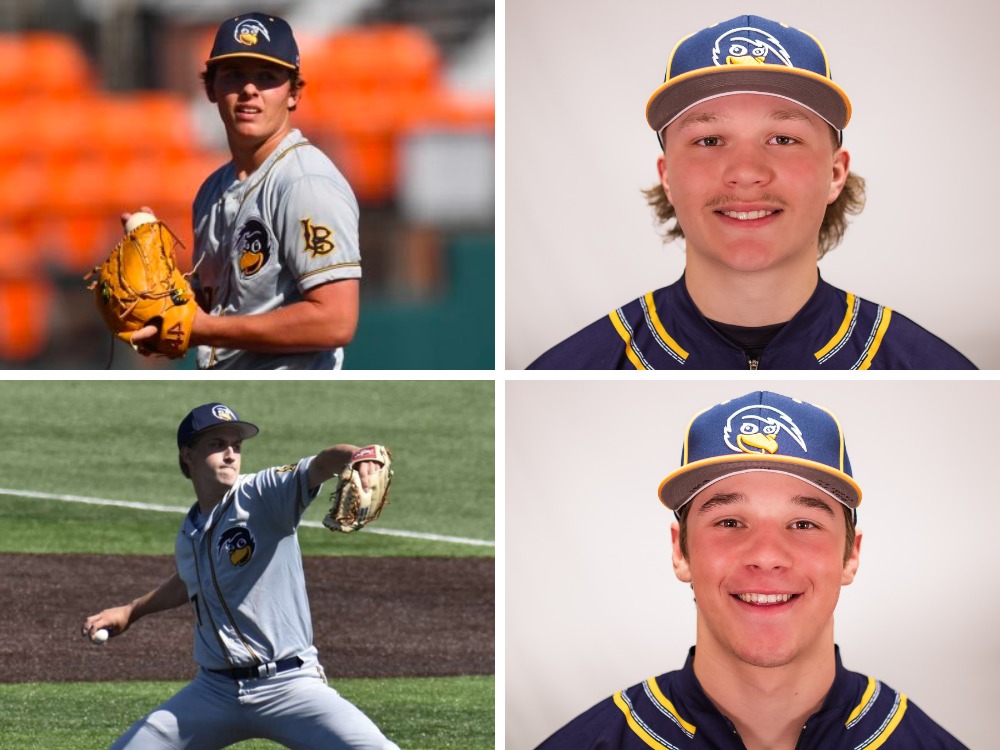 Returnee Segel leads four LBCC signees
Tuesday, March 8, Corvallis, Ore. – Returnee Kaden Segel (top left), a right-handed pitcher/catcher from Portland, leads the list of four Linn-Benton Community College players to sign with Corvallis for the 2022 West Coast League season, head coach Brooke Knight announced Tuesday.
Joining him on the Knights are Roadrunner teammates Chase Reynolds (top right), Rhett Larson (bottom left) and Titus Dumitru (bottom right). Reynolds and Larson are right-handed pitchers; Dumitru is a first baseman.
Segel starred at Grant High School and joined the Knights late in the 2021 WCL championship season as a pitcher and catcher/first baseman. He was 0-0 with a 5.40 ERA in two games on the mound, with 10 strikeouts in 8.1 innings. He hit .154 with two RBIs in eight appearances as a catcher/first baseman.
He is 0-0, 0.00 in two appearances for LBCC in 2022, with seven strikeouts in 7.0 innings. He played in the 2021 Oregon All-Star Series and was a member of the Oregon team that advanced to the 2015 Little League World Series.
Segel is a San Francisco Giants fan who enjoys golf in his spare time. His favorites are Avengers: Endgame (movie) and Criminal Minds (TV show).
Larson earned all-NWAC honors in 2021 after going 3-0, 1.00 with three saves in 11 games, helping the Roadrunners capture the South Division title. He had a 39-4 strikeout-walk ratio in 36 innings.
The Forest Grove, Ore., native will join the Oregon State program for the 2022-23 academic year as a redshirt sophomore.
"He is a premier strike thrower whose pitching growth and physical strength development will show increases in his fastball velocity," OSU coach Mitch Canham said. "This growth will make an already great arsenal even better.
"Rhett possesses a slow heartbeat, is a true competitor between the lines, and forces quick outs. Gamer."
Larson's senior season at Forest Grove (OR) High School was cancelled due to the Covid-19 pandemic but he was a Pacific Conference all-star as a junior, when he was 5-3, 1.13. A prospective marketing major at OSU, he made the FGHS honor roll and was in the National Honor Society.
He is also a Giants fan who enjoys movies, Interstellar (movie), Breaking Bad (TV show) and Heads Up Baseball (book).
Reynolds is a 6-1, 210-pounder from West Albany (OR) High School who played in the 2021 Oregon All-Star Series. He is 1-0, 0.00 for LBCC in two appearances this spring, with six strikeouts in 5.1 innings.
A hunter in his spare time, he hopes to major in animal science. His favorites are Rocky (movie) and Outer Banks (TV show).
A 6-2, 200-pounder, Dumitru was a standout at Sam Barlow High School in Gresham, Ore., before enrolling at LBCC. He is off to a fast start in 2022, hitting .304 in seven games, with five runs, a double, a triple and six RBIs.
A prospective kinesiology major who enjoys wakeboarding, his favorite MLB team is the Los Angeles Dodgers. He also favors Forrest Gump (movie), Outer Banks (TV show) and Summer Ball (book).
The Knights begin the 2022 season on May 26 with their annual Science, Engineering & Art Day, presented by Paventy & Brown Orthodontics, at Goss Stadium against the NW Star Nighthawks. Their WCL opener is June 3 at Yakima Valley; their WCL home opener is June 17 vs. Yakima Valley.