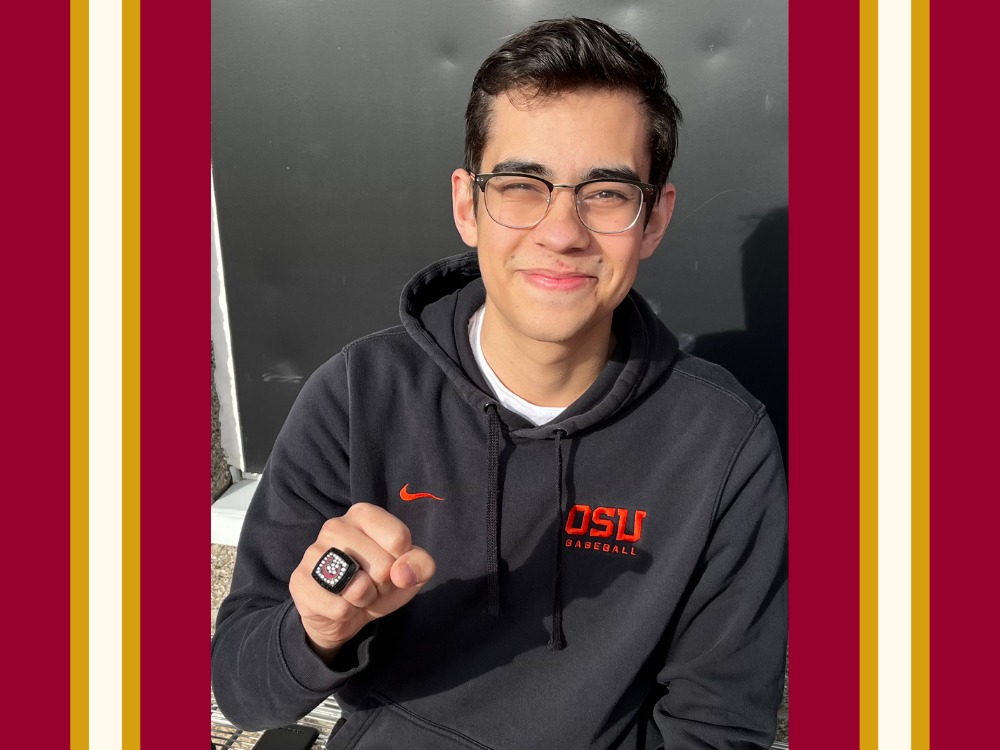 Knights Assemble Crack Analytics Team for 2022
Wednesday, March 9, Corvallis, Ore. – Last summer's all-everything data analytics intern, Jason Hashimoto, has moved on to the major leagues as a player development intern with the Boston Red Sox.
But a new team of analysts is prepared to continue and expand the new tradition of analytical information that has helped the Corvallis Knights maintain their powerhouse status in the West Coast League.
The Knights have tripled their analytical firepower compared to the past two seasons, when Hashimoto (2021) and former data analytics intern Dante Ludlow of Washington State (2019) were one-man analytics departments. Ryley Larson and Morgan Huseby of the University of Michigan and Connor Heath of Oregon State will use TrackMan, Synergy and Driveline TRAQX to garner as much information as possible to help head coach Brooke Knight guide Corvallis to its sixth straight WCL championship.
"Like most things in life, technological advances are moving rapidly, and this is no different in baseball," Knight said. "Our Analytics Team can provide some key metrics that prove to be valuable from both a competitive perspective and a development perspective.
"When preparing for a team or series, we are able to see trends and tendencies across the board.  Regarding development, there tends to be real value in the tangible feedback we can provide to our players as we work towards perfecting our craft.
"The best analytics teams can quickly disseminate the information and format it so it is simple and translatable for our players.  Too much information can be paralytic, so we really try to pick and choose when, where and how to apply it for successful outcomes."
Larson, Huseby and Heath will succeed Hashimoto, who worked for the Knights as a data analyst and in a variety of other roles in 2021. He ran the Trackman and Synergy (film) programs at each home game, compiled scouting reports and delivered Knights player data to coaches and players through TRAQX Edge reports.
"I worked very closely with the coaches to make sure that they got any support they needed from the tech we were allowed to use so that we could make better decisions on the field," Hashimoto said.
"Analytics gives insights into baseball that can't be seen with the naked eye. Using analytics can help a team succeed in many different ways, but at a base level it can help answer questions about an opponent and what to expect from the game without it even being played.
"This helps a team prepare in a better fashion, leading to more success on the field."
He is now based at Boston's spring training complex in Fort Myers, Fla.
"I will do many different tasks to support our Player Development staff, including running various baseball technologies and also getting involved in sports science and analytics," he said. "I am extremely excited to start working in the MLB, and I am looking forward to this next chapter in my life."
Heath graduated from Grant High School in Portland is a member of OSU's Dam Analytics Squad. He was recommended by Brad Brown, OSU's Director of Data Analytics and Advanced Scouting. He is a sophomore majoring in mechanical engineering.
"As part of the DAM Squad, I help run many different player development technologies as well as work on advanced scouting for the baseball team. Some of the technologies I help utilize include, Rapsodo, Yakkertech, Trackman, K-Motion, Blast-Motion, and Edgertronics.
"These technologies allow us to see data that can help us understand a player's technique and how that is translating into their performance on the field. I also help our coaches and players prepare for opponents by creating advanced scouting reports which allow us to see opponent tendencies."
Larson is an Olympia, Wash., native who graduated from River Ridge High School in nearby Lacey. He played outfield for two years at Lower Columbia College in Longview before transferring to Michigan.
"I am studying economics and information analytics and am a student manager with the Michigan baseball team," said Larson, who also works with the Wolverines' baseball analytics team.
"This summer I hope to bring advanced scouting techniques and data analytics tools that can improve player development to the Knights."
He was a high school friend and teammate with Knights outfielder Ethan Loveless.
Huseby graduated from Skyview High School in Vancouver, Wash., where he played baseball and golf. He attended Syracuse as a freshman but then transferred to Michigan, where he just completed his junior year. A sport management major, he hopes to be accepted into the information science program.
He is also a student manager in the football program and involved in the school's Sport Analytics Society. His group is analyzing how the shift in baseball has changed over recent years and how effective it is against right-handed and left-handed hitters.
"This summer with the Knights I am super excited to be able to work with two other people that share a passion for baseball analytics," he said. "The three of us have talked briefly about some of the things we want to be able to do, but ultimately our goal is to just help the coaching staff and players to the best of our abilities."
Heath said the analytics team's primary objectives are to help the Knights with player development and to also help the club garner its sixth consecutive WCL championship.
"By utilizing all the technology at our disposal, I believe we can help us become more prepared for our opponents," he said. "I hope we can integrate player development technologies into what we do as an analytics department.
"Then our players can get the feedback they want to help them take their game to the next level."
The Knights begin the 2022 season on May 26 with their annual Science, Engineering & Art Day, presented by Paventy & Brown Orthodontics, at Goss Stadium against the NW Star Nighthawks. Their WCL opener is June 3 at Yakima Valley; their WCL home opener is June 17 vs. Yakima Valley.