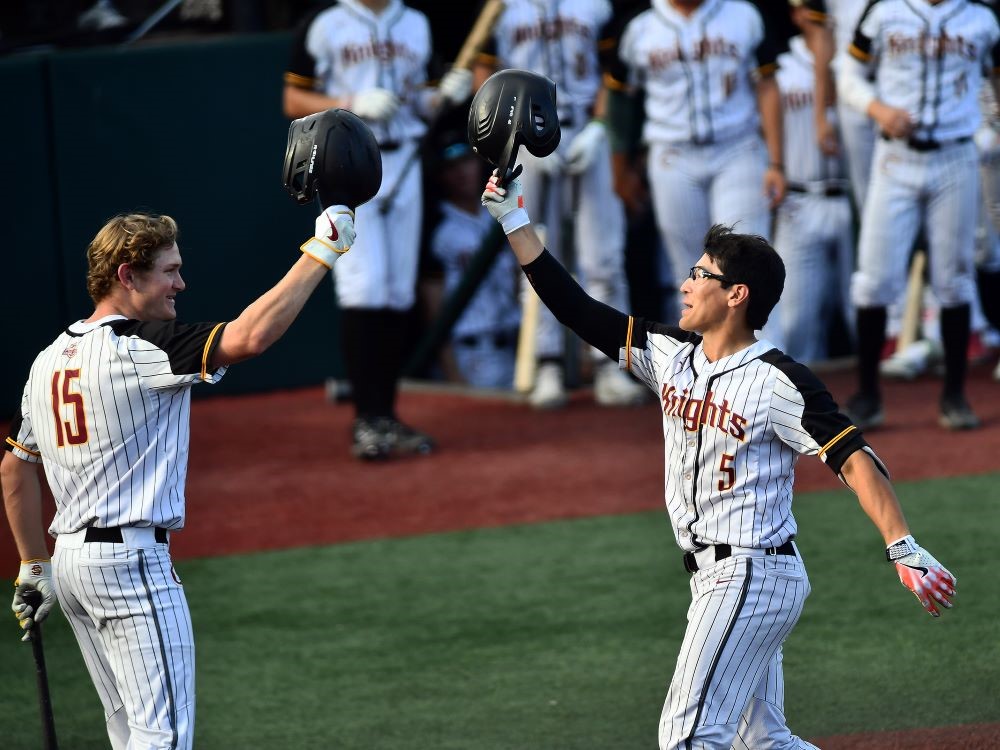 Quinn's grand slam powers Knights to 6-1 win over Pickles
Tuesday, August 1, Portland, Ore.  – Tyler Quinn's pinch-hit grand slam in the eighth inning broke open a close game and Corvallis defeated Portland 6-1 in the opener of their West Coast League series at Walker Stadium.
On limited duty since suffering a July 23 wrist injury, the future Utah Ute (# 5, pictured, above) blasted a 1-1 pitch for his fourth homer of the summer, tying Sam Stem for the team lead. It He now has 33 RBIs, just two behind Stem's (Gonzaga) team-leading 35.
The game was tied 1-1 heading into the eighth. Mason Le (Cal State Northridge) and Stem opened with singles and Ethan Hedges (USC) walked to load the bases. After a fly out, Tate Shimao (Cal Poly) singled on a 3-2 pitch, scoring Le with the go-ahead run.
Quinn then pinch-hit for Phoenix Call (UCLA) and delivered the biggest hit of the game. He had not started a game since July 23 before Tuesday and had appeared in only two subsequent games, once as a pinch-hitter and another time as a pinch-runner.
Corvallis (39-14, 35-14 WCL, 18-4 second half) remained in first place in the South Division's second-half playoff race, 1.5 games ahead of Cowlitz. The Knights have already clinched a berth in the WCL playoffs for the 16th consecutive season.
They are the only WCL team to qualify for the playoffs in every season since the divisional format was introduced in 2007. Their seeding for the playoffs, which start Aug. 8, has yet to be determined.
Corvallis starter Merit Jones (Utah) allowed one hit and one unearned run in 4.2 innings, with five strikeouts. Sean Wiese (Arizona Christian) followed by spacing four hits over 2.1 scoreless innings, with one strikeout.
Ethan Collins (Pomona-Pitzer) finished with two more scoreless innings, striking out two and allowing two hits. He did not qualify for a save but extended a streak of quality pitching that has seen him allow just one earned run over 15 innings in his last seven appearances.
Portland scored an unearned run in the fourth to take a 1-0 lead. The Knights drew even in the seventh when Anson Aroz (Oregon) singled, stole second and third and scored on an error.
The series resumes at 7:05 p.m. Wednesday. Sam Stuhr (2-0, 3.44) will start for the Knights, opposed by Itsuke Takemoto (1-1, 5.01) of Hawaii for the Pickles.
The finale is set for 7:05 p.m. Thursday. Miles Gosztola (1-1, 2.59) of Gonzaga is the Knights probable, opposed by Max Frazier (2-1, 5.06) of Washington State.
The Knights conclude the regular season at home against first-half South Division champion Ridgefield at 6:35 p.m. Friday, 7:15 p.m. Saturday and 1:05 p.m. Sunday. The best-of-3 divisional round of the playoffs starts on Aug. 8.