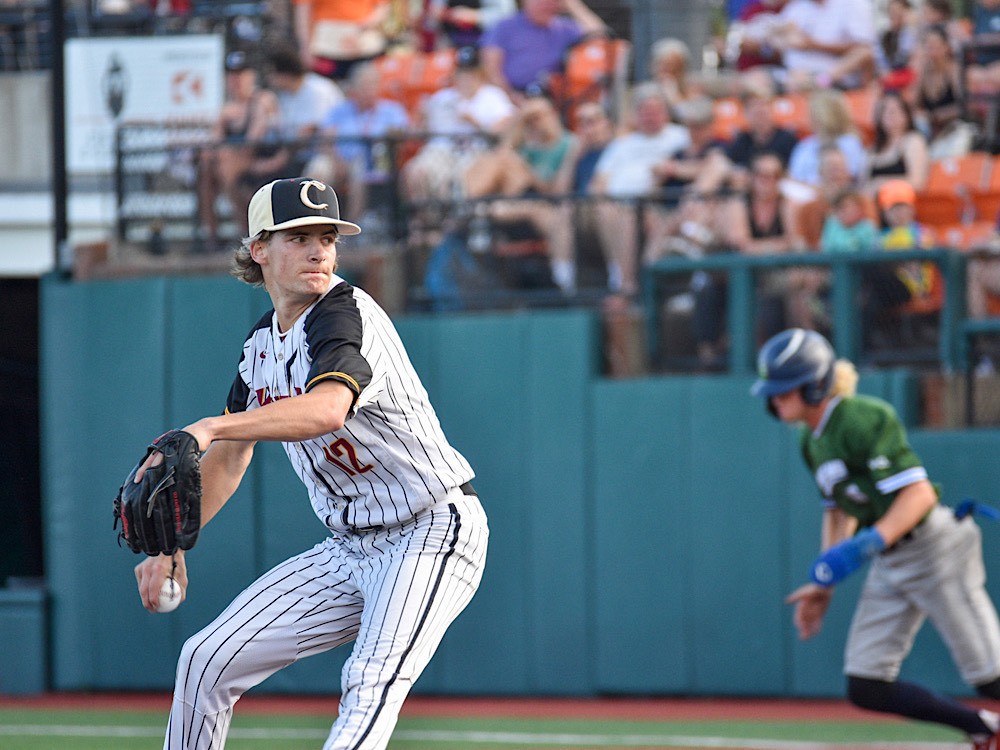 Knights rally late to edge Elks 4-3, capture key series victory
Sunday, July 30, Bend, Ore.  – Corvallis scored once in the eighth and twice in the ninth and rallied to edge Bend 4-3 in the rubber game of their West Coast League series at Vince Genna Stadium.
With the victory, the Knights clinched a berth in the WCL playoffs for the 16th consecutive season. They are the only WCL team to qualify for the postseason in every summer since the divisional format was introduced in 2007.
Corvallis (38-14, 34-14 WCL, 17-4 second half) remained in first place in the South Division's second-half playoff race. Post-season seeding, which starts Aug. 8, has yet to be determined.
Anson Aroz (Oregon) started the decisive ninth-inning rally with a leadoff walk and JC Ng (Pomona-Pitzer) singled him to second base. Tyler Quinn (Utah) ran for Aroz and scored to tie the game 3-3 on a wild pitch after Mason Le (Cal State Northridge) had advanced Quinn and Ng on a sacrifice bunt.
Sam Stem (Gonzaga) then doubled to plate Ng with the go-ahead run, giving the Knights the series victory. Corvallis won the July 28 opener 7-4 and Bend won 4-3 on July 29 to set up Sunday's rubber game.
Reliever Zach Johnson (Utah Valley, pictured above) earned the pitching decision with two perfect innings. He struck out the side in the ninth and four of the six Elks he faced overall.
Nathan Marshall (Lane CC) hurled 3.1 scoreless innings in relief of starter Jackon Van Eyk (Skagit Valley). Marshall did not allow a hit and had one strikeout.
Tate Shimao (Cal Poly) doubled, singled twice and scored once. Ng and Stem also had two hits each.
The Knights took an early 1-0 lead in the second inning. Shimao singled, advanced to second on a groundout and scored on Tyler Howard's (Portland) single.
Bend scored twice on one hit in the second inning to erase that lead, however. A walk, a hit batsman and another walk loaded the bases with two outs, setting up a two-run single by Wilson Weber.
Bend scored in the seventh to build a 3-1 cushion but the Knights got one back in the eighth. Blake Avila (Grand Canyon) reached on an error, pinch-runner Ethan Hott (Stanford) was doubled to third by Shimao, and Hott scored on Phoenix Call's (UCLA) groundout, trimming the lead to 3-2.
The Knights are idle on Monday. They conclude the road portion of the regular season at Portland on Tuesday-Thursday; all three games begin at 7:05 p.m. at Walker Stadium.
The final home series of the season is set for Friday-Sunday against the Ridgefield Raptors. The best-of-3 divisional round of the playoffs starts on Aug. 8.