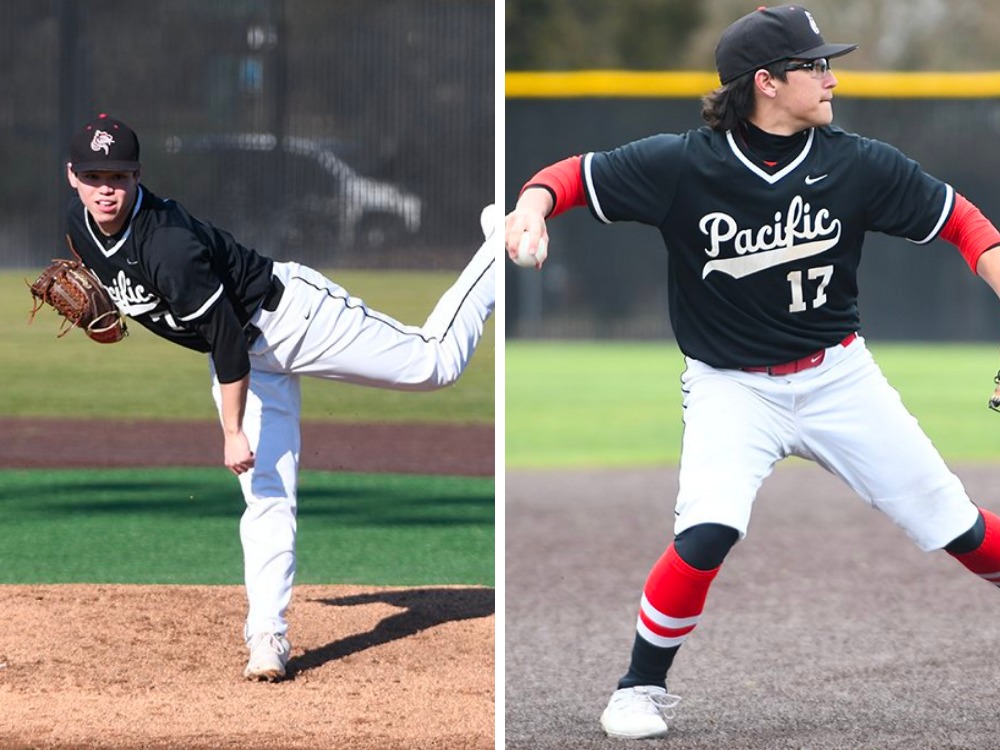 Pacific University battery joining Knights
Sunday, March 20, Corvallis, Ore. – A pitcher and catcher from Pacific University in Forest Grove will join the Corvallis Knights for 2022 season, head coach Brooke Knight announced Sunday.
They are pitcher Will Clark, a left-hander who began his college career at St. Louis University, and Tyler Quinn, a catcher/infielder. Both are juniors who earned first-team all-Northwest Conference honors in 2021 for the NWC champion Boxers.
The 6-foot, 186-pound Clark graduated from Alpharetta High School in Alpharetta, Georgia, and is originally from Eagle, Idaho. Quinn is a 5-10, 195-pounder from Maryknoll HS in Mililani, Hawaii, the hometown of former Knights all-WCL pitcher Rob Dittrick, who also played at Pacific.
Clark has started all seven games he's played in for the Boxers in 2022 and is 3-1 with an 6.89 ERA, with 36 strikeouts in 31.1 innings. He was 8-1, 1.79 in 14 games in 2021, when he was the Northwest Conference Pitcher of the Year. He also was named first-team all-Northwest Conference and earned D3baseball.com all-West Region honors while helping the Boxers to the NCAA Division III playoffs.
A finance major who enjoys biking, hiking, fishing, and swimming in his free time, his favorite team is the Atlanta Braves. He also favors Interstellar (movie) and Peaky Blinders (TV show).
Quinn is hitting .329 in 20 games for the 2022 Boxers, with two homers and 14 RBIs. He hit .364 as a sophomore, with 14 doubles, seven homers and 38 RBIs, and .413 in a Covid-shortened 2020 season, with two homers and six RBIs in 14 games.
He is a finance major who is a fan of the Philadelphia Phillies. A surfer in his spare time, he also enjoys Grownups (movie) and Squid Game (TV show).
The Knights begin the 2022 season on May 26 with their annual Science, Engineering & Art Day, presented by Paventy & Brown Orthodontics, at Goss Stadium against the NW Star Nighthawks. Their WCL opener is June 3 at Yakima Valley; their WCL home opener is June 17 vs. Yakima Valley.