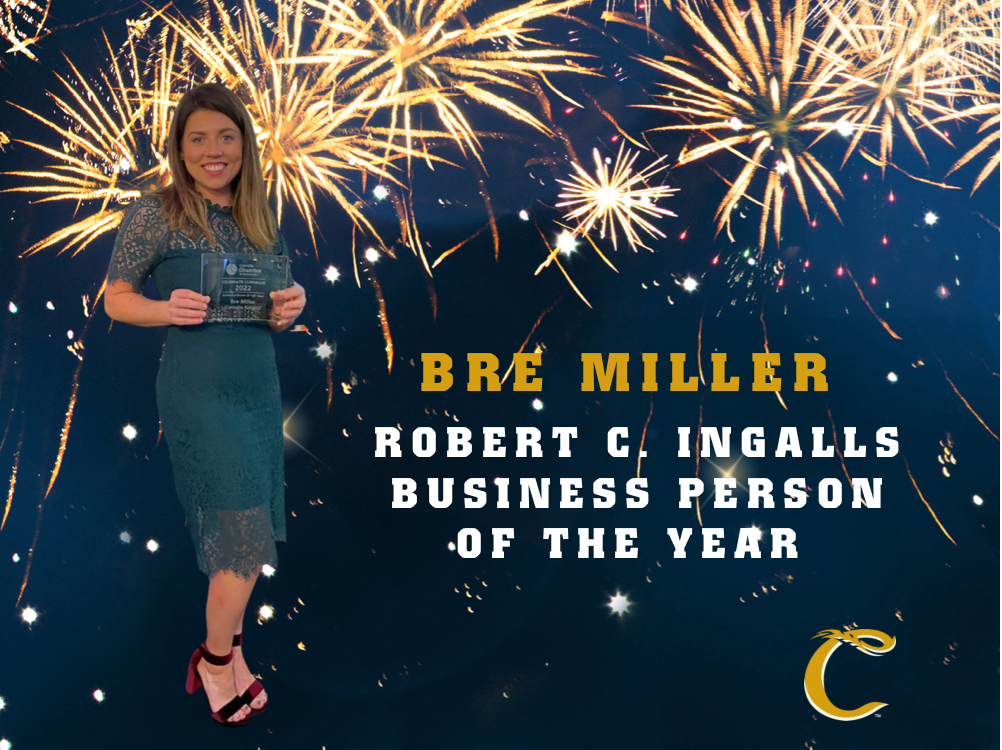 Knights President Bre Miller Named Corvallis Business Person of the Year
Sunday, March 20, Corvallis, Ore. – This past Friday, at the 74th annual Celebrate Corvallis hosted by the Corvallis Chamber, Knights team president Bre Miller was named Business Person of the Year. Miller is the first Knight to be named Business Person of the Year.
Miller earned 2012 Albany Junior First Citizen honors and the Corvallis Knights were recognized as the 2016 Business of the Year at the Celebrate Corvallis Awards.
"I am extremely honored to be recognized in my hometown," said Miller. "It has been a fun and intense 15 seasons since the Knights moved to Corvallis. I feel lucky to have been a part of every one of them."
This year's Celebrate Corvallis, held at the OSU Alumni Center, was extra special as the Chamber showcased the Corvallis School District as well as the two largest health providers in the area, Samaritan Health Services and the Corvallis Clinic.
"In 2016 the Knights were recognized as Business of the Year. That really felt like finally, we're not just a summer baseball team, we are a part of the business community. And that is always what Dan Segel has taught me. We are a small business. We feel grateful to be a small business in the Mid-Valley," said Miller.
"I couldn't be more proud of our staff who I get to work with every day. They aren't just good at what they do for a living, they are good humans. They truly believe in our vision to enhance, enrich and embolden our community."
Miller was quoted in Saturday's edition of the Gazette-Times in their piece titled, 74th Celebrate Corvallis wows audience. Click here to read all about it.
"We're thrilled as an organization for Bre and the team," said Knights Baseball Club CEO Dan Segel. "We're also pumped that longtime partner Block 15 was named the Corvallis Large Business of the Year. We'll celebrate these honors this summer at OSU's Goss Stadium with some Summer Knights Kolsch!"
Celebrate Corvallis Awards
Large Business: Block 15 Brewing Co
Patron of the Arts: Jen Hernandez of Jen Hernandez Art
Non-profit: CARDV
First Citizen: Inge King
Entrepreneur: Andrew Grenville of Inpria Group
Senior First Citizen: Ilene Kleinsorge
Robert C. Ingalls Business Person: Bre Miller
Sustainable Business: G. Christianson Construction
Small Business: Conundrum House
Medium Business: Corvallis Custom
Junior First Citizen: Jamie Ely
Future First Citizen: Kate Voltz of Crescent Valley High School
People's Choice Award: Healing Motion Physical Therapy
The Knights kick-off their 2022 season on, Thursday May 26 with the team's annual Science, Engineering & Art Day, presented by Paventy & Brown Orthodontics, at OSU's Goss Stadium against the NW Star Nighthawks. Their WCL opener is June 3 at Yakima Valley; their WCL home opener is June 17 vs. Yakima Valley.