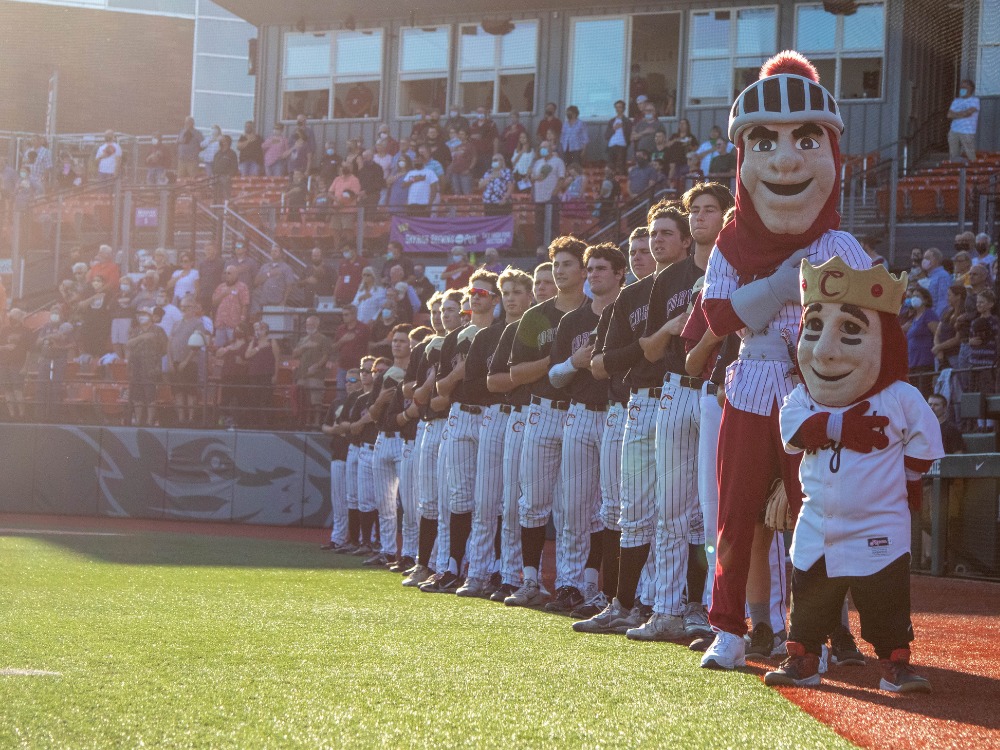 Commissioner Neyer excited as expanded WCL opens new season
Tuesday, May 31, Corvallis, Ore. – An expanded West Coast League will open its 17th season on May 31, with 15 teams striving to wrest the championship trophy away from the five-time defending champion Corvallis Knights.
And commissioner Rob Neyer can hardly contain his excitement at the prospect of overseeing a fully-operational circuit after two years of Covid-19 restrictions. The league was shut down entirely in 2020, and the Canadian franchises did not participate in 2021.
"Exciting times, obviously," said Neyer, a noted baseball author and sabermetrics analyst who is beginning his fifth year, and fourth season, as WCL commissioner. "Schedule-wise, we went from 12 teams in 2019 to zero in 2020 to 10 in 2021 to (gulp) 16 this year!
"By definition, then, this will be our biggest season ever, with 432 official West Coast League games scheduled. I'm actually sort of anxious, just on a personal level, because I know how busy I've gotten during my three previous seasons as commissioner."
Four franchises will make their WCL debuts this summer.
The Edmonton Riverhawks, Kamloops NorthPaws and Nanaimo NightOwls were originally slated to begin play in 2020 or 2021, but were put on hold by the pandemic and ensuing Canadian restrictions on border and gathering limitations.
Kamloops hosts Edmonton on May 31 in its lidlifter. Nanaimo opens with Edmonton on June 3 and Edmonton hosts the Portland Pickles on June 6 in its debut contest.
The Springfield Drifters became the league's 16th team in April, 2021. They will open their inaugural home season on June 3 by hosting the Cowlitz Black Bears at the expanded and renovated Hamlin Sports Complex at Hamlin Middle School in Springfield.
"When you look at a map, adding another team in the Willamette Valley is an easy call for us," Neyer said when the Drifters were admitted. "We were simply waiting for the perfect situation, and with the Springfield Baseball Project, that's now exactly what we've got."
Neyer said he's confident all four new teams will succeed from the start.
"Edmonton's got nearly 1.5 million people in the metropolitan area, sixth-most in Canada. And they're playing in a refurbished former triple-A stadium that holds more than 9,000 fans, so I won't be surprised if the Riverhawks shatter our league's attendance records.
"Kamloops is a hotbed for amateur sports, and Nanaimo is already one of my favorite spots in the league. Finally, our new team in Springfield is playing in a brand-new stadium in another tremendous market for amateur sports.
"Our league is pretty choosy when it comes to potential expansion sites, but I'm confident that all four of our new teams will be successful from Day 1."
There will also be a new playoff format, replacing the former best-of-three divisional and championships rounds that dated back to 2007.
Four teams from each division will advance to postseason. The opening round will be best-of-3, matching No. 1 vs. No. 4 and No. 2 vs. No. 3 in each division. The winners will meet in a one-game playoff for the divisional championship.
The divisional winners will then meet in a one-game championship series, hosted by the team with the higher full-season winning percentage.
"There are three things I love about our new format," Neyer said. "One, we're doubling the number of postseason teams, from four to eight. Two, all eight are guaranteed at least one home playoff game, which is obviously great for the fans.
"And three, our championship round is just one game. That should add a great deal of excitement and allow us to generate a lot more attention than we have with the best-of-three series."
The streamlined playoffs will also enable the league to conclude play about a week earlier than in the past, enabling players to return to their homes or schools at an earlier date.
The Covid problems of the past two years have not negatively impacted the league's ability to develop players.
A record 33 WCL alums were on MLB team's 2022 opening-day rosters. That number has increased with the May promotion of ex-Corvallis Knights pitcher Stephen Nogosek by the New York Mets, and with Baltimore's elevation of ex-Corvallis catcher Adley Rutschman, the No. 1 pick of the 2019 draft.
It was the WCL's second-straight record-breaking year. There were 31 alums on opening-day rosters and 305 WCL alums played in affiliated baseball in 2021.
The most notable WCL alum may be Cleveland Guardians pitcher Shane Bieber, the 2020 American League Cy Young Award winner. He played for the Cowlitz Black Bears in 2014 following his freshman year at UC Santa Barbara, and made his Cleveland debut less than four years later.
"The WCL has been a fantastic training ground for our players," said Andrew Checketts, Bieber's college coach and a former Knights' player and coach in the pre-WCL era. "Across the board our players have returned to campus with improved skills."
Added Cal Poly coach Larry Lee, whose son, Brooks, played for the Knights in 2019 and will most likely be a first-round selection in the 2022 MLB draft:
"The WCL has had a big impact on our program. The majority of our rosters have played in the WCL and have returned to Cal Poly as better players," including American league all-star outfielder Mitch Haniger of Seattle, who played in Corvallis in 2010.
Expansion has predicated some adjustment to the divisional lineup.
The South Division includes Corvallis, Walla Walla, Yakima Valley, Bend, Springfield, Cowlitz, Portland and Ridgefield.
The North Division consists of Bellingham, Port Angeles, Wenatchee, Nanaimo, Kelowna, Victoria, Edmonton and Kamloops.