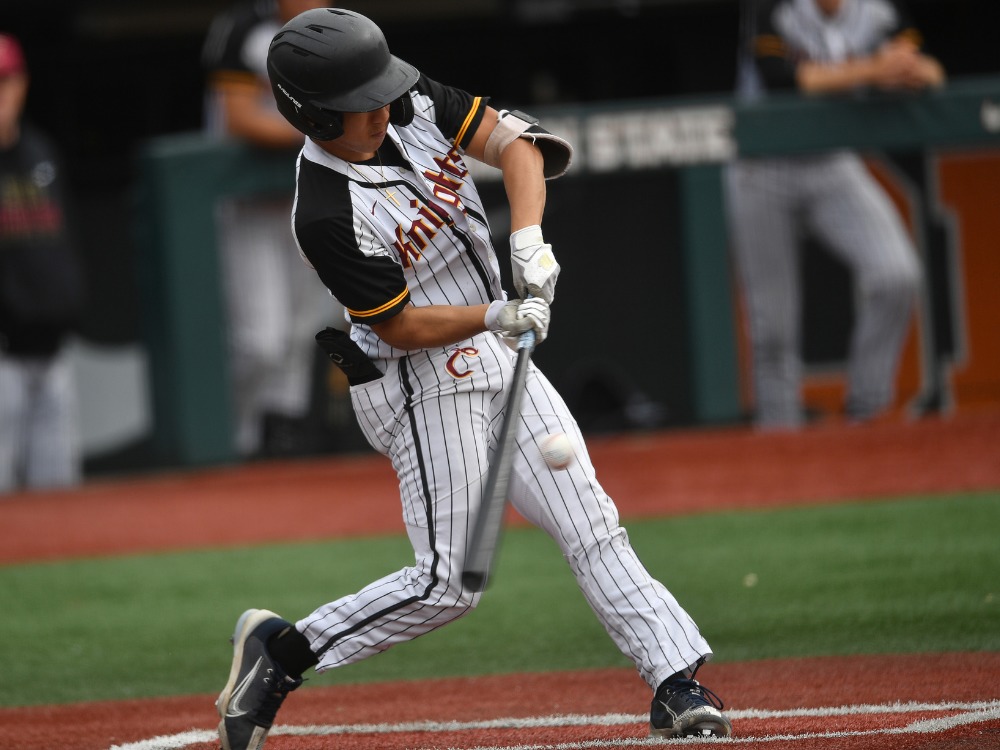 Knights open quest for another WCL title Friday against Pippins
Thursday, June 2, Corvallis, Ore. – The Corvallis Knights start their quest for their sixth consecutive West Coast League championship on Friday night when they open a three-game set at the Yakima Valley Pippins in a rematch of the 2021 WCL Championship Series.
The marquee matchup signals the beginning of what should be another exciting summer for the Knights, who kick off their 29-game home schedule on June 17 against the Pippins at Goss Stadium. In all, a 56-game season is planned, including our first-ever games against Springfield and Edmonton, followed by the revamped WCL playoffs.
"I've got exactly zero doubt that this season will be our league's best yet," commissioner Rob Neyer said. "We'll have more teams, more talent, and more playoff action than ever before.
"What's coming next are nearly three months filled with tremendous excitement for our fans around not just the Pacific Northwest, but everywhere."
Corvallis native Brooke Knight, the 2021 WCL Coach of the Year, enters his 14th season at the helm as the winningest coach in league history (574-243). The seven-time WCL Coach of the Year has directed the Knights to eight WCL championships and to the Championship Series in 12 of his 13 seasons.
His coaching staff remains intact, and will be bolstered by the return of legendary associate head coach Ed Knaggs to full-time status after coaching on a part-time basis in 2021. First base coach Youngjin Yoon is back for his sixth season and pitching coach Beau Kerns returns for his second summer.
"Every season is new, with a lot of new players," Knight said. "We'll work hard to come together quickly and gel.
"There are always two primary things we want to accomplish: development and winning."
Many other familiar faces are back for another summer in the Willamette Valley, especially on the pitching staff. Southpaws Ethan Ross (San Jose State), the ace of the 2021 rotation, and Sean Wiese (Hawaii) are joined by right-handers Kaden Segel (Linn-Benton CC), Kaleb Kantola (Lipscomb) and Nathan DeSchryver (Gonzaga), as each returns for a second season.
Also back for another go-round are infielder Spencer Scott (Portland), first baseman Kiko Romero (Arizona Central JC), catcher Jake Leitgeb (Washington) and left-handed swinging outfielder Ethan Loveless (Portland).
Ross was a second-team all-WCL selection and Romero earned honorable-mention honors in 2021.
"We're excited to have Ethan Ross back, he's just one of the returning arms we're excited about," Knight said. "We have some veterans returning and coupled with our young arms who are going to continue to get better. The staff should be formidable."
Several Knights-to-be earned postseason honors in their respective conferences. Reliever Ryan Brown of Oregon State was all-Pac-12. Sean Wiese and infielder Jeremy Sangalang of George Fox were second-team all-Northwest Conference selections; Pacific catcher Tyler Quinn earned honorable-mention.
Romero was first-team all-ACCAC, first-team all-region and a Gold Glove nominee. Outfielder Jonah Advincula (Redlands) was first-team all-SCIAC. Pitcher Joey Gartrell (Portland) made the West Coast Conference all-Freshman team. Catcher Ryan Stafford of Cal Poly was named first-team all-Big West Conference; pitcher Matt Ager of UC Santa Barbara earned second-team honors.
Leitgeb gives the Knights an experienced WCL catcher. Stafford was a starter at Cal Poly and hit .321, with three homers and 33 RBIs; Quinn hit .329 with seven homers and 29 RBIs.
"We'll be really solid," Knight said.
Scott and Romero will anchor the infield. Knight said the outfielders are "burners" who can cover plenty of ground and also ignite the running game, always a big part of the Knights' offense.
University of San Francisco righty Jesse Barron is the Knights probable starting pitcher for opening night in Yakima on June 3.
The Knights drew 48,922 fans in 2021. Top promotional attractions for this season are the July 3 and Aug. 6 Fireworks Nights; the June 25 Baseball Giveaway Night; the July 1 Tee-Shirt Night; the July 22 Cap Night, and the Aug. 4 Wilson Motors Night.
"We expect to compete for the WCL championship. That never changes, even though our personnel may," Knight said. "We think we'll field a very competitive team."
Did you know … 
All games will be broadcast on KEJO-AM 1240. Mike Parker, the football/men's basketball/baseball voice of the Oregon State Beavers, will return for another season behind the mic.
Brooke Knight was named WCL Coach of the Year in 2008, 2009, 2011, 2013, 2017, 2019 and 2021. Associate head coach Ed Knaggs earned Coach of the Year honors four times and won five championships from 2001-14 with the Wenatchee AppleSox.
The Knights have captured five consecutive WCL championships. They are the only team in the league to make the playoffs in every season since the divisional format was adopted in 2007.
The Knights have a winning record against every WCL franchise. They are 44-14 vs. Cowlitz; 55-38 vs. Bellingham; 66-46 vs. Bend; 53-22 vs. Kelowna; 12-0 vs. Ridgefield; 14-4 vs. Port Angeles; 13-5 vs. Portland; 35-19 vs. Walla Walla; 18-9 vs. Victoria; 47-34 vs. Wenatchee and 24-15 vs. Yakima.They also had winning records vs. the WCL's relocated/defunct franchises. They were 9-3 vs. Gresham; 19-8 vs. Moses Lake; 17-7 vs. Medford; 54-21 vs. Kitsap; 19-8 vs. Spokane and 33-8 vs. Klamath Falls.
Eight former Knights are/have been on an MLB active or disabled list in 2022. They are Nick Madrigal (Cubs), Steven Kwan (Guardians), Matt Boyd (Giants), Stephen Nogosek (Mets), Tyler Anderson (Dodgers), Matt Duffy (Angels), Adley Rutschman (Orioles) and Mitch Haniger (Mariners).
Former Knights' RHP Matt Andriese is playing in Japan for the Yomiuri Giants in the Central League of Nippon Professional Baseball. The 2009 WCL Pitcher of the Year, he played for the Rays, Diamondbacks, Angels, Red Sox and Mariners before heading to Japan.
Knights at a glance 
COACHING STAFF: Head coach Brooke Knight, 14th year; associate head coach Ed Knaggs, fourth year; assistant coach Youngjin Yoon, sixth year; pitching coach Beau Kerns, second year.
PITCHERS: LH Sean Wiese (Hawaii); LH Ethan Ross (San Jose State); RH Kaden Segel (Linn-Benton); RH Chase Reynolds (Linn-Benton); RH Jaden Harris (Utah); RH Matt Scott (Barlow High/Stanford signee); LH Will Clark (Pacific U.); RH Matthew Ager (UC Santa Barbara); RH Ryan Brown (Oregon State); RH Nathan DeSchryver (Gonzaga); RH Joey Gartell (Portland); RH Jesse Barron (San Francisco); RH Duke Brotherton (Washington State); RH Kaleb Kantola (Lipscomb); RH Roman Angelo (Fresno State); RH Bradley Maylett (Utah); RH Roman Angelo (Fresno State); RH Josh Emanuels (Washington); RH Ian Lawson (Oregon State); RH Neil Feist (El Camino College).
CATCHERS: Ryan Stafford (Cal Poly); Tyler Quinn (Pacific U.); Jake Leitgeb (Washington).
INFIELDERS: Mason Le (Cal State Northridge); Spencer Scott (Portland); Temo Becerra (Stanford); Devon Dixon (Central Arizona); Zander Darby (UC Santa Barbara); Kiko Romero (Central Arizona/Arizona signee); Titus Dumitru (Linn-Benton); Ely Kennel (Santiam Christian/Oregon State signee).
OUTFIELDERS: Logan Johnstone (Gonzaga); Ethan Loveless (Portland); Brady Lavoie (North Carolina State).
10-DAY SIGNEES: OF Kyle Parkman (Lower Columbia); OF Jonah Advincula (Redlands); RHP Logan Geiszler (Clark CC); C Kyle Casperson (Bushnell); INF James Anderson (MSU-Billings); INF Jeremy Sangalang (George Fox).
.