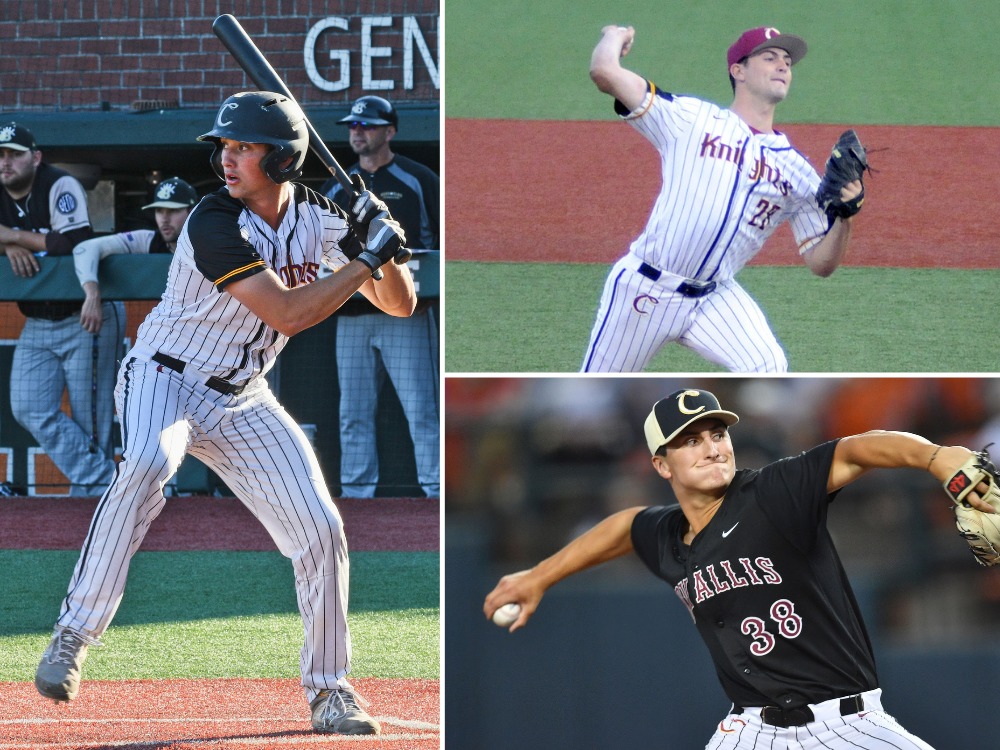 Collegiate Baseball News names Lee, Williams, Gillis All-American
Friday, June 3, Corvallis, Ore. – Three alums of the Corvallis Knights, each of whom earned player of the year honors in their respective conferences, were named 2022 All-Americans on June 2 by Collegiate Baseball News.
Cal Poly shortstop Brooks Lee (left) and Stanford right-handed pitcher Alex Williams (top right) were first-team selections. Portland right-handed pitcher Brett Gillis (bottom right) was a second-team pick.
Lee and Williams helped lead the Knights to the 2019 West Coast League championship. Gillis played a major role in helping the 2021 Knights earn the league title and Perfect Game Summer Collegiate Team of the Year honors.
A native of San Luis Obispo who played for the Knights before his freshman season with the Mustangs, Lee hit .357 in 2022, with 15 homers and 55 RBIs. He was named the Big West Conference Field Player of the Year and is a finalist for the Brooks Wallace Award, given annually to the top collegiate shortstop.
Lee hit .333 and had three homers, 35 RBIs and 36 runs for the 2019 Knights. He was a first-team WCL all-star and was ranked as the league's top pro prospect. The son of longtime Cal Poly coach/Knights partner Larry Lee, he is ranked as the No. 5 prospect in this year's MLB draft by MLB.com.
A Castro Valley, Calif., native, Williams earned Pacific-12 Conference Pitcher of the Year honors by going 8-1 with a 1.98 ERA in 15 games, with 84 strikeouts in 91 innings. He had two complete games, and one shutout while helping the Cardinal win the Pac-12 regular-season and tournament championships and the No. 2 overall seed in the upcoming NCAA tournament.
Williams appeared in seven games for the 2019 Knights following his freshman season at Stanford and was 1-0 with an 0.96 ERA. He had three saves, struck out 13 and allowed only five hits in 9.1 innings.
Gillis, from Everett, Wash., was named the West Coast Conference Player of the Year following a spectacular season which saw him go 9-2 with a 2.24 ERA and 115 strikeouts in 84.1 innings. He had one complete game, a shutout of UC Riverside.
He played for the Knights following his freshman year at Portland and was 2-0 with a 1.45 ERA in 10 games for the 2021 Knights, with 29 strikeouts in 18.2 innings. He did not allow more than one run in any appearance.