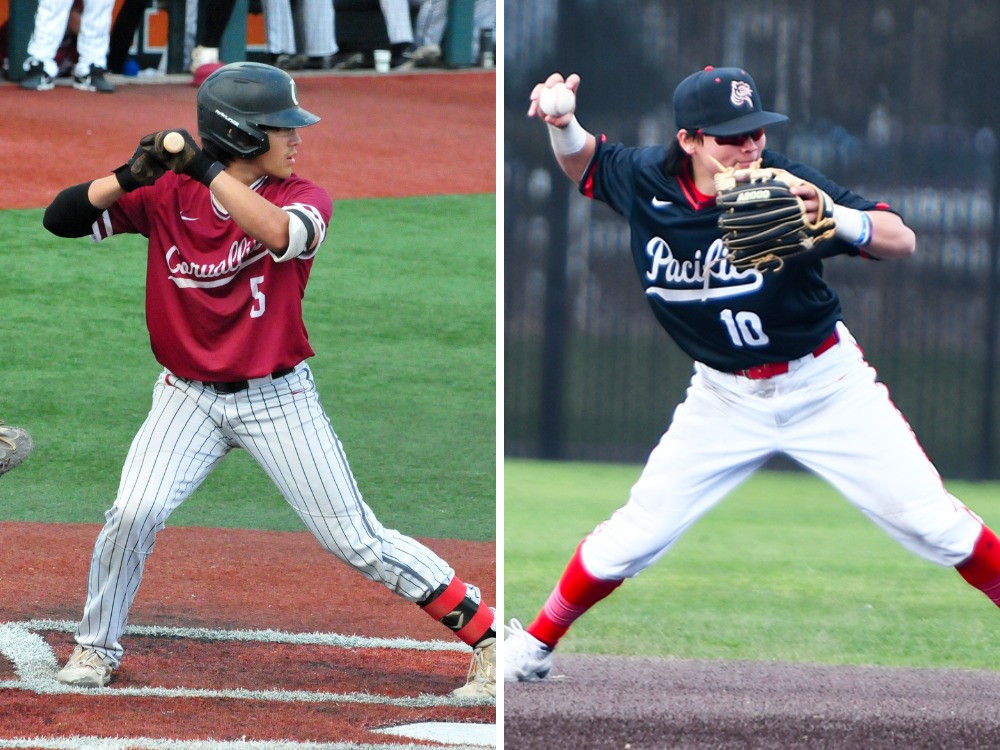 MVP Tyler Quinn back with Knights in 2023
Saturday, Feb. 4, Corvallis, Ore. – Tyler Quinn, the Most Valuable Player of the 2022 West Coast League champion Corvallis Knights, will return for another summer with the team, head coach Brooke Knight announced Saturday.
The versatile Pacific University senior caught and played third base last season while hitting a .310 in 47 total games, with 25 RBIs and seven steals.
"Tyler played solid defense at catcher and third all summer long," Knight said. "He was also one of our more consistent hitters. He's a grinder and was a big part of [the] championship team."
Quinn is a 5-10, 195-pounder from Maryknoll HS in Mililani, Hawaii, the hometown of former Knights all-WCL pitcher Rob Dittrick, who also played at Pacific.
Quinn batted .325 in 44 games for the Boxers in 2022, with seven homers, 39 RBIs and seven steals in nine attempts. He was an honorable-mention Northwest Conference all-star.
It was his third season batting above .300. He hit .364 as a sophomore, with 14 doubles, seven homers and 38 RBIs, and .413 in a Covid-shortened 2020 season, with two homers and six RBIs in 14 games.
He is a finance major who is a fan of the Boston Red Sox. A surfer in his spare time, he also enjoys Grownups (movie) and Breaking Bad (TV show). He can also play outfield.
Pacific teammate Ty Yukomoto will join Quinn with the Knights. He is a 5-8, 160-pound middle infielder from Waipahu High School in Leilehua, Hawaii. A left-handed batter, he is a sophomore majoring in business.
Yukomoto had a standout freshman campaign in 2022, hitting .325 in 34 games, with two homers and 16 RBIs. Both home runs came in a victory over Whitworth; he also had 12 multi-hit games.
He then played briefly for the Bend Elks in the WCL and hit .194 in 13 games, with two RBIs.
He enjoys playing video games in his free time. His favorites are Major League (movie), Stranger Things (TV show) and the Harry Potter series (books).
Pacific is the defending Northwest Conference champion. The Boxers open the 2023 season today with the first of a three-game series against Texas Lutheran University in Seguin, Texas.
The Knights begin their quest for a seventh-straight WCL championship against the host Ridgefield Raptors on June 2. Their home opener is set for June 15 against the Bend Elks.