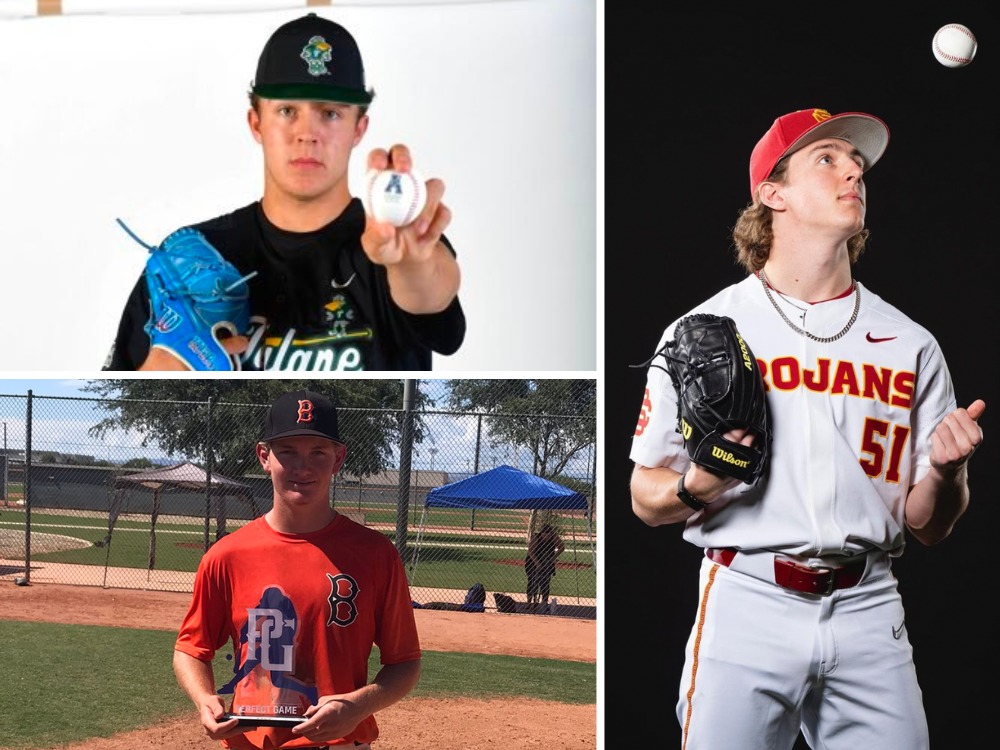 Knights sign Tulane pitcher, USC duo
Thursday, Feb. 2, Corvallis, Ore. – The Corvallis Knights have added two pitchers and an infielder to their 2023 roster, head coach Brooke Knight announced Thursday.
The newest Knights are Grant Cleavinger, a left-handed pitcher from Tulane; left-handed pitcher Evan Clark of USC, and infielder Ethan Hedges, also from USC.
Cleavinger is a 6-foot-5, 210-pound freshman from Lawrence High School in Lawrence, KS. His older brother, Garrett, starred at Oregon and now plays for the Tampa Bay Rays after previously pitching for Philadelphia and the Los Angeles Dodgers.
The prospective marketing major will be only the second Knight from Tulane. Lefty Ross Massey pitched for Corvallis in 2017.
Cleavinger was a four-year letterman at Lawrence High and helped the Chesty Lions to a second-place finish in the 2021 state tournament. He earned first-team Sunflower League all-star honors as a junior and senior and was an honorable-mention choice as a sophomore. He was a second-team all-state selection as a senior, when he threw a no-hitter and a career-best 14-strikeout game.
The Rays are his favorite team and he enjoys golfing in his free time. Moneyball is his favorite movie; The Ranch is his favorite TV show and Mind Gym is his favorite book.
The 6-foot-190-pound Clark is a sophomore this spring. A native of Western Springs, Ill., he attended the IMG Academy in Bradenton, Fla., as a senior after spending three years at Fenwick High School in Oak Park, Ill.
Clark pitched one inning in two games with USC in 2022, with no won-loss record or strikeouts. He then played for the champion Vermont Lake Monsters in the Futures League and was 2-0, 5.60 in 19 appearances, with 35 strikeouts in 17.2 innings.
A summer ball veteran, he played for Illinois Valley in the Prospect League in 2021 and was 2-1, 5.59 in seven games, with 32 strikeouts in 29.1 innings.
He had 44 strikeouts and allowed only eight hits and six runs in 23 innings in his lone season at IMG Academy. He was the No. 8-ranked pitcher in Illinois by Perfect Game and the No. 5-ranked lefty in Florida by Baseball Report. He played travel ball for the Chicago White Sox Elite.
A Chicago Cubs fan, he enjoys fishing, exploring and relaxing in his spare time. His entertainment favorites are Dunkirk (movie), Peaky Blinders (TV show) and Make Your Bed (book).
A 6-1, 190-pound corner infielder, Hedges grew up in Fountain Valley, Calif., and graduated from Mater Dei HS in nearby Santa Ana. A prospective business major, he is a freshman at USC.
Hedges played two varsity seasons at Mater Dei and was MVP and team captain as a senior, when he hit .325 with two homers and 17 RBIs while earning Trinity League all-star honors. He hit .357 in 2021, with 16 RBIs.
He was Perfect Game's No. 9-ranked shortstop in California and was named the Most Valuable Pitcher in the 2022 Perfect Game West Coast High School Showdown while playing for the SoCal Birds.
The Los Angeles Angels are Hedges' favorite MLB team. He enjoys going to the beach and playing video and board games in his free time. Rush Hour is his favorite movie, Breaking Bad his favorite TV show and To Kill a Mockingbird his favorite book.
The Knights begin their quest for a seventh-straight WCL championship against the host Ridgefield Raptors on June 2. Their home opener is set for June 15 against the Bend Elks.