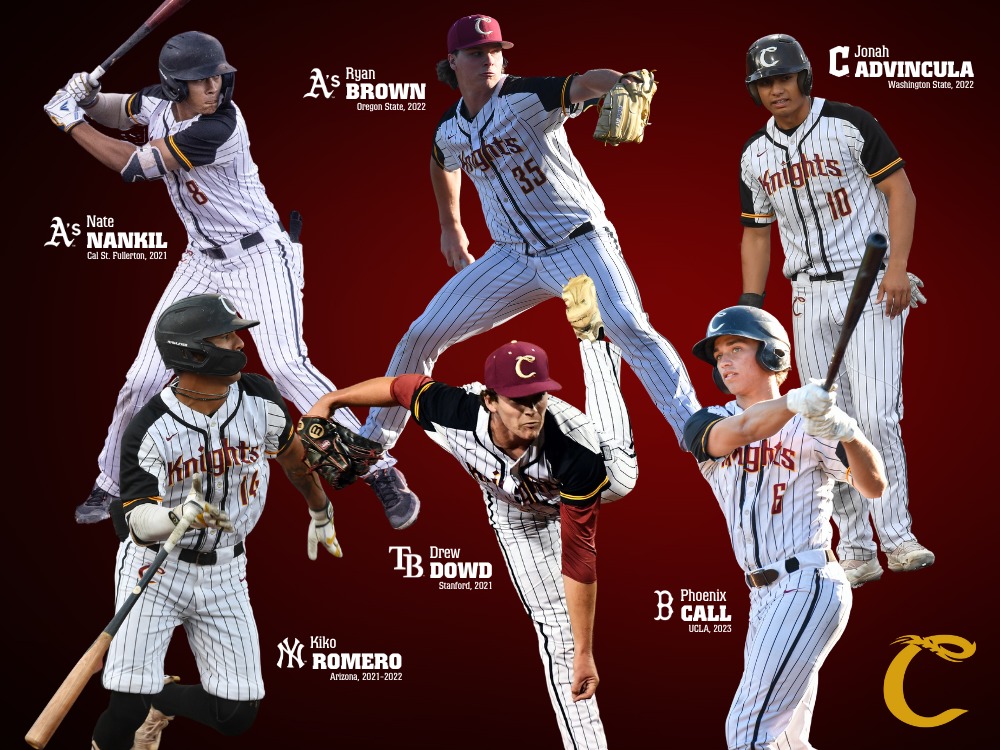 MLB clubs draft six former, current Knights
Wednesday, July 12, Corvallis, Ore.  – Six former or current Corvallis Knights were selected in the Major League Draft this past week.
The newest potential Knights in the pros are outfielder Nate Nankil of Cal State Fullerton (2021); first baseman Kiko Romero of Arizona (2021-22); pitcher Drew Dowd of Stanford (2021); outfielder Jonah Advincula of Washington State (2022); shortstop Phoenix Call, who will enroll at UCLA this fall (2023); and pitcher Ryan Brown of Oregon State (2022).
A right-hander from San Diego, Nankil was selected by the Oakland A's in the seventh round as the 196th overall pick. A first-team Big West Conference selection for Fullerton in 2023, he hit .226 with a homer and 17 RBIs for the Knights in 2021.
Taken by the New York Yankees in the 7th round as the 222nd overall pick, Romero played for the Knights in 2021 and 2022 after two seasons at Central Arizona College. He had a combined eight homers and 46 RBIs and was honorable-mention all-WCL in 2021 and second-team all-WCL in 2022.
The slick-fielding first baseman from Tucson transferred to Arizona for the 2023 season and set a new Wildcat single-season RBI record, en route to earning first-team all-Pacific-12 Conference honors. Romero hit .455 for Corvallis in the 2021 playoffs, with two homers and 10 RBIs; he helped the Knights capture the 2021 and 2022 WCL championships.
A lefty from Belmont, Calif., Dowd was chosen by Tampa Bay in the eighth round as the 243rd overall selection. He pitched for Corvallis in 2021 and was 2-0 with a 2.07 ERA and 20 strikeouts in 17.1 innings.
Advincula, selected by Cleveland in the 8th round as the 248th overall pick, joined the Knights in 2022 after starring at the University of Redlands and earned honorable-mention all-WCL honors after hitting .344, with a homer, 17 RBIs and 20 steals. He also hit .400 in the playoffs, helping the Knights claim the WCL title.
A native of Santa Clara, Calif. Advincula transferred to Washington State for the 2023 season and earned honorable-mention all-Pac-12 honors. He hit .350 with five homers and 33 RBIs in 51 games.
Call, hitting .219 for the 2023 Knights with four RBIs, was chosen by the Boston Red Sox in the fifteenth round as the 448th overall pick. A shortstop from Porter Ranch, Calif., he has signed with UCLA and will join the Bruins for the 2024 season.
A Salem, Oregon native, Brown is a right-hander who was selected by Oakland in the 16th round as the 466th overall pick. A starting pitcher on restricted duty for the Knights in 2022, he was 1-0, 1.63 in four games, with 14 strikeouts in 11 innings.
Brown was Oregon State's closer in 2022 and 2023 and earned first-team all-Pac-12 honors in 2022 and honorable-mention honors in 2023.  He was named a 2022 Freshman All-American by Collegiate Baseball and the NCBWA. He was drafted by the New York Yankees in the 26th round in 2019 after a standout career at South Salem High School, but did not sign.