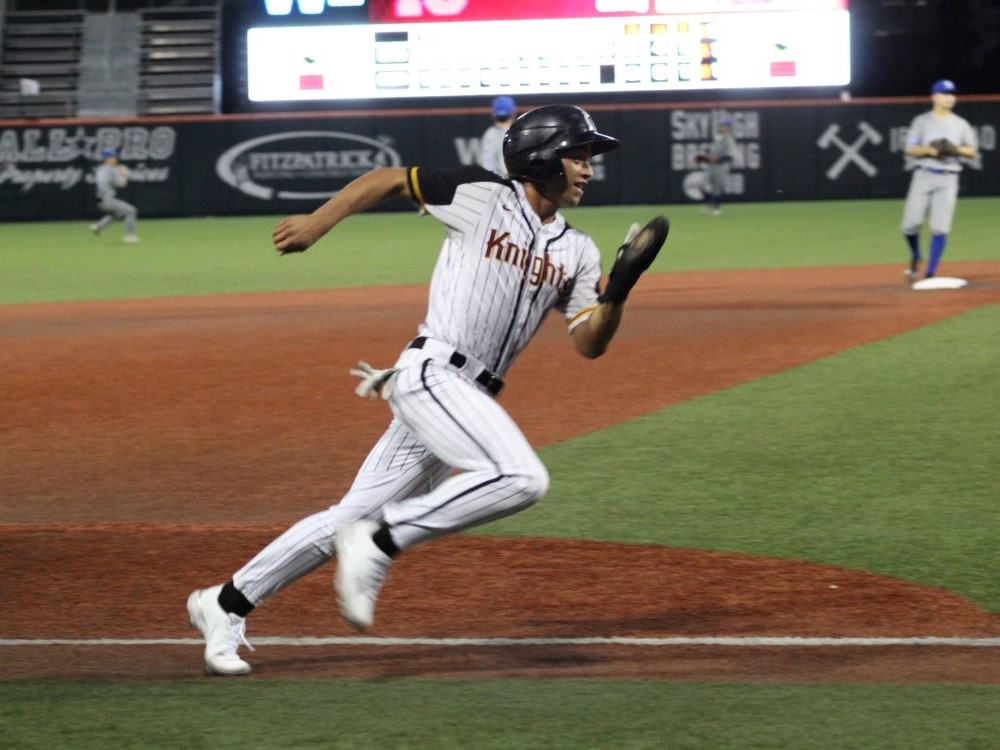 Shimao's RBI single walks off Springfield in 3-2 thriller
Wednesday, July 12, Corvallis, Ore.  – Tate Shimao's line-drive single to center field drove in the winning run as the Knights edged Springfield 3-2 in 10 innings, thrilling a Wilson Motors Night crowd of 2,310 at Goss Stadium.
Shortstop Phoenix Call (UCLA) never hesitated after getting a perfect read on Shimao's hit and his headfirst slide easily beat the relay throw (pictured above). Drafted by the Boston Red Sox on Tuesday, Call entered the game as a defensive replacement in the 10th. He led off the bottom half with a walk and was sacrificed to second by Anson Aroz (Oregon).
The Knights (23-12, 20-12 WCL, 3-2 second half) thus won their eighth game in a row against the Drifters over the past two seasons and clinched the series. Corvallis took Tuesday's opener at Springfield, 10-0.
Shimao (Cal Poly) had a homer, two RBIs, two singles and two runs in Tuesday's triumph and is batting .461 (6-13) over his last three games. He was hitting .083 (2-24) in his first seven games before his current tear, which has raised his average to .216. He was named the Washington Park Advisors Player of the Game on Wednesday.
Aroz was 2-for-4 with a first-inning RBI double. Ethan Hott (Stanford) was 2-for-4 with a double and a run; Mason Le (CSU Northridge) had the Knights' other RBI.
Corvallis led 2-0 through five innings before the Drifters scored single runs in the sixth and seventh innings to draw even. The Knights had two runners thrown out at home in the seventh and stranded runners at third base in the eighth and ninth innings before breaking through in the 10th.
Knights starter Jakob Wright (Cal Poly) flirted with danger over four innings, allowing six baserunners on a hit and five walks. But he wriggled out of a bases-loaded, no-out jam in the first with three straight strikeouts, and a 5-4-3 DP aided him in the third after he walked the leadoff batter.
Wright struck out five, recorded six outs on ground balls, and lowered his ERA from 5.78 to 4.05.
Max Debiec (Texas A&M) pitched a scoreless 10th and got the win. Ethan Ross (San Jose State) threw a perfect ninth inning and Bransen Kuehl (Utah) had 1.1 scoreless innings as the bridge to Ross and Debiec.
The series concludes at 6:35 p.m. Thursday at the Hamlin Sports Complex in Springfield. Miles Gosztola of Gonzaga (0-1, 3.37) will start for the Knights, opposed by Tanner Douglas of Tacoma CC (0-0, 4.26).
The Knights then host the Portland Pickles on Friday-Sunday, kicking off a seven-game homestand. The Redmond Dudes of the Pacific International League visit on Monday for a 6:35 p.m. nonleague game; Kelowna closes the homestand on July 18-20.
Wednesday's crowd of 2,310 raised the season attendance to 31,426 in 18 dates.