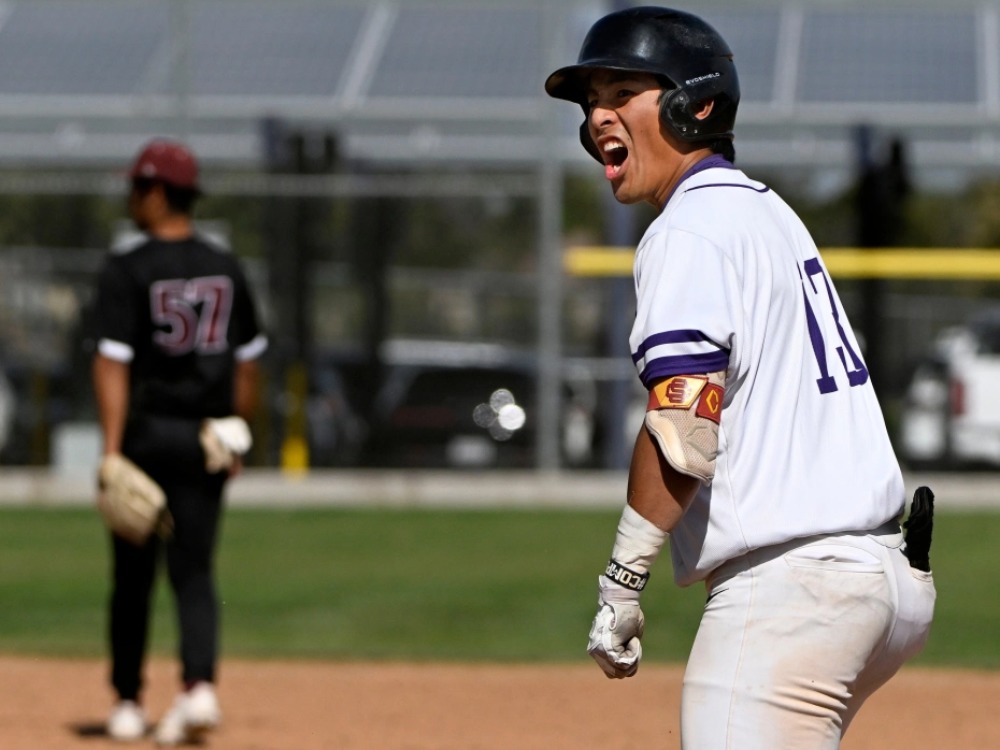 Shimao, Hedges homer to lead Knights over Springfield 10-0
Tuesday, July 11, Springfield, Ore.  – Second baseman Tate Shimao (pictured, above) homered, singled twice and scored twice to lead the Corvallis Knights to a 10-0 victory over Springfield in the opener of their West Coast League series.
Shimao's (Cal Poly) three-hit game was his first as a Knight and lifted his average from .138 to .206. He also had two hits on Sunday and is 5-for-10 (.500) in his last two starts.
The Knights (22-12, 19-12 WCL, 2-2 second half) had lost 4 of 5 before breaking loose on Tuesday. They never trailed in extending their winning streak over the Drifters to seven consecutive games over the last two seasons.
A two-out grand slam by Ethan Hedges (USC), his first homer of the summer, capped a five-run third inning for Corvallis. Phoenix Call (UCLA) also had an RBI single to send the Knights up 1-0.
Shimao's homer, his first, gave the Knights a 7-0 advantage in the sixth inning. Call added another RBI single in the eighth and Hedges' RBI single and a sacrifice fly by Ethan Hott (Stanford) ended the scoring in the ninth.
Hedges' five RBI gave him 18 on the season, third on the club behind Sam Stem of Gonzaga (25) and JC Ng of Pomona-Pitzer (19).
Starter Sam Stuhr (Oregon State) was replaced by Sean Wiese after waking the leadoff hitter and hitting the second. Wiese ended the first inning without further damage and went five innings overall, allowing no runs and one hit. He had five strikeouts and lowered his ERA from 6.00 to 4.24.
Kaleb Woltz (San Francisco) followed Wiese with two scoreless innings. Jonathan Stone (George Fox) walked the first three batters he faced in the eighth but got out of the jam unscathed. Kellen Segel (LBCC) then added a scoreless ninth, with two strikeouts.
The series resumes in Corvallis at 6:35 p.m. Wednesday at Goss Stadium. Cal Poly's Jakob Wright (1-1, 5.78) will start for the Knights, opposed by Ryland Haider of Washington State (1-2, 5.27).
The series concludes at 6:35 p.m. Thursday at the Hamlin Sports Complex in Springfield. Miles Gosztola of Gonzaga (0-1, 3.37) will start for the Knights, opposed by Tanner Douglas of Tacoma CC (0-0, 4.26).
The Knights then host the Portland Pickles on Friday-Sunday, kicking off a seven-game homestand. Corvallis hosts the Redmond Dudes in a nonleague game on Monday and then host Kelowna on July 18-20.
In roster news, Georgia State right-hander Brady Jones has been shut down for the summer. He was 2-0, 1.80 in five games, with 12 strikeouts in 10 innings.