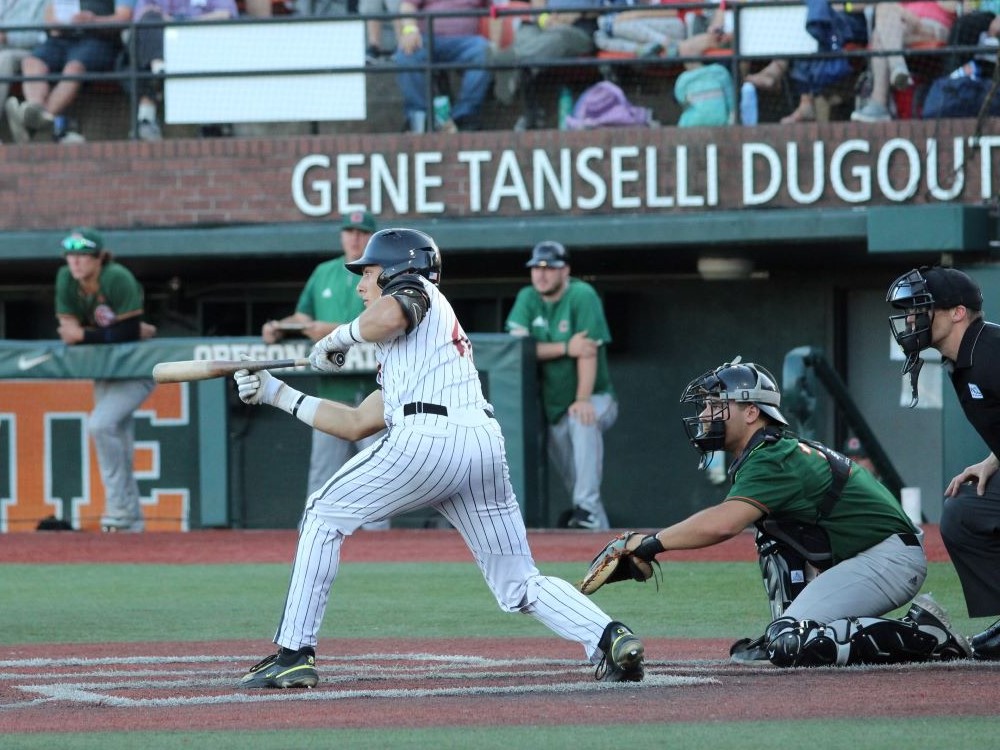 Knights thrill sellout Fireworks Night crowd with tense 3-2 win
Sunday, July 2, Corvallis, Ore.  – The Knights thrilled a sold-out Fireworks Night gathering by edging Cowlitz 3-2  in the finale of their West Coast League series.
With the capacity crowd of 3,305 hanging on every pitch, reliever Merit Jones (Utah) fanned the final two Black Bears to strand the tying run at third base, preserving the Knights' seventh win in their last eight starts.
Corvallis (19-8, 16-8 WCL) remained in the hunt for the South Division's first-half championship. They must sweep their upcoming series at Kelowna to earn the title and the resulting automatic berth in the playoffs. If they lose a game, Ridgefield (18-8) is the champion.
Corvallis scored twice in the sixth inning to erase a 2-1 deficit. Sam Stem (Gonzaga) singled, Ethan Hott (Stanford) walked and Anson Aroz (Oregon) singled to load the bases. Tate Shimao (Cal Poly) walked, forcing in the tying run, and Ty Yuyumoto's sacrifice fly knocked in the go-ahead tally.
Reliever Brady Jones (Georgia State) finished a three-inning scoreless stint by keeping the Black Bears off the board in the seventh and eighth. The struck out three, did not issue a walk and faced only one batter above the three-inning minimum.
Merit Jones started the ninth and got into a jam when leadoff hitter LeTray McCollum's routine fly ball to center was lost in the lights and high sky and fell for a double. He advanced to third on a groundout, but Jones fanned the next two hitters to keep him anchored at third.
Corvallis starter Ethan Ross (San Jose State) breezed through the first three innings, picking off the lone Cowlitz baserunner. But wildness hurt him in the fourth, as a walk and a wild pitch led to two runs and he left trailing 2-1. He struck out three and walked two.
Aroz (pictured above) was 2-for-3 and was selected as the Washington Park Advisors Player of the Game. Blake Avila (Grand Canyon) drove in Corvallis's first run with a third-inning groundout, and Tyler Bremner (UCSB) also had a scoreless inning of relief.
The Knights left Corvallis shortly after the game, bound for Kelowna, B.C. They open a three-game series with the Falcons at 6:35 p.m. Monday; Sam Stuhr of Oregon State (1-0, 5.40) is the scheduled starter.
Corvallis's starter for Tuesday's 6:35 p.m. game is undetermined. Cal Poly's Jakob Wright (1-0, 0.00) will go in Wednesday's 6:35 p.m. finale.
The Knights are idle on Thursday; they open a three-game series at Cowlitz on Friday. Their next home game is July 12 vs. Springfield, the middle game of a set that starts and finishes in Springfield.
Sunday's crowd of 3,305 raised the season attendance to 29,116 in 17 dates.