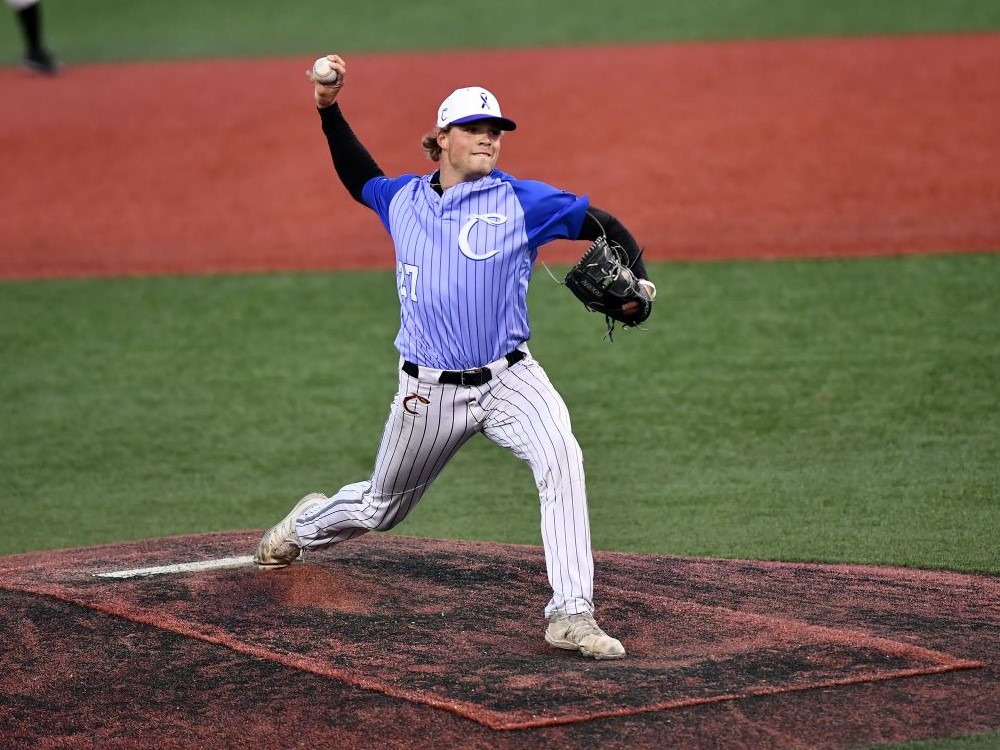 Corvallis grounds Falcons 2-0 on stellar 1-hitter by Stuhr, Kuehl
Monday, July 3, Kelowna, B.C.  – Sam Stuhr pitched a masterpiece, and the Knights broke through for two late runs to blank Kelowna 2-0 at Elks Stadium in the opener of their West Coast League series.
A right-hander from Oregon State, Stuhr (pictured, above) allowed just one hit over seven innings. He retired the final 13 batters he faced in order, finished with eight strikeouts and no walks, and faced only 22 hitters, one over the seven-inning minimum.
The only hit he allowed was a leadoff single in the third inning; he threw 48 strikes in 79 pitches. It was the longest outing of his Knights' career, and the longest outing by a Corvallis pitcher this summer.
Reliever Bransen Kuehl (Utah) finished up with two perfect innings to notch the save. It was the Knights second shutout of the season, the other coming on June 1 in a 9-0 win over Kamloops. Stuhr and Kuehl combined to retire the final 19 batters in order and the game took only 2:08 to complete.
Corvallis (20-8, 17-8 WCL) won despite an all-night bus ride to Kelowna following a July 2 win over Cowlitz at Goss Stadium. The Knights are 8-1 in their last nine games and remain in contention for the South Division's first-half championship.
Corvallis had 10 hits; Tyler Quinn (Utah) had a double and two singles; Sam Stem (Gonzaga) doubled and singled and Ty Kukumoto (Pacific) singled twice. However, they left 10 runners on base and were frustrated offensively until the eighth inning.
In the decisive eighth, Stem and Mason Le (CSU Northridge) singled with one out and moved up a base on a passed ball. Stem scored when the Falcons erred on Aaron Aroz's (Oregon) safety squeeze bunt; Le came home on another safety squeeze by Ethan Hott (Stanford).
The series resumes at 6:35 p.m. Tuesday; Nebraska's Grant Cleavinger (0-0, 0.00) is the Knights projected starter. Cal Poly's Jakob Wright (1-0, 0.00) will go in Wednesday's 6:35 p.m. finale.
The Knights are idle on Thursday; they open a three-game series at Cowlitz on Friday. Their next home game is July 12 vs. Springfield, the middle contest of a set that starts and finishes in Springfield.
The WCL office clarified the South Division first-half pennant race scenario on Monday.
Current leader Ridgefield (18-8) has reached their halfway point, with a makeup game scheduled that will, when played later this summer, count in the second-half standings.
The Knights are on track to play all 27 first-half games; contender Portland will only play 24, due to halted and postponed games. To beat out Ridgefield, Portland (at Ridgefield) and Corvallis (at Kelowna) must sweep their series this week.
If both teams sweep, the Pickles will finish with the slightest of edges over Corvallis in winning percentage (.708-.704), and snag that first-half playoff spot. If Corvallis sweeps and Portland loses once, Corvallis will win the championship with a 19-8 record, one-half game better than Ridgefield.
Also, the Knights announced numerous roster moves on Monday.
Right-handed pitcher Kaden Segel (Portland) will join the team for the July 7-9 Cowlitz series. He is a returnee from 2022, when he earned first-team all-WCL honors by going 5-1, 2.05 in 13 games, with 42 strikeouts in 48.2 innings.
He had been playing for the Morehead City (N.C.) Marlins in the Coastal Plain League. He was 1-0 with a save over six appearances, with nine strikeouts and 4.76 ERA in 5.2 innings pitched.
Jacob Krieg (Oregon State) will spend the rest of the summer at Driveline, a training facility in Kent, Wash. He hit .125 in six games, with no homers or RBIs.
OSU outfielder Tyree Reed will not join the team as hoped. He continues to rehab from injuries that have idled him the past two seasons.
Left-handed pitcher Evan Clark (formerly of USC) has returned home to Western Springs, Illinois. He was 0-0, 10.12 in four games, with two strikeouts in 2.2 innings.
Infielder Luke Thiele has returned home to Chandler, Ariz., due to a season-ending injury. He hit .167 in 12 games, with two RBIs. He played at Central Arizona in 2023 and will return to the Vaqueros in 2024.
Right-handed pitcher Tyler Bremner (UCSB) returned home to San Diego for family reasons but may return later this season. He was 0-0, 2.25 in two appearances, with five strikeouts in four innings.