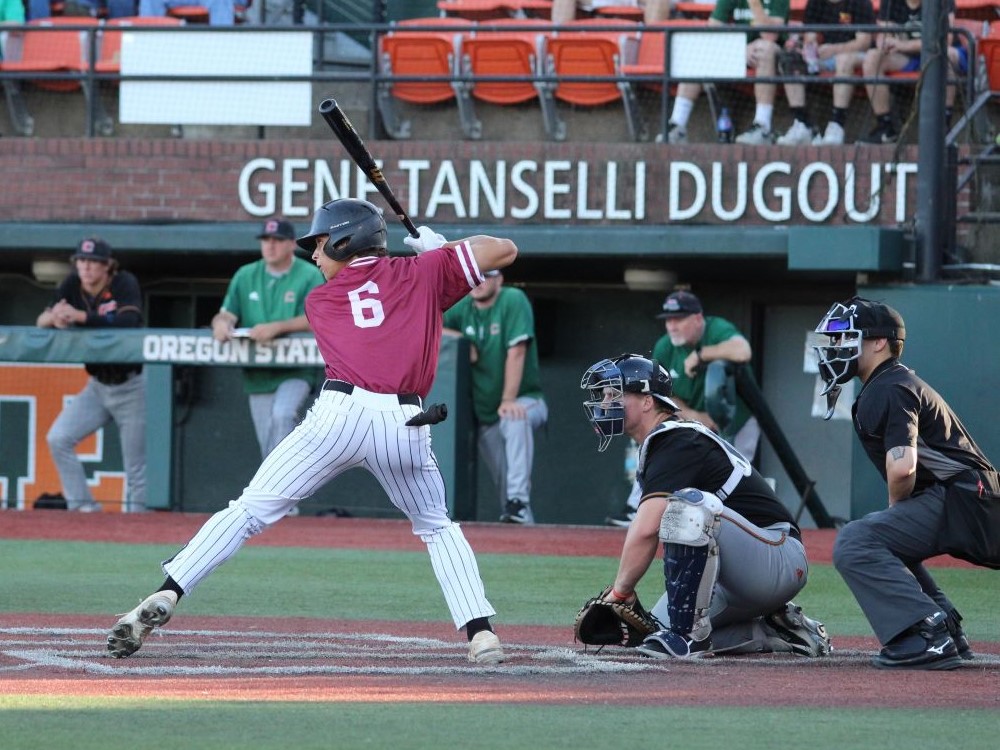 Cowiltz snaps Knights winning streak at six consecutive games
Saturday, July 1, Corvallis, Ore.  – Cowlitz defeated Corvallis 7-3, snapping the Knights' six-game win streak before a crowd of 1,508 on another beautiful evening at Goss Stadium.
Third baseman Tyler Quinn (Utah) was 2-for-4 with two walks and a fantastic defensive play to end the top of the ninth. The former Pacific University star, the MVP of the 2022 Knights, made a diving backhanded stop of a grounder over third base and recovered in time to throw him out by a half-step.
He was selected as the Washington Park Advisors Player of the Game.
Shortstop Phoenix Call (UCLA, pictured above) and second baseman Mason le (CSU Northridge) had two hits each. Le also gloved a line drive and retired a runner at second to end the seventh inning on an unassisted double play.
The Knights (18-8, 15-8 WCL) fell one game behind Ridgefield (19-7) in the loss column in the South Division first-half pennant race. The Knights have four games remaining, the Raptors one.
The first-half champion receives an automatic berth in the playoffs, which involve four teams from each division.
The series finale is Sunday, the annual 7:15 p.m. Oregon State Credit Union Fireworks Night. It pits Ethan Ross of San Jose State (0-1, 22.50) for the Knights against Spencer Seid of UC San Diego (0-0, 0.00).
Saturday's crowd of 1,508 raised the season attendance to 25,811 in 16 dates.