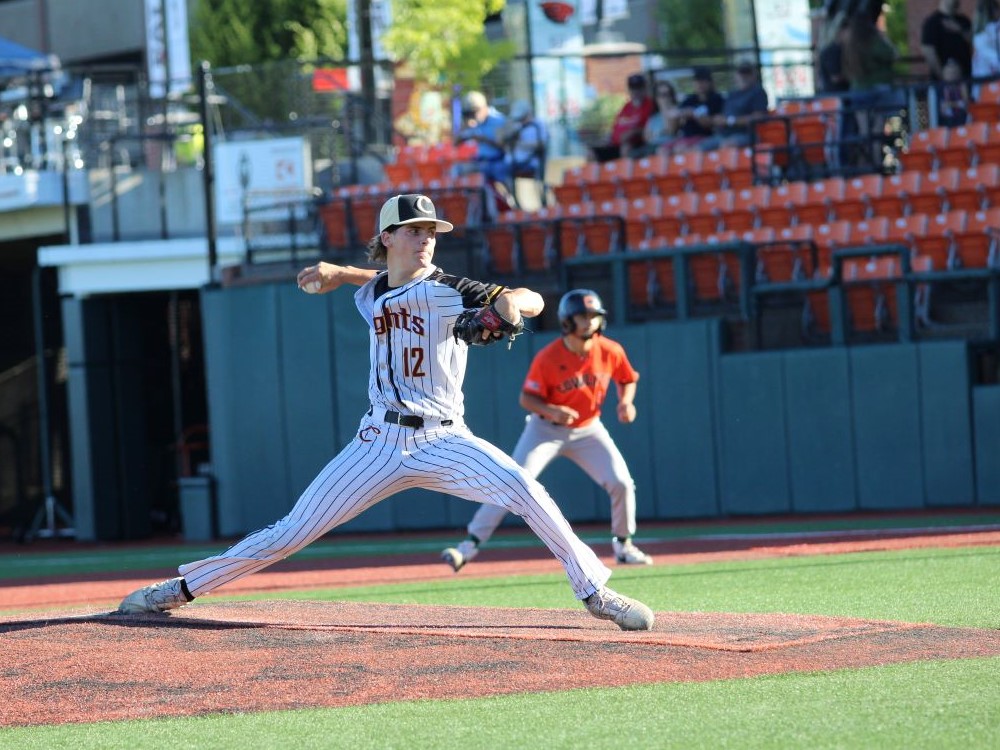 Corvallis tames Black Bears 5-1 in opener for 6th straight win
Friday, June 30, Corvallis, Ore.  – The Knights extended their winning streak to six games in a row by besting Cowlitz 5-1 in a quick 2:12 before a Goss Stadium gathering of 1,733.
The Knights (18-7, 15-7 WCL) remained tied with Ridgefield in the loss column in the South Division first-half playoff race, which encompasses the first 27 games. The Raptors (17-7), who blanked Springfield 6-0 on Friday, have two games in hand.
Corvallis starter Zach Johnson (picture above) matched his season-best of five innings and allowed one run on three hits. The Portland right-hander struck out three and did not issue a walk, and earned Washington Park Advisors Player of the Game honors.
He also went five innings in an 11-4 win at Yakima Valley on June 7, when he recorded his other win of the summer.
Nathan Marshall (Lane CC) and Frank Camarillo (UCSB) each went two innings, with two strikeouts apiece, to close it out. Both relievers also pitched out of two-out, two-on situations to keep Cowlitz off the board.
Sam Stem (Gonzaga) singled, doubled, drove in a run and scored once. JC Ng (Pomona-Pitzer) doubled and scored three times and Mason Le (CSU Northridge) was 2-for-3 with a stolen base.
Saturday's game 2 starts at 6:35 p.m. and matches Miles Gosztola of Gonzaga (0-0, 0.00) vs. Jason Deberry of Dallas Baptist (0-1, 3.60).
The series finale is Sunday, the annual 7:15 p.m. OSU Federal Credit Union Fireworks Night. It pits Ethan Ross of San Jose State (0-1, 22.50) for the Knights against Spencer Seid of UC San Diego (0-0, 0.00).
Friday's crowd of 1,733 raised the season attendance to 24,303 in 15 dates.