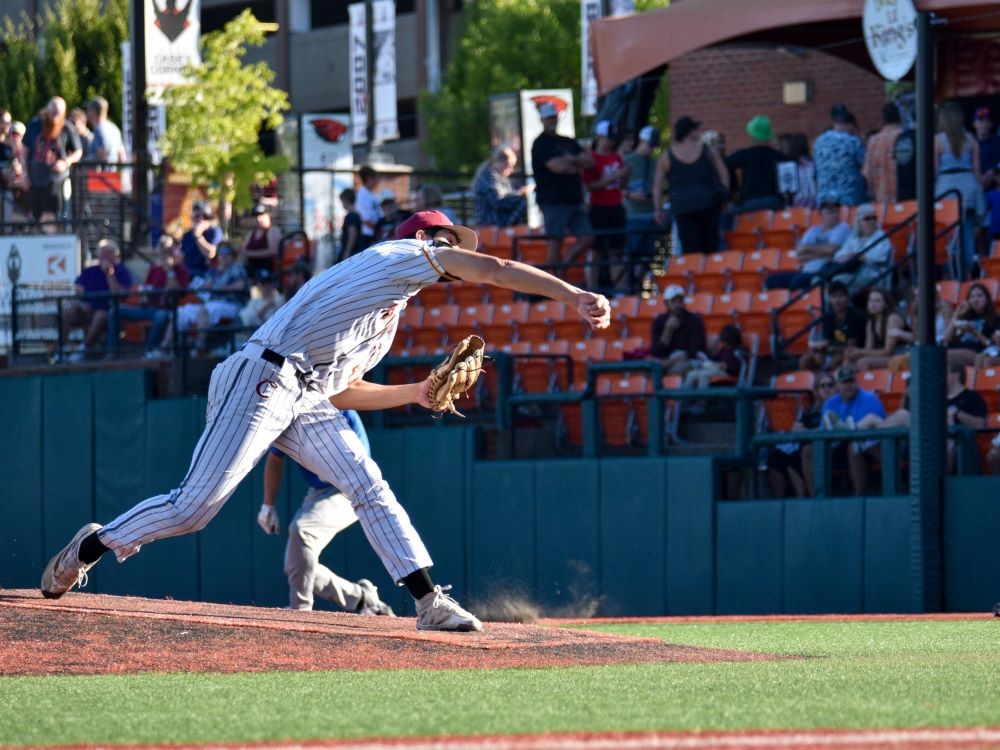 Knights polish off Springfield Drifters 10-2, sweep series
Thursday, June 29, Corvallis, Ore.  – The Knights are coming.
Corvallis raised its winning streak to five games in a row with a 10-2 victory over Springfield on Thursday before a crowd of 1,892 on a balmy evening at Goss Stadium.
The Knights (17-7, 14-7 WCL) thus swept the three-game South Division set from the Drifters and claimed their second straight West Coast League series. They also knocked off Kamloops 2-1 before entertaining the second-year Drifters.
Corvallis starter Max Debiec (Texas A&M, pictured above) breezed through four innings, allowed two hits and faced just 13 Drifters, one batter over the four-inning minimum. He struck out four, walked one, and benefitted from a defense that erased two Drifters on the basepaths.
Debiec threw 33 strikes in 60 pitches and lowered his ERA from 0.84 to 0.61, with 18 strikeouts in 14.2 innings. He was not eligible for the decision, however, as he did not pitch the required five innings. He was selected as the Washington Park Advisors Player of the Game.
Corvallis expanded a 1-0 lead to 6-0 by scoring five times on two hits in the second inning. The big blow was a two-run, two-out double by Ethan Hott (Stanford).
Tyler Quinn (Utah) keyed a three-run third with a two-run double to the left-field corner. Sam Stem (Gonzaga) followed with an RBI single. Ethan Hedges (Stanford) had an RBI single in the first and a sacrifice fly in the second.
Hott finished 3-for-4 with three RBIs. He was also hit by a pitch and reached safely four times in five plate appearances.
The Knights close their extended homestand this Friday-Sunday against South Division rival Cowlitz. Game times are 6:35 p.m. on Friday and Saturday and 7:15 p.m. on Sunday, the annual OSU Federal Credit Union Fireworks Night contest.
Thursday's crowd of 1,892 raised the season attendance to 22,570 in 14 dates.