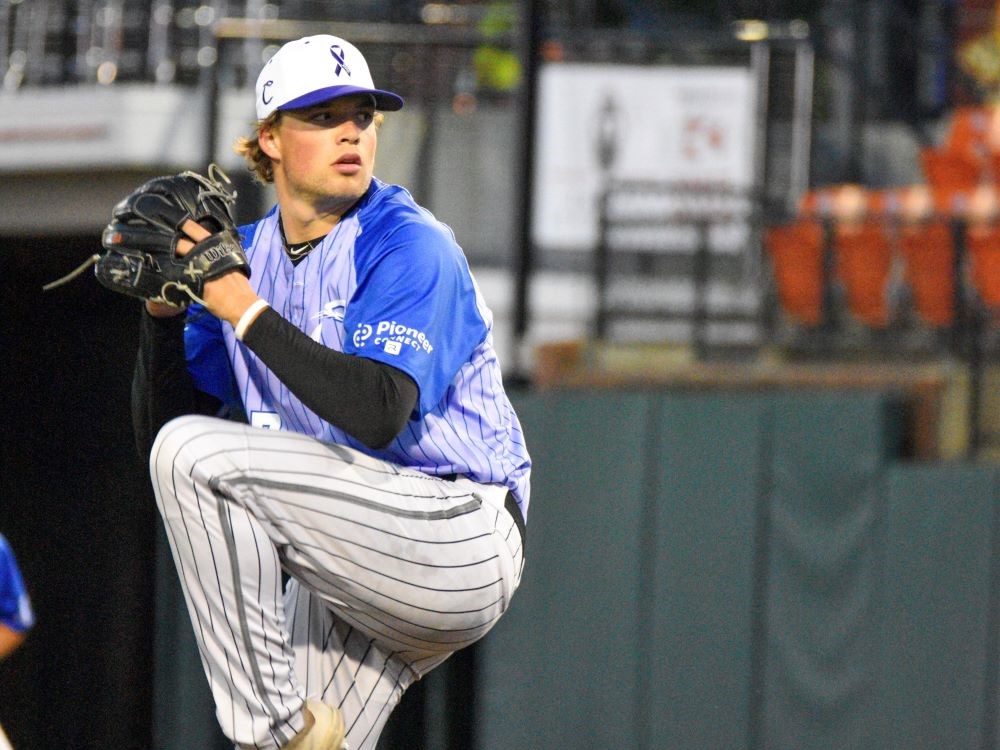 Knights take big lead, then hold off NorthPaws to claim series
Monday, June 26, Corvallis, Ore.  – Tyler Quinn and Anson Aroz homered in the first inning and Corvallis stymied Kamloops 13-11 in the rubber game of their West Coast League series at Goss Stadium.
The Knights (14-7, 11-7 WCL) scored eight times in the first inning and then hung on to even the inaugural season series between the teams at 3-3. Kamloops won 2 of 3 in British Columbia on June 8-10.
Quinn (Utah in 2023) had three RBIs, Aroz (Oregon) two in the rally, as both also drove in runs in their second at-bats of the inning. JC Ng (Pomona-Pitzer) had two hits and an RBI, and Phoenix Call (UCLA) and Ty Yulumoto (Pacific) also had RBIs.
Quinn finished with five RBIs, a season-high by a Knight this summer. He earned Washington Park Advisors Player of the Game honors.
Reliever Sam Stuhr (Oregon State, pictured above) played a key role in keeping the rallying NorthPaws at bay. Called upon in the sixth inning to preserve an 11-8 lead, he retired the final nine batters he faced, five on strikeouts.
All told, Stuhr went three innings, allowed one run on one hit. He earned the pitching decision as the most effective reliever. Sean Wiese pitched the ninth.
Aroz had three RBIs. JC Ng (Pomona-Pitzer), Ethan Hedges (Stanford), Blake Avila (Grand Canyon) and Sam Stem (Gonzaga) had two hits apiece; Ng and Hedges had RBIs.
The Knights open a three-game, home-and-home series with Springfield at 6:35 p.,m. Tuesday at Goss Stadium. The teams head to Springfield for Wednesday's 6:35 game, then return to Goss Stadium for the finale at 6:35 p.m. Thursday.
Pitching matchups are UCSB's Tyler Bremner (0-0, 0.00) for Corvallis vs. Everett CC's Eli Holbert (0-0, 2.70) on Tuesday; Cal's Poly's Jacob Wright (0-0, 0.00) of Corvallis vs. Lane CC's Steyr Brinkley (1-0, 3.48) on Wednesday, and Texas A&M's Max Debiec (0-0, 0.84) of Corvallis vs. Tanner Douglas of Tacoma CC (0-0, 0.00).
Monday's crowd of 1,291 raised the season attendance to 19,160 in 12 dates.
Also on Monday, the Knights announced the signing of Cal State Northridge infielder Mason Lee, a key returnee from the 2022 ECL championship team. A 5-foot-9, 180-pounder from Culver City, Calif., Le hit .255 in 49 games, with a homer and 24 RBIs, and was an honorable-mention WCL all-star.
Le hit .292 for the Matadors in 2023, with four homers and 32 RBIs in 48 games. He also was 10-for-12 on stolen bases.