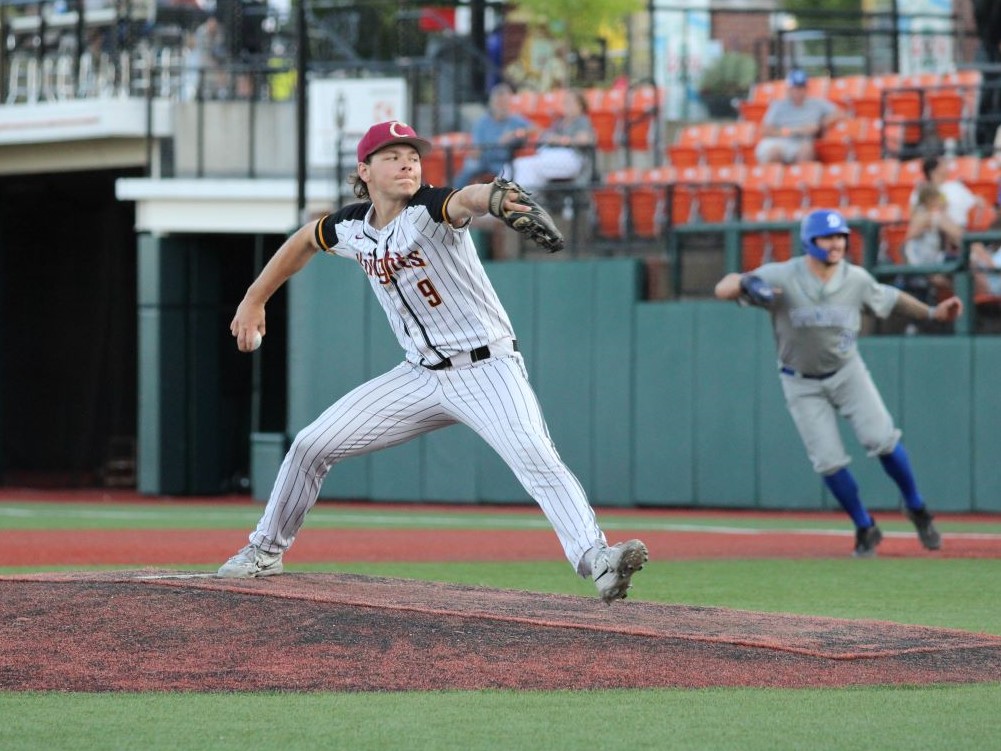 Hott's walk-off single gives Knights key win over Springfield
Tuesday, June 27, Corvallis, Ore.  – Ethan Hott's two-out single up the middle drove in the winning run as Corvallis walked off Springfield 3-2 in what could be a transformational victory in its quest for the first-half South Division title.
The Knights (15-7, 12-7 WCL) trailed 2-1 heading into their final ups. But shortstop Phoenix Call (UCLA), who joined the team this past weekend, started the inning auspiciously with a single to center field, his first base hit of the summer.
JC Ng (Pomona-Pitzer) bunted him to second. Tyler Quinn (Utah) then hit a grounder to third that was misplayed, with the ball rolling into short left field. Call, who had to hold up as the ball was hit in front of him, then sprinted home; his head-first slide barely beat the relay throw, tying the game.
Quinn took second on the throw to the plate. Hott (Stanford) then ripped a 3-2 pitch through the box into center field; Quinn scored easily and Hott was mobbed by celebrating teammates between first and second bases.
Hott's heroics earned him Washington Park Advisors Player of the Game honors.
It was the third win in a row for Corvallis, which remained in the thick of a three-way battle with Ridgefield and Portland for the South Division's first-half championship and the ensuing automatic berth in the West Coast League playoffs.
Kellen Segel (LBCC, pictured above) pitched four innings of one-run, one-hit relief and kept the Knights within striking distance after giving up the go-ahead run in the sixth inning. He struck out two.
Bransen Kuehl (Utah) pitched a scoreless ninth and got the win, striking out two.
Levi Jones (Oregon State) had the Knights other RBI with a fourth-inning single. DH Blake Avila (Grand Canyon) was 2-for-2, walked twice, scored and stole a base.
Corvallis stranded 11 runners, six at second or third base. They left the bases loaded in the eighth when pinch-hitter Ethan Hedges (USC) grounded out to third after fighting off six 0-2 pitches in an eight-pitch at-bat.
Corvallis starter Tyler Bremner (UCSB), pitching with Gaucho head coach Andrew Checketts in the Mascot Night crowd, allowed one run and three hits in three innings in his first start of the summer. He had four strikeouts and one walk.
A former Oregon State All-American right-hander, Checketts played and was the pitching coach for the old Aloha Knights in 2000.
The series resumes at 6:35 p.m. Wednesday at the Hamlin Sports Complex in Springfield. Cal's Poly's Jacob Wright (0-0, 0.00) is the projected starter for Corvallis, opposed by Lane CC's Steyr Brinkley (1-0, 3.48).
The teams return to Goss Stadium for the finale at 6:35 p.m. Thursday. Texas A&M's Max Debiec (0-0, 0.84) goes for Corvallis, versus Tanner Douglas of Tacoma CC (0-0, 0.00).
Tuesday's crowd of 1,518 raised the season attendance to 20,678 in 13 dates.