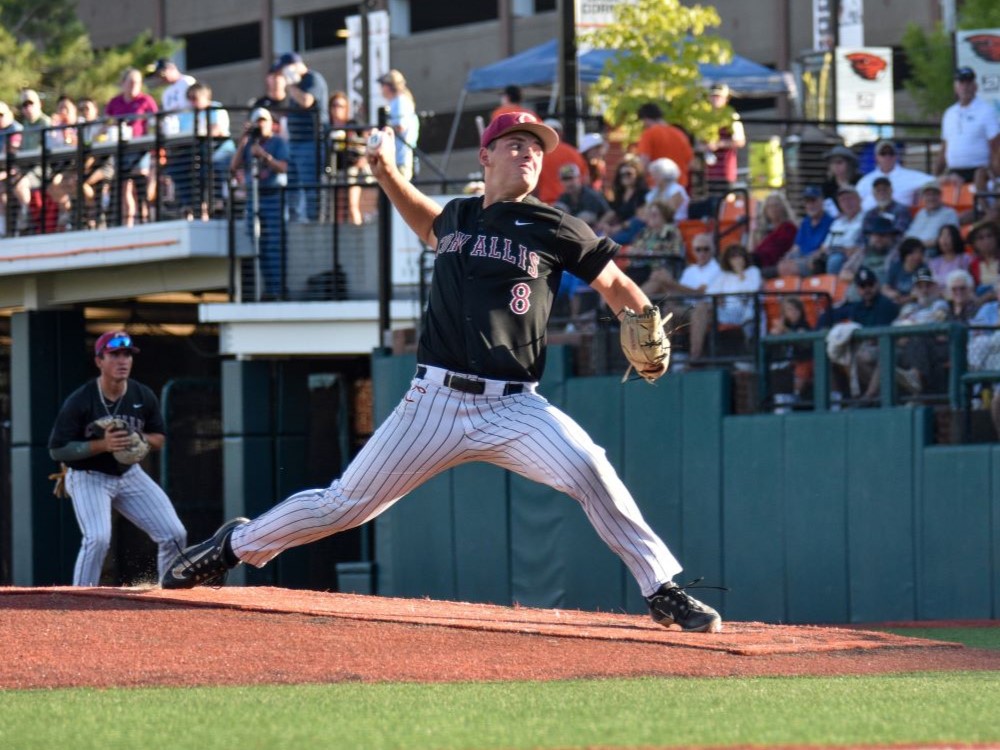 Corvallis staves off elimination, forces decisive Game 3 vs. Cowlitz
Wednesday, August 9, Corvallis, Ore.  – The Corvallis Knights aren't ready to call it a summer just yet.
The reigning West Coast League champions staved off elimination with a 4-1 victory over Cowlitz before a Goss Stadium crowd of 1,135, evening their best-of-3 South Division playoff series at a game apiece.
The Knights (44-16) and Black Bears will play a decisive Game 3 at 6:35 p.m. Thursday, also at Goss Stadium. Right-hander Sam Stuhr (3-0, 2.61) will start for Corvallis; Cowlitz's starter is TBD.
The Portland-bound Stuhr pitched five innings of one-hit, scoreless baseball at Portland on Aug. 2 in his last appearance. He also has a seven-inning one-hitter at Kelowna on July 3 to his credit.
Corvallis got outstanding pitching from starter Miles Gosztola (Gonzaga), Kaden Segel (Portland) and Zach Johnson (Utah Valley). They combined to allow just one run on six hits and walked only one while striking out 8.
Gosztola went the first five and allowed the run and three hits. He struck out three and picked a runner off first base to end the fifth inning.
Segel (pictured above), a key addition since joining the team in early July after playing in the Coastal Plain League, faced just 10 batters in a one-hit, three-inning stint highlighted by five strikeouts. He is 5-0 with a 1.05 ERA in seven appearances, with 22 strikeouts over 25.2 innings.
Johnson allowed a double and a single to the first two batters he faced starting the ninth, bringing the tying run to the plate. But he retired the runner on third in a rundown after spearing a comebacker for the first out, got the second out on a fly ball to center field and ended the game with a popup to first base.
Corvallis jumped in front 1-0 in the third inning when Tyler Quinn (Utah) reached third on an errant throw on his bunt single. Sam Stem (Gonzaga) drove him home with a sacrifice fly.
Cowlitz tied the game in the fourth, but the Knights surged ahead with a 3-spot in the sixth. Ethan Hedges (USC) doubled, went to third on a groundout and scored on Ethan Hott's (Stanford) single.
Hott stole second and moved to third on a wild pitch. Tate Shimao walked and stole second; Hott scored and Shimao moved to third when Cowlitz misplayed a grounder by Tyler Howard (Portland).
Shimao then scored the final run on a perfect squeeze bunt by Ty Yukumoto (Pacific). Shimao was named the Washington Park Advisors Player of the Game.
The 2022 Knights also faced a win-or-go home hurdle after losing their playoff opener at Yakima Valley. They rallied to win four games in a row to claim their  sixth successive championship.
If the Knights win Thursday, they will host either Ridgefield or Portland at 6:35 p.m. Saturday in the South Division championship game. Saturday's victor advances to Monday night's WCL championship game.
The Knights have advanced to the postseason all 16 summers since the divisional playoff format was introduced in 2007. They have played in 13 of 15 possible WCL Championship series since that season.
Wednesday's crowd of 1,136 raised the season total to 55,997 in 32 dates.